It's no secret… nobody does it better than Bond. As we anxiously await the return of our favourite suave secret agent, it might be the perfect time to catch up on all of his past adventures.
From the humble days of Sean Connery, all the way through to Daniel Craig's arguably definitive take on the character, here is an essential viewing order for a first-timer jumping into the world of Bond.
If you start this weekend, you'll have seen them all in time for No Time to Die.
---
---
It may sound like I'm ripping some of these films to shreds, but honestly, I love each and every one of them. It's just that you can't overlook the fact that not all of them have stood the test of time.
So on that note, let's start with a cringefest…
RELATED: Every James Bond Film Ranked Both By Critics And You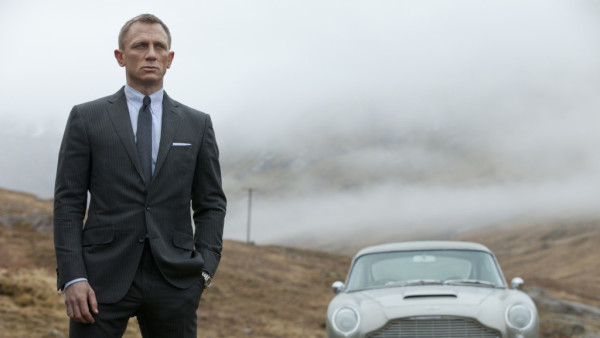 24. Die Another Day
For those of us born in the '90s, Pierce Brosnan will always hold a very special place in our hearts. He was our first introduction into this ever-expanding world of 007, and he was just too damn cool. Unfortunately, two or three out of the four films he was in no longer hold up. They're not just dated, they're laughably bad. There is no better example of this than Die Another Day.
James Bond has an invisible car, he surfs over a tsunami made of ice, and the intro 'song' is performed by Madonna. Enough said.
This is a great film to start your 007 countdown, because it's also a great one to watch with your friends and get out of the way early… in a real Tommy Wiseau in The Room sort of way.
23. Moonraker
Nothing says dated '70s camp more than James Bond in space. Good ol' Roger Moore investigates the mid-air theft of a space shuttle and discovers a plot to commit global genocide.
---
---
This isn't 007's best outing – not by a long shot – but it's still extremely watchable. Plus, the character 'Jaws' is the scariest henchman ever.
22. Tomorrow Never Dies
Pierce Brosnan's second outing as Bond might be time locked in the '90s, but somehow the underlying theme of the media's influence on the world seems more relevant than ever… the bad guy has a plan to start a global war by using the media to cause tension between the UK and China.
In our age of social media and smart devices, this film might actually be a horrifying prophecy that is slowly being fulfilled. Either that, or it's just pure generic 1990s cheese. You decide.
21. The Spy Who Loved Me
Before she married Ringo Starr, Barbara Bach was Bond's leading lady in this iconic instalment in the series. It might be a little hard to take seriously now, as Austin Powers has forever turned the concept of nuclear warheads on film into a farce. That being said, this is still a classic Bond adventure that ticks all the boxes.
20. For Your Eyes Only
This is James Bond's introduction to the 1980s. Need I say more?
19. Octopussy
One of the interesting things about Octopussy is that it came out the same year as an unofficial James Bond movie, Never Say Never Again. That film marked the return of Sean Connery to the role, but the fact that it wasn't an official EON release means it's really missing that distinct 007 charm that Octopussy can provide.
18. The World is Not Enough
This is the one where Denise Richards plays a scientist named Dr. Christmas Jones, and the villain can't feel pain. Ironically though, this is a mostly painful watch.
Having said that, it actually might still be the sexiest 007 film ever made, with a lot of screen time given to some PG nudity. Plus, 007 makes one of the worst dad jokes of the franchise – "I thought Christmas only comes once a year."
---
---
17. Licence to Kill
It took a while for audiences to get used to Timothy Dalton as Bond. It was a bit of a jarring gear change following the playful tone of Roger Moore's films.
But watching Licence to Kill now shows us that Dalton was in fact way ahead of his time. This Bond is closest to what Craig is able to capture now. That alone makes for really interesting viewing!
16. Thunderball
This was Bond's first adventure in the Bahamas. He's set to return to the Caribbean in No Time to Die, so it'll be interesting to see how it compares through the lens of the 1960s.
15. From Russia with Love
Sean Connery's Bond tackles the infamous SPECTRE in this superb entry in the series. If you're into beautiful Russian women and over the top Soviet weapons, this is the movie for you.
14. A View to a Kill
This is another fun one to watch, simply because it has an excellent performance by Christopher Walken.
Also, Grace Jones is the most kick-ass Bond girl ever.
13. The Man with the Golden Gun
Before he played Saruman and Count Dooku, the late Sir Christopher Lee was The Man with the Golden Gun, the world's most expensive assassin.
There's also plenty of swimsuit-clad characters, and a truly intense third act set on a tropical island. All of the ingredients for an iconic Bond film, really.
---
---
12. The Living Daylights
This was arguably the first 007 film to actually take the source material seriously… and it shows. The Living Daylights still holds up to this day, and Dalton shines as this brooding version of Bond.
You'll wanna watch this one again and again.
11. On Her Majesty's Secret Service
George Lazenby stands out as being the only Australian actor to play Bond. He was also the first brand new actor to take over the role from Sean Connery.
James Bond gets married in this one. Sounds sweet right? Well, get the tissues ready, because it's also a real tearjerker.
10. Diamonds Are Forever
Sean Connery returns in this classic instalment of the franchise. It's also the last time we get to see Bond's arch-nemesis Blofeld before this century, as EON lost the rights to the character after this film. This was all until 2015 when he made a return in Spectre, played by Christoph Waltz.
He's set to be back in the next one too, so this one will fill you in on all the necessary past Blofeld lore you need.
9. You Only Live Twice
"Welcome to my secret underground lair".
This is the film that most closely resembles Austin Powers. You'll have a great time seeing how truly over-the-top (and dated) the Bond franchise can be.
---
---
8. Live and Let Die
You'll be singing along to Paul McCartney's excellent theme tune, in this classic introduction to Roger Moore's 007.
7. Dr. No
This is where it all began. It's amazing that this was the first Bond film and all of the elements were already in place. The theme song, the martinis, the beautiful women, the hilarious villains… and of course, the introduction – "Bond. James Bond".
But if the formula ain't broken, don't fix it.
6. Goldfinger
Sean Connery's third outing continued all of the great elements of Bond and perfected them. It's no surprise that this one is always so high on everyone's list of favourite 007 films.
It's simply fantastic.
5. Goldeneye
As bad as the other Brosnan-era films were, this film is so damn great that it cements his place as an excellent Bond forever. This film is dark, Bond is super cool, the effects still hold up… and Famke Janssen plays Xenia Onatopp, the sexiest and scariest villain ever.
It also goes without saying that this film spawned one of the greatest video games of all time, that defined the first-person shooter genre, and arguably revolutionised the video game industry forever.
4. Casino Royale
This was the much-needed reboot of the 007 franchise. For the first time, we got to see how James became Bond.
---
---
Amazingly, this is also without a doubt one of the best Bond films ever. The film strips away all of the elements and tropes of 007 and takes us on one hell of a journey to show us how he ends up becoming the secret agent we all know and love.
His heartbreaking romance with Vespa Lynd will also pull right at the heartstrings.
Damn, I have chills just thinking about this film.
3. Quantum of Solace
Daniel Craig's second outing as Bond isn't nearly as good as the first one, but it's interesting to note that it's the first time a 007 film directly connects to the previous one.
Each film in the series always had some pretty loose continuity before this, but if you watch Casino Royale and Quantum Of Solace back to back, and you'd feel like you're watching one complete story.
2. Skyfall
Daniel Craig knocks it out of the park yet again in Skyfall. Carrying over the theme of taking away the elements that make this character who he is, only to have to learn how to be Bond again, this is a truly haunting film.
We get to learn about Bond's past by revisiting his childhood home. Javier Bardem is an insanely frightening bad guy. Miss Moneypenny and Q also get a really nice modern-day makeover.
But the real heart of this film comes from Judi Dench's iconic performance as M. Her chemistry with Craig is undeniably believable and the two share a relationship that borders on professional to personal.
Gosh, when did Bond get so deep? We've come a long way since nuclear warheads and riding ice tsunamis.
1. Spectre
The fourth instalment in Craig's Bond series is a bit of a hit and miss. There are some high-highs and low-lows. It successfully expands on the Bond mythology and it's nice to see Blofeld played perfectly by Christoph Waltz. Unfortunately, Waltz isn't given nearly as much screen time as he deserves, so his performance gets muddled down in a somewhat messy film.
However, Craig is once again superb in the role. It's safe to say that he truly is the quintessential Bond.
And that's it! You're all caught up now. No Time to Die lands in cinemas in April 2020.
You can catch each of the Bond films on Stan.