The man/myth/legend, Matthew McConaughey, is touching down in Australia this November. And for those of you not already deeply captivated by the legendary thespian, you're about to be.
As the Creative Director of Wild Turkey, old mate McConaughey will be visiting our part of the world to launch the company's With Thanks initiative, designed to celebrate and support Australians who have demonstrated "… unwavering conviction to protect and preserve their unique wilderness."
What exactly will this involve? McConaughey will serve as the design director on the construction off-the-grid wilderness cabins, which is being brought to life in collaboration with the Australian travel start-up, Unyoked. The hope is that these cabins will encourage more of us locals to reconnect with the elements, bringing a new appreciation to our natural environment, and thereby incentivising its protection.
---
---
"Australia has always had a special place in my heart," says McConaughey.
"I lived there for a year out of high school and have worked there many times making movies… Mother nature demands you engage with her. Whether it's the outback, the Barrier Reef, or the farms on the Central Coast – I've enjoyed the natural beauties of Australia for years."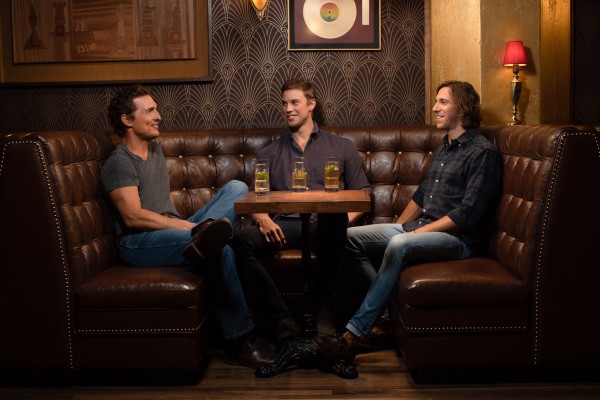 A percentage of the profits from eventual cabin bookings as well as $1 from every Wild Turkey Longbranch sold between November to December will be donated to the Foundation for National Parks & Wildlife.
For the past five decades, the Foundation has worked tirelessly in collaboration with conservation partners and local communities to preserve our native habitat and wildlife. This becomes a pressing issue when you consider the fact that Australia has lost 25% of its rainforests and 50% of all forests in the last 200 years. This rate of decline is simply untenable.
The cabin will officially be launched in Sydney on November 20th, before being placed in a wilderness area of New South Wales. Public bookings will be available in early December.
"We are exploring conviction. Why some never compromise to be the best and why some choose their own path where none have gone before", says McConaughey.
We'll keep you updated on the cabin's availability after the full announcement.
---
---
RELATED: Matthew McConaughey Is Now A Full-Time Professor At The University Of Texas.