Music is a cut-throat game and none more so than the ever expanding world of hip hop. So cut through or get out…that's the message. Release methods and distribution are key.
It's no longer isolated to simply releasing singles a couple months before, then music videos, media publicity and then finally the album comes out. Hip hop has shown to be innovative in this social media age – here's six of the more inventive release methods we've seen in recent times.
1. To Pay or Not to Pay – Nipsey Hu$$le
The questioning of the value of music is constantly changing. With months of work and development being given away for a couple of dollars on iTunes or for free on a mixtape, there are varying degrees of quality and value in regards to music release. Nipsey Hu$$sle is looking to change that. This Los Angeles based rapper has become infamous for his Proud2Pay scheme and the sometimes ridiculous pricing on his album releases. Nipsey states that fans can either choose to get a project he releases for free, to pay a normal digital album price or to pay for a physical copy.
---
---
Back in 2013 he released his Crenshaw project, a 21 track mixtape, with the physical copy being priced at $100. That's right, $100 for a physical copy and some merchandise. To be fair Nipsey put it up for free online as well and only released a 1000 copies of the CD, making it an exclusive thing to own. In a interview he stated that the concept behind the pricing was that the small amount of physical mixtapes meant that "fans were better served, kinda like the effect of less kids in a class room leading to a better education".
What Nipsey did with his distribution was create a more exclusive and collectible idea to his music. While anyone could download the mixtape for free, only true fans would fork out $100 for the limited edition physical copy. He went onto to sell all 1000 copies, making him $100,000 richer.
He stepped it up in late 2014, with the release of Mailbox Money which, while still having free digital and normal iTunes attainment, was priced at $1000. That's a lot of money for some music. The package did include an exclusive concert and exclusive studio listenings for his major studio album. Respect to Nipsey for continuing to up the exclusiveness of his projects.
2. Conceptuality – Childish Gambino, Tyler the Creator
Albums are generally known to run along a theme or an aspect of a musician's life. But rappers have taken it to the next level in the structure of their releases. Now some may call Donald Glover aka Childish Gambino a bit of a hippie. He seems to always be on some weird philosophical or creative path. But in the end he creates good music so who cares. In his release and distribution of Because the Internet, his Grammy nominated sophomore album, things got ultra conceptual.
Accompanying the physical release with a screenplay, the whole album was tied together with a story. This gave a little extra feature to an already interesting album, with the exploration of the mysterious "boy" in various life situations. It even came into play with the track listing, with the numbering of songs to represent scenes and aspects of the story. Another artist who is known for this is Tyler the Creator, although he does it more subtly and doesn't have a screenplay to spell it out. Both his albums, Bastard and Goblin revolved around Tyler having a conversation with his "therapist" Doctor TC. But Gambino takes it to the next level with the story attached, heavily affecting how the album was laid out.
Gambino had another interesting concept with the STN MTN and Kauai releases. While also featuring another story driven aspect with Jaden Smith as the "boy", the releasing of a free mixtape and iTunes album was a smart way to rope in consumers and provide publicity. Listeners get the free mixtape, gain interest, then go ahead and buy the priced project on iTunes. High-concept albums can provide an another level to pique the interests of fans.
---
---
3. Sudden Release – Drake
The sudden dropping of an album can send fans into a frenzy. This style of release has only become possible due to the prominence of internet downloads, streaming and social media. Without easy web access and the word of mouth and instant news provided by social media, these albums would not be able to gain traction. The most well known example of this is the 2013 drop of the self-titled Beyonce album on iTunes, which went on to be critically acclaimed and highly successful. In terms of hip hop, the one that comes to mind most recently is Drake's mixtape/album If You're Reading This Its Too Late.
When it dropped in February earlier this year, the album managed to sell 500,000 copies in its opening week meaning, topping the US Billboard charts. What this method does is create an instant need to buy the album. Because many had not anticipated the release, listeners had to play catchup and quickly buy the music so they could hear the same content as everyone else. It also meant many went in blind, not knowing what to expect. It's a smart method to create a gold rush kind of scenario, where something has been discovered and everyone wants a piece of it, not really knowing what to expect.
4. The Revival of the Old School – Joey Bada$$, Hau
In recent years, many artist have turned back to the older methods in releasing their music. The vinyl copy of an album is an essential part of any collection, and artist are feeding this want for the old school turntable by making sure cover art and the general aesthetic of an album is appealing. Young Brooklyn rapper Joey Bada$$ released his debut album, B4DA$$, with a sort of lucky number game attached to the vinyl copy. Each vinyl copy had special handwritten numbers on them, with the owners of numbers 4, 7, 47 and 120 winning special prizes from Joey's collective Pro Era. This combined with the general upward trend of people buying vinyl as a collectors item and for sound quality (with a 3.5 million general upswing since 2006) reflect the importance of this release form, especially in the indie rap scene.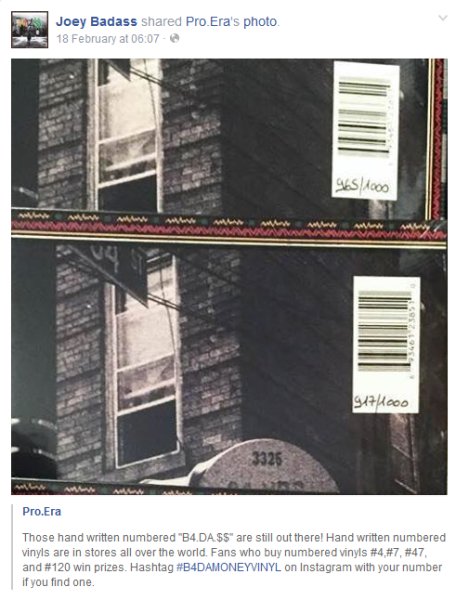 NYC rap crew RATKING took it one step further releasing their whole 700 Fill project online for free. The download from BitTorrent included instrumentals, video content, lyrics and explanation texts for content, as well as the complete 9 track mixtape. These massive uploads allow fans to access large amounts of content that were seemingly lost in the rise of the internet download. Those little extras really help to add to the values and aesthetic of a project and take it away from the usual lack of accompaniment extras-wise that comes with iTunes downloads.
6. Ultra Exclusive – Wu Tang Clan
In the most unique and extreme example seen, Wu Tang Clan decided in early 2014 to release Once Upon a Time In Shaolin with only one copy. The only way a fan can access the 31 track album is by going to a special touring exhibition, with people expected to pay $30-50 to simply listen to the album. It's an interesting concept, with ultra high protection against leaks, meaning people cannot even access an online copy.
Member RZA explained the whole point of the release "Music doesn't receive the same treatment as art in the sense of the value of what it is, especially nowadays when it's been devalued and diminished to almost the point that it has to be given away for free." This kind of release makes the music more of an art form rather than an easily accessed distribution. It makes the music a one off piece that could be owned by an individual, much like a famous Picasso or a Van Gogh. The project has been in the works since 2000, so hopefully it's worth that price tag and quantity as the exhibition tours internationally and will likely be sold in future for millions of dollars.
---
---