While tradition remains steadfast when it comes to the big day, it has certainly evolved when it comes to the concept of the 'wedding watch'. No longer are blokes expected to stump up three months of pay to purchase a rock, without the expectation they too will receive something special to commemorate their nuptials.
Over the past five or so years, the 'wedding watch' has become a staple amongst BH circles, with the brides (or grooms) fronting up for future heirlooms to be worn on the couple's special day, to complement their dress code of choice. Like the wedding watch concept itself, this idea that a dress watch must be worn with a dinner suit has also evolved. In 2019, it appears that convention, when it comes to wedding attire and what's on the wrist, has all but disappeared and that's an exciting prospect for the watch enthusiast.
We teamed up with Tissot to shoot four potential wedding watches, all sporting the brand's innovative Powermtic 80 calibre (with a huge 80 hours power reserve), matched to four seasonal and classic dress codes, to provide you with some inspiration for the most important day of your life.
Euro Linen
For whatever reason, Australian's with (or without) a tenuous link to Europe have begun asking their nearest and dearest to travel to the other side of the world to celebrate their nuptials. Destinations like Paris, Florence and Puglia receive dress codes like 'Summer Suits', which generally comes to life as a more formal take on Nammos lunch attire.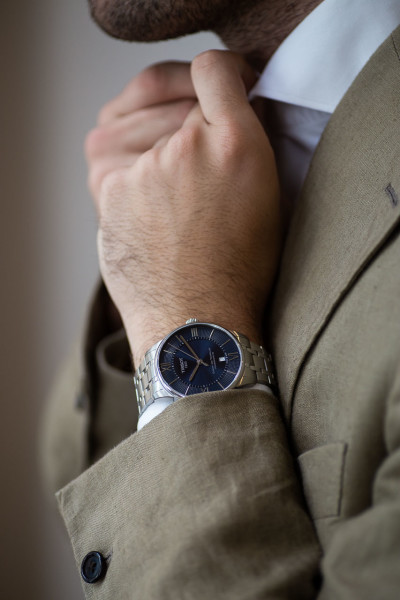 Linen suits or separates dominate this dress code, battling the mid-afternoon sun when no respite can be found among the Grottaglie olive grove. A Panama hat makes for a practical and fashionable inclusion alongside Italian inspired high waisted linen trousers, loafers and a linen/silk blend tie in bold repp stripe.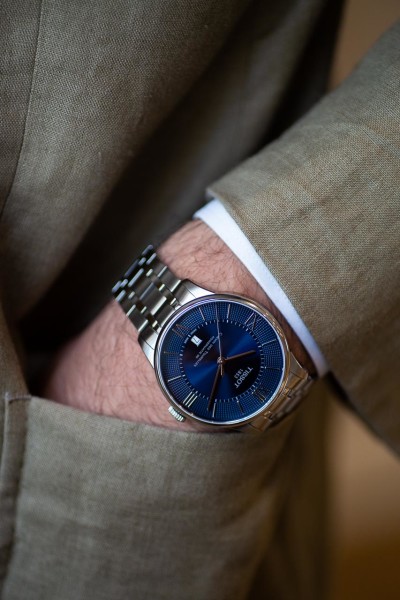 On a steel bracelet, the Tissot Chemin Des Tourelles Powermatic 80 handles the sweat while its 42mm case complements wide jacket lapels. A striking textured navy blue dial with fitting Roman numerals pops against the beige or olive coloured jacket, slipping gracefully into a patch pocket or under a relaxed button-up cuff.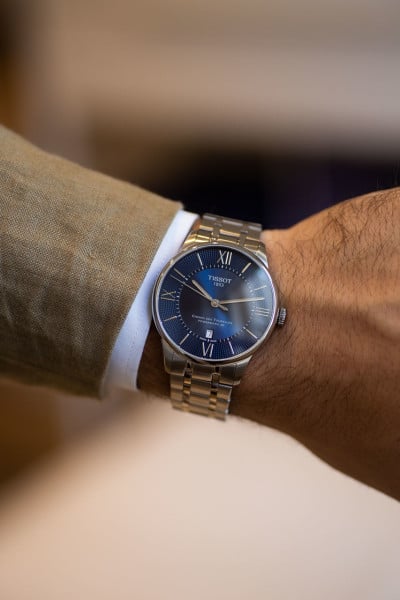 RRP: $1.125
'Cocktail'
While I've never believed 'Cocktail' to be a dress code, on Episode 4 of our Friday Sharpeners podcast, stylist Jeff Lack suggested that it could be an evolution of the Lounge Suit dress code, with more personality than the classic two or three-piece suit but not as formal as Black Tie.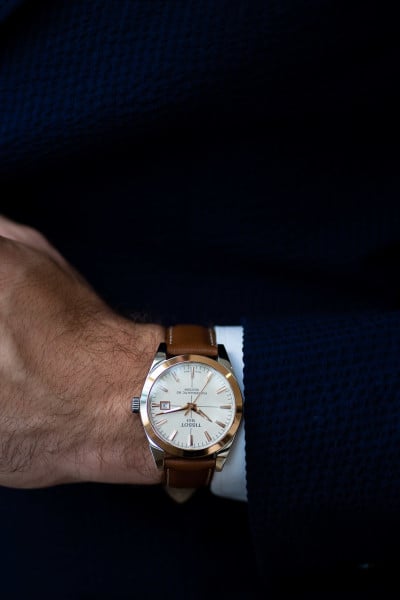 The curse of 'Cocktail' however, makes for a hazardous landscape, with guests interpreting the dress code as pretty much whatever they like, as long as it includes a jacket. What ensues is a diverse mix of suits and summer separates but if you're the groom and you want to lead the charge, a jacket or suit with an interesting texture, like that of seersucker or mohair, is guaranteed to make a statement.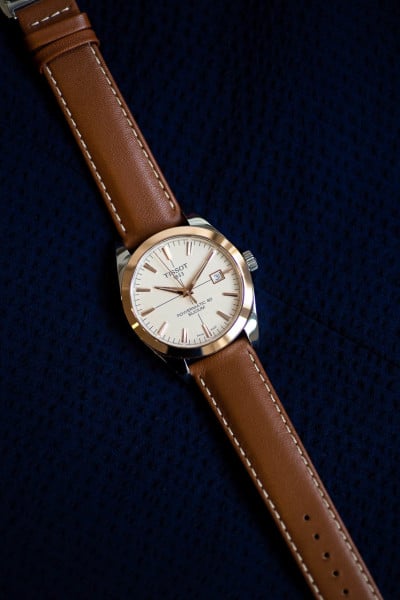 Seersucker while visually appealing, is also an inspired choice for the hotter months with the thin ruffled cotton sitting away from the skin, actively facilitating heat dissipation and air circulation. And with aesthetic on your agenda, the Tissot Gentleman Powermatic 80 Silicium 18K Gold makes for a perfect companion to navy blue seersucker, featuring a striking yet harmonious 18K rose gold bezel and hands alongside a dazzling cream opaline dial.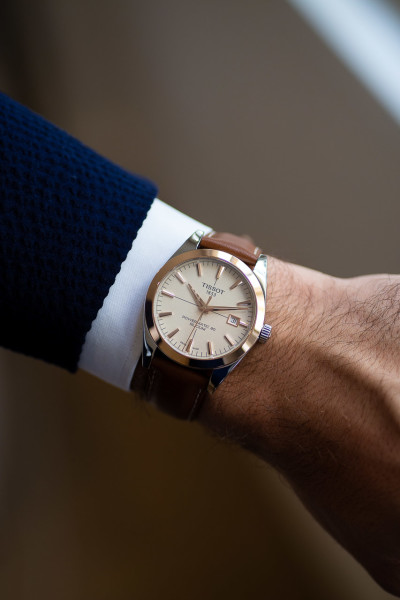 RRP: $1,875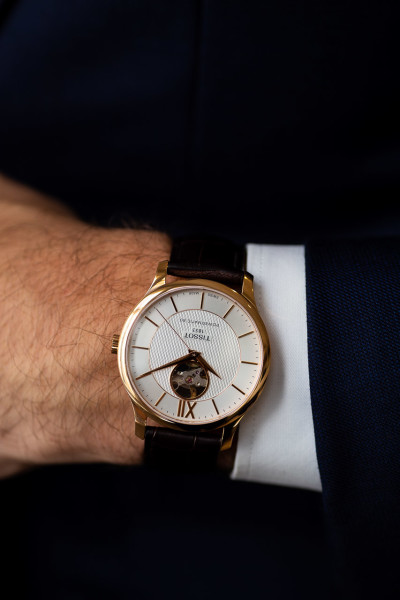 Black Tie
My favourite wedding dress code is without a doubt, Black Tie. Why? It's the hardest to get wrong, even though so many still do. Black Tie is a dinner suit with a bow tie, not a black suit or whatever black tie you can find. A quality dinner suit is something you will have for the rest of your life so don't skimp on your wedding day.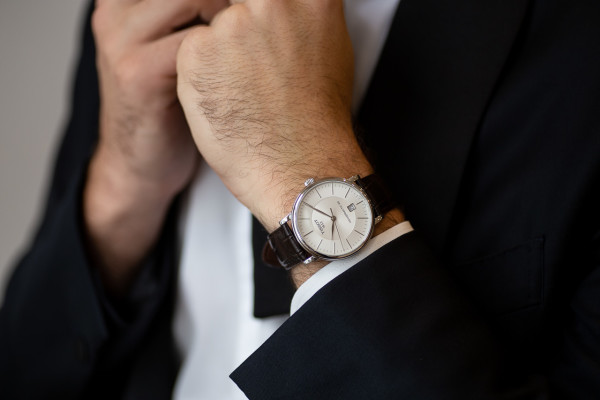 Book an appointment with a good tailor and get one made. Wide peak lapels in grosgrain silk will add some theatre while simple silk striped trousers will pay homage to this storied outfit. Pleated plackets and wingtip collars are a thing of the past, so don't be alarmed when your fitter suggests are Marcella bib with a classic turn-down collar. A French cuff conveys a more formal message and looks excellent with a considered pair of cufflinks.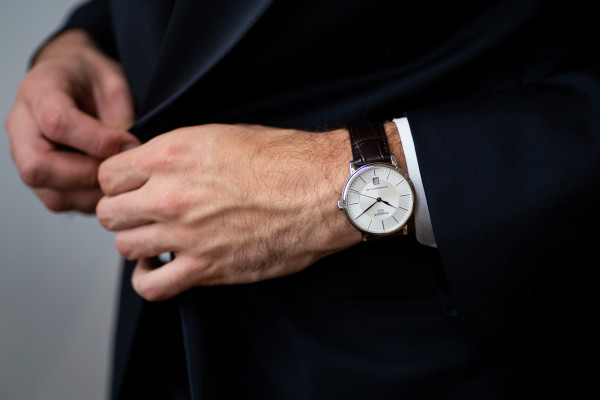 When it comes to pairing a watch with a dinner suit, timeless elegance should be at the forefront. The Tissot Carson Premium Powermatic 80 is a simple, subtle and sophisticated three-hander. The dial is pure and classic, accentuated by the slim, curved leaf hands and indices while the see-through case back shows the Powermatic 80 movement decorated with the waves of time. A steel case, white dial and black leather strap continue the effortless monotone theme.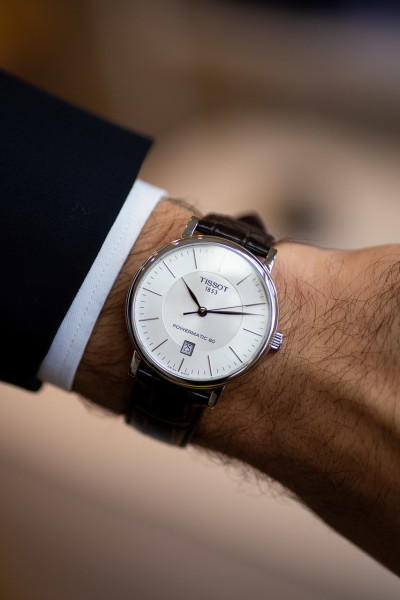 Ultimately your wedding watch should represent the type of man you are, so don't let convention stop you from acquiring your favourite piece, even if that means you're wearing a sports watch with a dinner suit.
You can check out the collection in person at Tissot's new Sydney store or view online at tissotwatches.com
This article is proudly presented in partnership with Tissot. Thank you for supporting the sponsors who help make Boss Hunting possible.