The love for Spider-Man has been real as of late. Spider-Man: No Way Home has seen a tremendous amount of commercial success, with the Sony and Marvel Studios superhero blockbuster having already raked in US$1.62 billion (AU$2.27 billion) to become the eighth highest-grossing film of all time at the worldwide box office. But no one is quite as excited as one anonymous buyer who purchased a single page of artwork from a Spider-Man comic book auctioned for a record $US3.36 million (AU$4.7 million).
While you might guess from such a large sum of money that the page in question would be the character's first appearance, the significance here is far less obvious. For nearly $5 million, the buyer got their hands on page 25 of Marvel Comics' Secret Wars No. 8, which explains the origin of Spidey's symbiote suit.
As those who have read up on their Spider-Man lore would know, the black suit – which had already debuted before this issue – would eventually lead to the emergence of the popular Spider-Man antagonist Venom. This person was not just some random collecter, this was clearly a fan.
---
---
RELATED: James Cameron's Spider-Man Was "The Greatest Movie" We Never Saw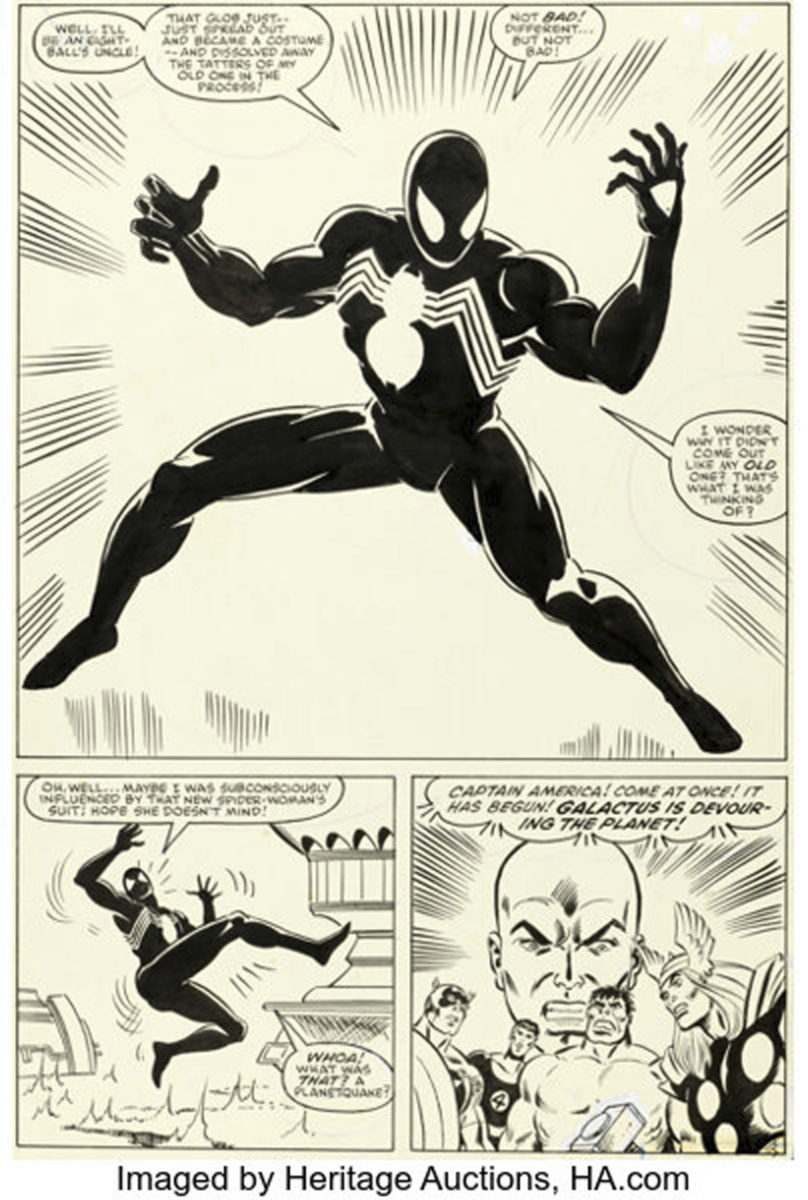 "We could not be happier, especially for our consignor, who bought the art in the late 1980s and treasured these pages ever since," Joe Mannarino, Heritage's New York director of comic art, said in a statement.
"Today's results prove what we've long been saying: Comic book art is as beloved and valuable as anything put on canvas."
The bidding for Mike Zeck's artwork soared past its initial starting point of US$330,000 (AU$459,000) on the first day of Heritage Auctions' four-day comic event in Dallas. This set the record for an interior page of a US comic book, which was previously set by a 1974 issue of The Incredible Hulk that featured a tease for the first appearance of Wolverine. That particular page sold for US$657,000 (AU$915,000).
The same day, one of the few surviving copies of Superman's debut, Action Comics No. 1, sold for US$3.18 million (AU$4.43 million), setting a new record for Superman comics along with being one of the priciest books ever auctioned. The cover was apparently marked with a rocket stamp by the original owner when he was 13, which contributed to this particular copy earning just a 6/10 grading for its condition.
This likely had a significant impact on its overall price and, for that reason, Spider-Man still holds the record for a comic book at auction with his debut issue, the 1962 Amazing Fantasy No. 15, which fetched a whopping US$3.6 million (AU$5 million) at another Heritage auction last September.