It's no secret that Supreme branded items – whatever they may be – always resells at an incredible markup value. It's a perfect lesson in how (misguided) market demand works. And the stories that result from Supreme related resales often provoke eye rolls and head shakes from anyone who isn't under the age of 17. As in the case of the enterprising bloke currently selling a packet of Supreme Oreos for US$92,000 (~AU$140,000).
US$92,000 asking price. Accumulated through 115 bids. All undoubtedly from hypebeasts. For a product that's retailing for just US$8. It practically boggles the mind. And yes, while this is a limited run, keep in mind that on eBay alone – there are currently cheaper packets being listed. I really hate to be the codger shaking his fist on the front porch. But at some point, if you're the one slapping money down for all this – you need to just stop and look within. Right?

In the chaos of all this, the good folks over at Monster Children have probably expressed the collective feeling best. Check out the anecdote below:
I used to live around the corner from the Supreme store on Lafayette. The spot I got my morning coffee from (LaColombe; best coffee in America) was right next door.

Some days it was difficult to get to my coffee spot because there would be hundreds of kids lined up around the block, waiting to get let into the Supreme store to buy whatever new thing the streetwear brand had concocted that month. Again, no issue with Supreme. I have friends who work there. But those kids are—and I know you're not meant to say this word anymore—silly little dickheads.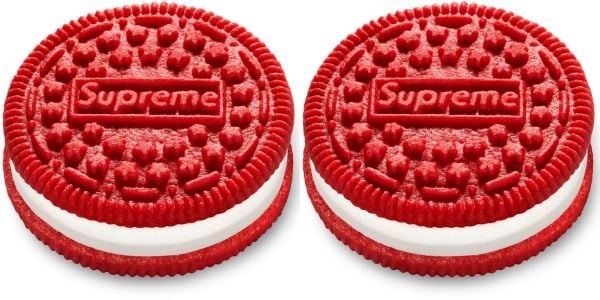 They go to the store dressed in the gear they bought from the store the last time they were at the store. They're insane. And they act all cool even though there is literally nothing uncooler than waiting in line for hours with hundreds of other insecure twats wearing shit with the same word printed all over it.

And more often than not, these little piss-ant motherfuckers (from the mean streets of Connecticut) had the gall to look me up and down and sneer at my grubby tracksuit bottoms, flip-flops, and spaghetti-stained Garfield t-shirt.
Yeah. That sounds about right.
Let's just hope Virgil Abloh is right and that streetwear dies in 2020. Fast.
You can keep track of the price gouging shenanigans over at ebay.com.
RELATED: The Hierarchy Of Streetwear & Everything Wrong With Hypebeasts.