Ozwald Boateng, a well-known suit tailor in London's Saville Row, once said that a suit is an extension of one's self. For Conor McGregor, there is no denying that fact. Today at the first international press conference for the much-anticipated August 26 fight between McGregor and five-division world champion Floyd Mayweather, the UFC champion did what he does best, knocking his opponent, insulting him with ease and facing off Floyd with typical Irish cheek.
"I'm gonna knock him out inside four rounds, mark my words."
Conor is known to indulge his earnings on some of the finer things in life—designer clothing and custom-made suits—but this morning he took 'custom' to a whole new level. To the naked eye one wouldn't have given his pinstripes a second look, but when he told the bursting at the seams LA press conference to taker a closer look, one would find the 'F*** Y**' salute to Floyd printed all over it.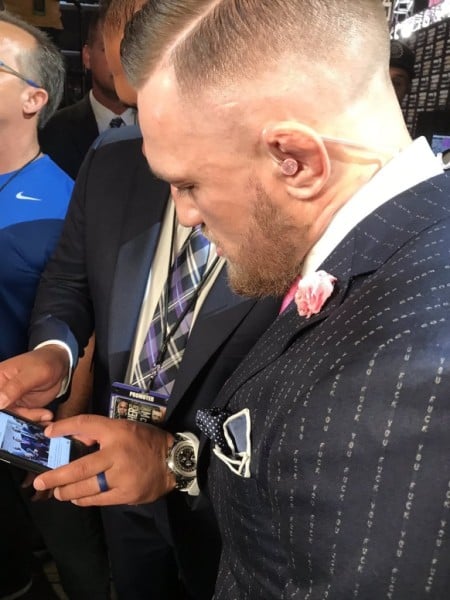 It may have been a sly attempt at sledging his opponent but the UFC champ also mentioned he would be launching his own suit line sometime soon, and this may very well be the first suit in his collection. Conor also promised that he plans to have Mayweather unconscious within four rounds, stating, "I'm gonna knock him out inside four rounds, mark my words." Only time will tell.
For a closer look at the August 26 bout, check out our by the numbers take here.