The dynamic façade of 25 Neerim Road is an unexpected visual feast in the Sydney Lower North Shore suburb of Castle Cove. Currently on the market for a new owner, it's expected to sell for roughly $15 million.
Found in a private bay side pocket, across the water from Killarney Point, the building is a triumphant, highly sculptural feat from Terroir Architects, who collaborated with interior designer Pascale Gomes-McNabb to bring a futurist's dream to life.
Inspired by the aesthetic environment of Castle Cove, this private residence is a flowing theatre of concrete contours embellished with roof cladding in elZinc Slate and Rainbow Ebano/Black.
---
---
The contours of concrete are embellished with roof cladding in elZinc Slate and Rainbow Ebano/Black, nodding heavily to the famed space age imagery that made American architect John Lautner and his individualistic "Googie" style so iconic in the design industry.
Much like Lautner's vaunted cantilevered structures and arched, upswept rooflines, the exterior of 25 Neerim Road is a glaring addition to Castle Cove's serene waterfront, set on roughly 5,300sqm of reserve and surrounded by lush designer gardens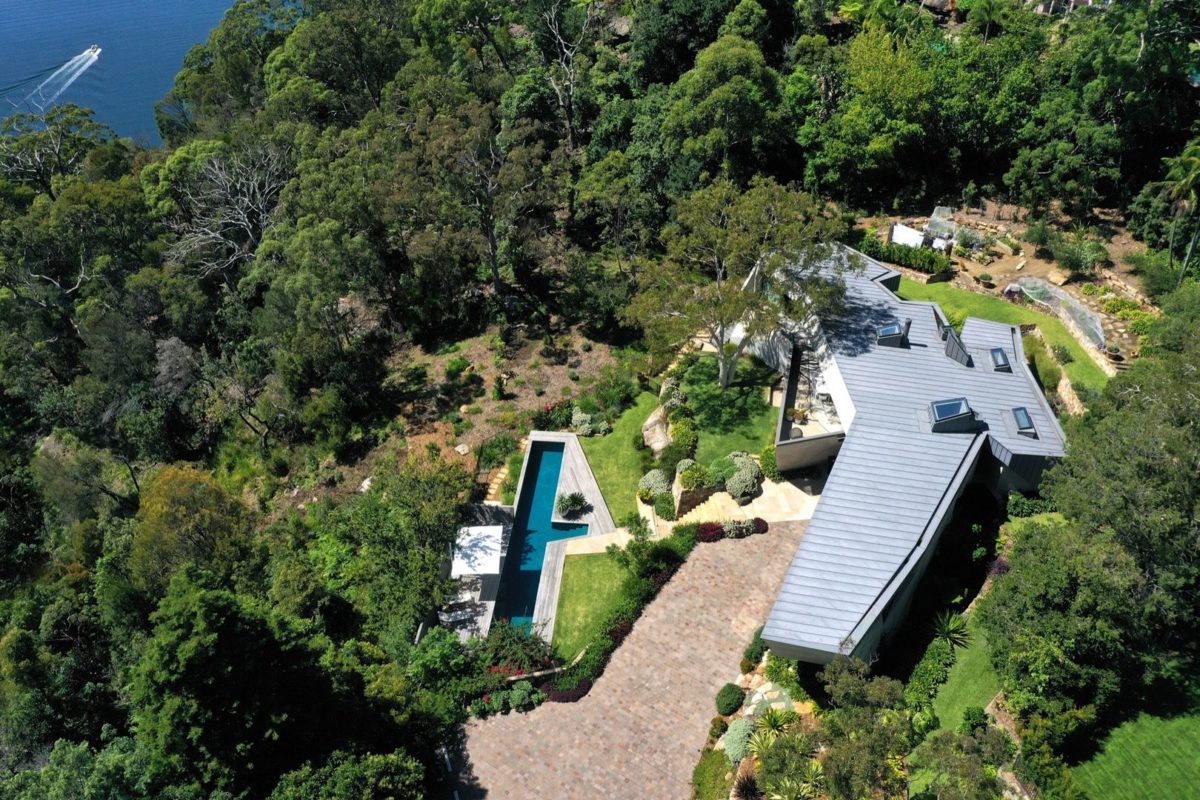 Inside the 5 bedroom, 5.5 bathroom home, modern comforts and amenities are arranged specifically to work with all the sharp angles and irregular ceilings.
Along with custom lighting seen throughout the living spaces, an extensive use of wood – on the walls, ceilings and built-ins – helps soften the imposing physicality of concrete. Nature is also used to add a gentle touch to the interiors, helped primarily by strategically placed skylights which pull columns of light down to illuminate main features.
Stair and elevator access connect the main level with the rest of the house, laying out a generously sized living room with a triangular concrete hearth fireplace, dining room, and a soundproofed home theatre, which also doubles as a music room. Glass walls slide away to further extend the space and open it out to a broad balcony, expanding the lounging and dining space and drawing the natural surrounds inwards.
A commercial-quality kitchen is defined by its asymmetrical island, flanked by a waterfall countertop and a concrete cut out that points towards a wall of glass, in a way reflecting the building's structure of concrete, steel, and glass.
The theme of concrete meeting glass continues in other spaces, like the impressive home gym and a dedicated tasting room, where one entire wall is devoted exclusively to wine storage.
---
---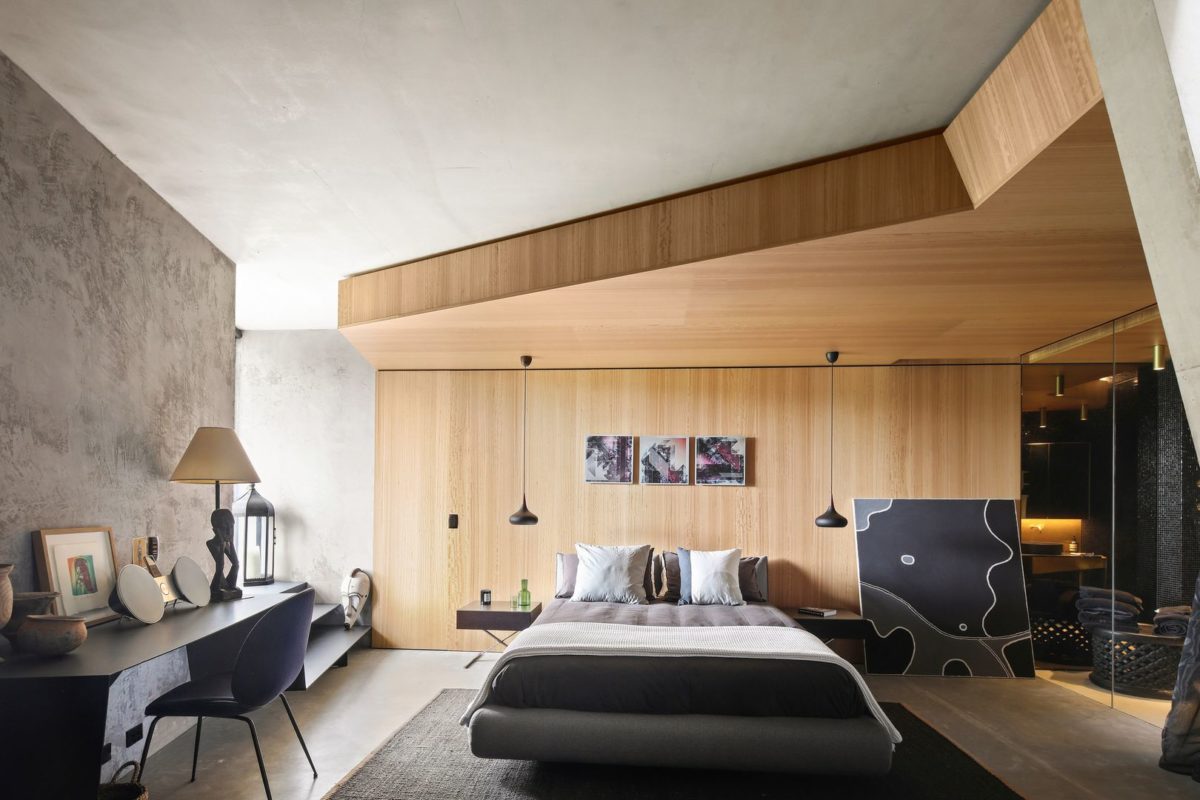 Walking into the Japanese-inspired master wing is at odds with the rest of the interior, distinguishing the primary bedroom so it looks like a genuine escape into another house entirely. Here, an indoor/outdoor bathroom is shaped after the minimalistic traditions of Japanese design – an idea continued in the separate home office. Hydronic heating adds a touch of multisensory luxury exclusive for the new owner of 25 Neerim Road.
Past the 4-car garage – which is separate from the 6 visitor car spaces – the grounds of the property invoke a similar sense of scale and absolute luxury. An angular resort-esque heated ozone pool is located in a terraced part of the year, surrounded by lush greenery.
Elsewhere, a lighted tennis court is included to further make the property feel much closer to a full resort. Nearby, 60,000L rainwater tanks complete the grounds and further augment what is an incredibly forward-thinking masterpiece of home design.