This six-bedroom, seven-and-a-half bathroom Californian mansion has a lot more going for it than simply neighbouring Kardashian realty.
ARC Design Group had a very strict brief on this one: Build me a Star Wars museum. Do or do not. There is no try.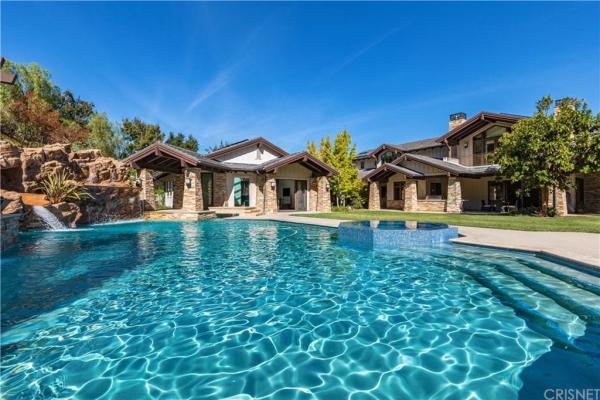 Listed at $26.5 million USD, ($39.2 million AUD), the true Jedi mind trick lies in looking below the property's surface. That's right, under the tennis court and the pool.
---
---
A 5000-square foot basement houses the seller's unprecedented collection of Star Wars Memorabilia. Clearly, for one of the world's most impressive collections… size matters not. Every aspect of the home was meticulously considered by Principal Architect Brian Lerman, who billed his client for hours spent watching the trilogies.
The journey begins as guests descend the elevator shaft and into a desert clad entryway. An experience meant to replicate emerging from a cave into the arid landscape of Tatooine.
Pass walls lined with mint condition, boxed character figurines, backed by larger than life-sized models. The collection includes father-son duo Luke and Vader, our favourite fluffy Wookie and loyal droids, R2D2, C3PO.
A replica X-Wing fighter is suspended from the ceiling, while a circular display showcases 30 custom stormtrooper helmets, alongside a custom speeder bike from "Return of the Jedi." And behold, Han Solo, frozen in Carbonite beyond a set of glass doors.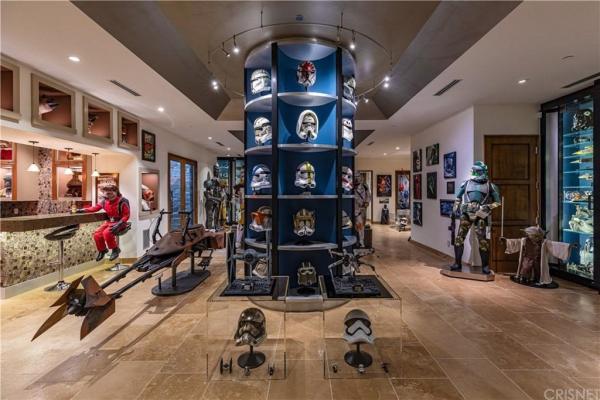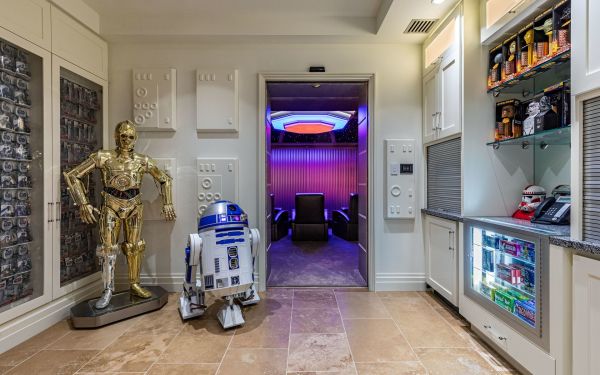 If it's been a long time since venturing to that galaxy far, far away, relax in the 18-seat movie theatre for a refresher. The ceiling mimics the view from the cockpit of a TIE Fighter, and surrounding walls accurately reflects the surface of the death star.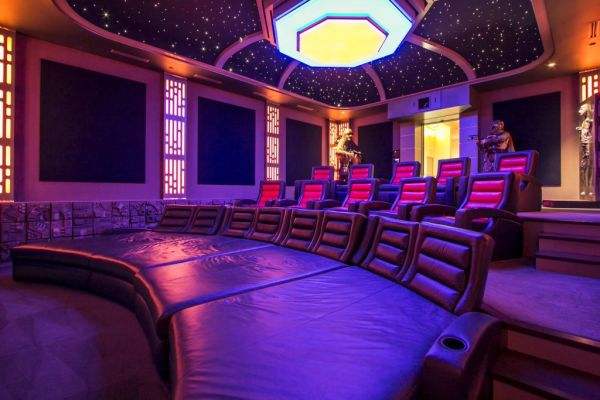 Don't miss out on a visit to the Cantina, where Zutton has pulled up a stool and cracked open a Corona. It's a fully functional kitchen too, so you can still use the forks.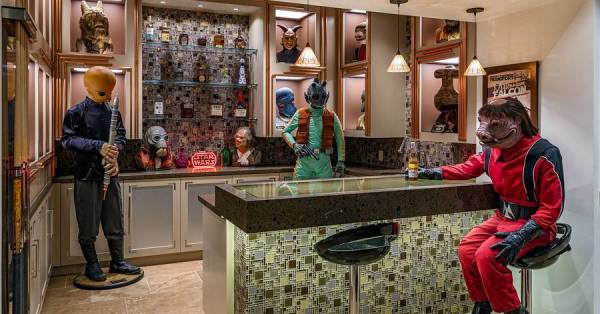 Tell the owner, let's just round it up to cool 40 million… He can just throw in the 'furniture' and let's call it a day? No? I find your lack of faith disturbing. Some of the investor's collections can be sold with the home, but for an undisclosed, likely whopping, additional price tag.
---
---
Off to the bank to get pre-approval. May the force be with me.
RELATED: Styled By Specter: Decor Inspiration From Harvey's Home & Office.