Now that working from home has been ratified within the modern norm, home offices are taking on a new meaning. Once known as a second bedroom, sunroom, or even a garage, people are finding ways to convert space in their home into the ultimate workspace. In this guide, we'll give you six easy tips to help you create a luxury home office without breaking the bank.
Find the best location
You're spending almost all of your time at home, meaning you should probably consider setting up your home office space away from areas where you'd ordinarily kick it during your free time. Start by avoiding both the bedroom and living room.
These spaces are where you switch off and relax. If you associate them with work, it'll be much harder to disconnect. If you don't have access to a separate room, consider a sunroom or as close to a window as possible so you can benefit from the natural light (at the very least).
---
---
Invest in the right desk
Just because you're working from home, doesn't mean you should relegate yourself to the couch or, even worse, the bed. But sitting at a desk all day isn't the alternative. So, in addition to your standard office desk, why not consider investing in a standing desk riser?
These bad boys allow you to instantly convert any flat workspace from a sitting desk to a standing desk in mere seconds. There are several benefits to standing while you work, including lowering the risk of weight gain, reducing back pain, as well as boosting productivity.
Choose a comfortable chair
In addition to an ergonomic standing desk, consider investing in an ergonomic chair. Sitting for long hours can take its toll, and without the proper support, you can suffer from back, shoulder, and neck pain.
Ergonomic office chairs provide the perfect support to keep you pain-free while sitting for long hours. Furthermore, when you invest in a supportive chair, you invest in yourself. Make sure you pick a throne that has lumbar support, adjustable height, and adjustable backrest.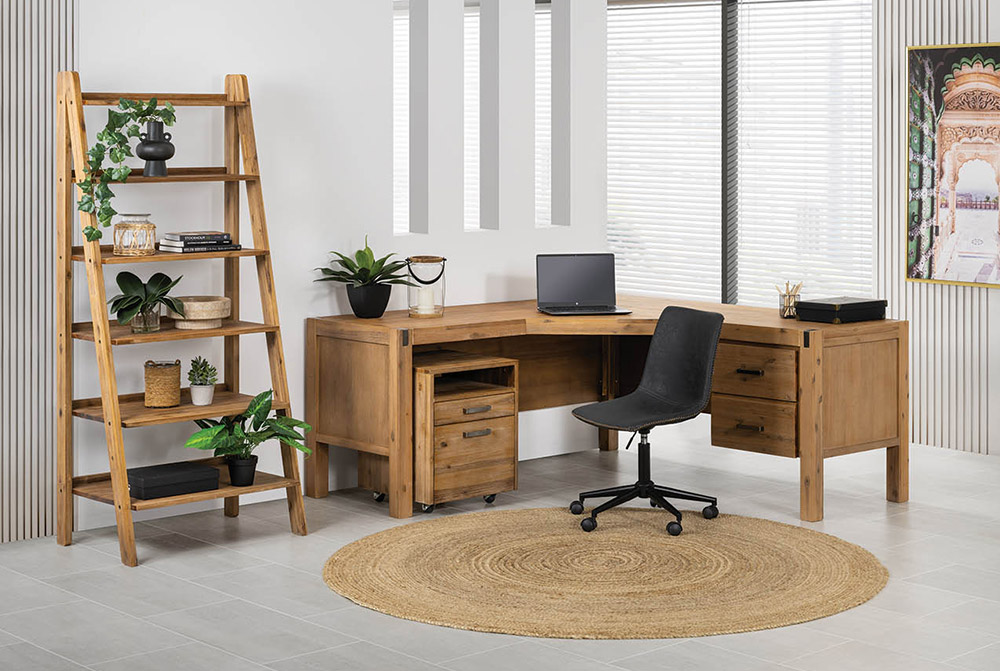 Keep the space clutter-free
Depending on the location of your home office, other people in the house might still use the room. That's where office storage comes in handy – stash your supplies and other household items away to keep the workspace clutter-free.
Dedicated storage options offer a mess-free environment, and a mess-free environment offers a focused and productive mindset. And don't forget to make the effort when it comes to that end-of-day disconnect. You can kickstart this by clearing your desk and packing things away ahead of the next day.
Don't overlook lighting
When you're setting up a home office, don't overlook lighting. As mentioned before, finding a spot to position your desk where there's plenty of natural light is a great start. If natural light isn't possible or only there for a short period in any given day, get yourself a lamp.
---
---
Soft lighting from desk lamps can set the mood and make the space feel more welcoming, as opposed to overhead light which might feel cold and uninviting. Overhead light can also cause a glare on your screen or desk, making it harder to see.
Add the finishing touches
Once you've chosen the right location, the best furniture, and the best lighting, it's time to up the decor game. Artwork… plants… small accessories – all are perfect ways to personalise your space. Unlike working from an office, you get to choose how you design the home office. The final touches will make a huge difference.
Concluding Thoughts
Home offices are the 2020/2021 trend that's here to stay. And now is the time to elevate your workspace to turn it into the home office you deserve.
For all of your home office needs, shop online at Amart Furniture.