Sydney's love of tightly curated lifestyle precincts has really kicked into top gear over the past decade, with urban renewal project Barangaroo remaining the most sizable and impressive of the lot. While Darling Square, 25 Martin Place, Tramsheds, and Quay Quarter Lanes continue to grow and change Sydney substantially, as well as pioneering precinct Kensington Street in Chippendale, it's Barangaroo that has always been the most ambitious of Sydney's new age. And yet a large part of Barangaroo is still incomplete, with a large stretch of foreshore currently a building site and cutting the reserve at the headline off from the densely populated South Barangaroo. This week, plans have been revealed on how exactly lead contractor Aqualand plans to change that, solidifying Barangaroo as a world-class adaptive reuse project with new five-hectare addition, Central Barangaroo.
With its heady mix of hospitality, retail, and office spaces along with venues like The Cutaway – one of the main spaces of the current Biennale of Sydney – and the ritzy Crown Sydney, Barangaroo is already a great symbol for Sydney's future. The $2.5 billion changes being planned will take that to the next level, curated by a collective of architectural design firms which have included new features like a two-hectare waterfront park, a raft of new cultural spaces, and an even bigger swag of retail and hospitality spaces, adding to the strong line-up of Barangaroo House, Untied, Anason, Cirrus and Ume Burger.
RELATED: The Best New Restaurants In Sydney
---
---
While there's no yet been any word on any specific businesses lining up for Central Barangaroo, given the lofty investment it's safe to expect some big names as Barangaroo looks to compete with some of the precincts mentioned above, particular Quay Quarter Lanes which is still very much in its nascent stage and has already proven quite the show-stealer with restaurants like Hinchcliff House and Besuto.
Instead of loading the new plans with more-is-more skyscrapers, the major feature of Central Barangaroo seems like it will be that two-hectare waterfront park, helping nail the brief that more than half of Barangaroo remain accessible by the public. The grand plan will be complemented by the vibrant Nawi Cove, which seems to be where most of the new restaurants, bars and art spaces will be located, as well as a new Metro station to provide the public with direct access to the Walsh Bay Arts & Culture precinct.
Central Barangaroo will also be home to a 21-storey mix-use apartment and office block that's already been met with a fair bit of controversy, with locals reportedly unhappy that it may ruin the sparkling western views from famed picnic spot Observatory Hill.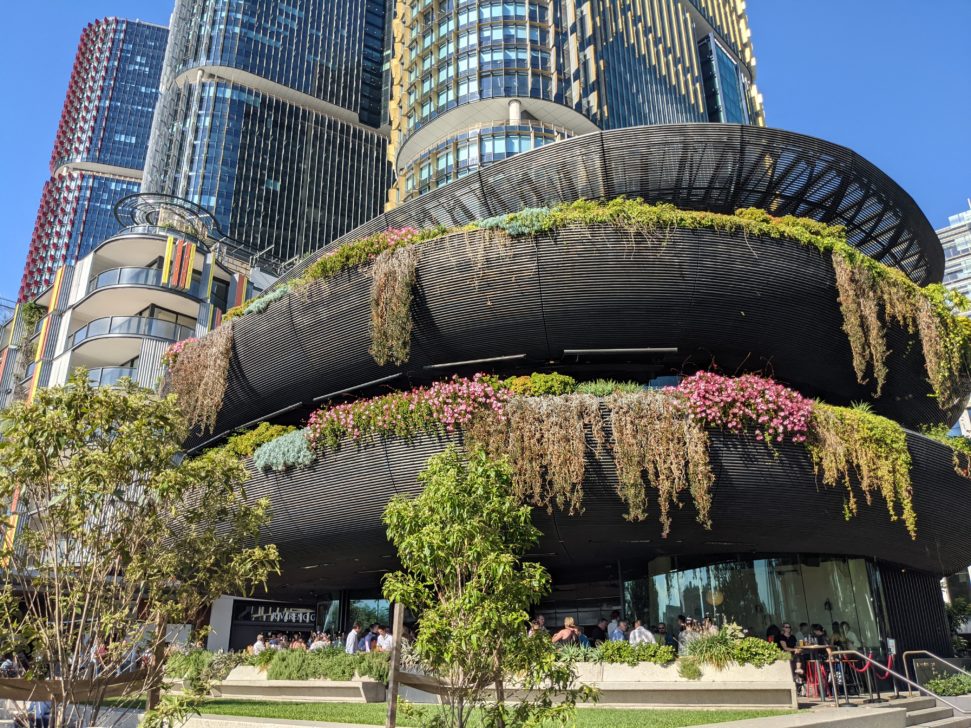 Aqualand's vision for the $2.5 billion precinct relies heavily on it being a leader for both design and sustainability. While this will of course change in the coming years, when Central Barangaroo is completed in late 2024, it will be the first carbon-neutral precinct in Australia.
"Our goal is to create a truly exceptional precinct that is beautiful, welcoming to all, with a variety of well designed indoor and outdoor public spaces that can be enjoyed at all times of the year," said Aqualand Project Director, Rod McCoy.
With Barangaroo Metro Station making the entire precinct much more accessible, it's hard not to imagine Barangaroo becoming the definitive spot for Sydney locals and visitors. Retailer partner Scentre Group has revealed intentions to up the retail, social, and lifestyle game with a mix of fashion, dining, entertainment, leisure, and technology spread all throughout Central Barangaroo, from street level through to the metro concourse.
Over the next two years of development, Central Barangaroo will represent a major boost for the City of Sydney, providing over 22,000 jobs with benefits of over $5 billion to the NSW economy. So far, the Barangaroo precinct has already generated around $17.8 billion.
---
---