Given how unpredictable Kanye can be, it's hard to know what to expect from the rapper's house. Honestly, at this point, if it was revealed that Kanye, Kim and their klan lived entirely underwater we wouldn't bat an eyelid.
But a new clip from David Letterman's Netflix series, My Next Guest Needs No Introduction, shows that when it comes to interior design, Kanye understands less is more.
The former late night talk show host gets an intimate tour of Kanye's US$60 million property, which is situated in the gated Los Angeles community of Hidden Hills. The house was a co-design between Kanye himself and interior designer Axel Vervoord.
---
---
First up, Letterman strolls into Kanye's loungeroom (we think it's a lounge room, there are seats in there), and picks up some ceramic artworks. "These are Yuji Ueda, who's represented by Takashi Murakami," explains Kanye. "These are my Christmas present to myself," which is the most Kanye line of all time.
Previously, Kanye has described the house as a 'minimalist monastery' and it's not hard to see why. Pretty much all-white-everything, the bedroom has a white king size bed, fitted with fresh white linen, situated in the centre that looks out onto the garden through the floor to ceiling window.
The bedroom also has minimalist furniture. Aside from the bed, there is a wooden shelf beside it and a round white table with one single plant perched on top.
Fans of the Yeezy brand will also appreciate a walk through West's wardrobe. Unsurprisingly, it's a huge space, reamed with all of Kanye's latest drops. Never did we think it would be so much fun to watch Kanye explain dad sneakers to David Letterman. Turns out we were wrong.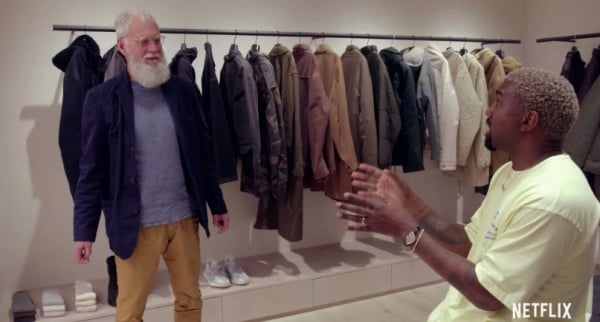 But the weirdest part of the whole tour has to be David and Kanye kickin' in it the bathroom. Obviously, this is Kanye's favourite part of the house and in keeping with the theme, it's very lo-fi. There are no sinks in the bathroom – sinks are for suckers – and in the centre of the room is a large square drop tub, presumably where Kanye and Kim get klean after a long day.
There's also a floor to ceiling mirror on one side (of course there is) and huge glass windows on the other. Letterman is most blown away by the fact the entire ceiling is a lightbox.
---
---
But hey, it's Kanye, what else would you expect?