What makes a place home isn't necessarily the years you've spent there or even the presence of family in some cases. It's the fact you can retreat from the world and call it your own. A space that's yours, even if only for a moment. By that logic, the Hi Sea Floating Home may very well be the homiest of homes – peak home, if you will – given it's essentially a man-made private island designed for isolated getaways.
Located off the coast of the (naturally occurring) Dongshan Island by Fujian, China, the Hi Sea Floating Home has been described as "independent from the mundane world". Fun fact, this also happens to be the country's sole floating "hotel".
During the early stages of construction, lead architect Dong Xinmeng was forced to consider the inescapable environmental factors of ocean currents, monsoons, and erosion/corrosion. Due to the size of the project, Xinmeng soon realised building on land before launching into the water was a no-go, especially given the dimensions of the dock. Meaning the second major challenge involved having to build a buoyant base to sail out with, only then putting the rest of it together out at sea.
---
---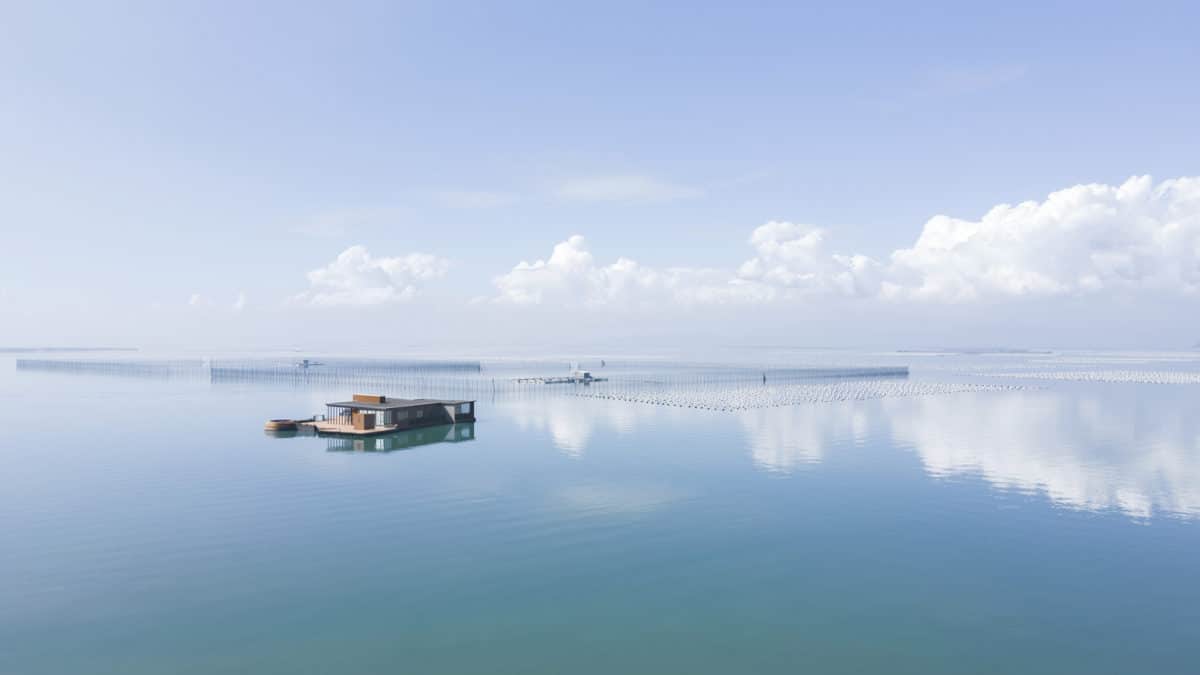 RELATED: The Floating Cabin Designed For Off-The-Grid Living
US$61,000, a whole lot of aluminium + steel + glass + teak wood + "materials found in airport terminals and yachts", and over a year later, Xingmeng had something to show his client/close friend. A functionally durable and weather-resistant yet gorgeous aquatic abode, rich with 360 ocean views, natural lighting, generous living space, an exquisitely minimal aesthetic – all spread across a rather efficient 500 square metres.
The Hi Sea Floating home is powered from the mainland, connected by cables which wind across the seabed, finding its connection point on the island (hence why it's only 500 metres from the coast). And should relocation become either a necessity or desire, it is indeed possible to unplug said cables, pull up all 16 metal anchors, and tow elsewhere.
Other features include the following:
1 x master bedroom w/ ensuite
3 x guest rooms
1 x living room
1 x kitchen
2 x open terraces
several boats & kayaks attached