A Victorian property in West London, thought to be the most narrow house in England, has been listed for an asking price of £950,000 (~$AU$1.7m). Given the petite property is only 1.65 metres wide in some places, that price may come as a bit of surprise – until you take a look inside.
The deceptively luxurious, royal blue property, built into a former hat shop in the multicultural neighbourhood of Shepherds Bush, was converted to a five-floor, two bedroom terrace house by fashion photographer Juergen Teller in the 1990s.
It's uniqueness is undeniable, as is the slick contemporary interior that, according to real estate agent Winkworth, works in much the same way a luxury yacht would. In that the small space is used to maximum effect, featuring a clever use of features that work with the building's construction.
---
---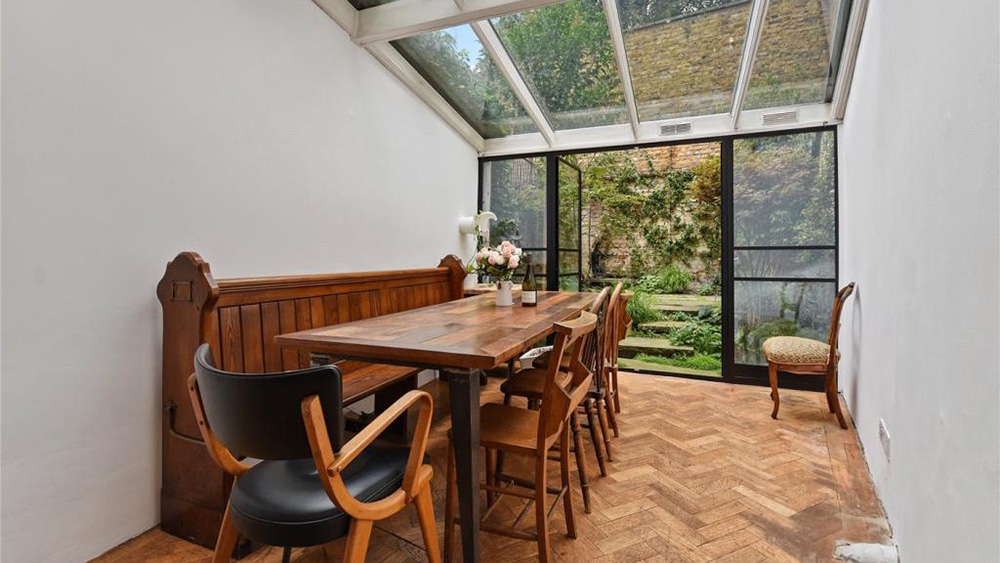 Period parquet flooring hold up the vintage-luxury approach, along with features like an original deco bath rub, roof terrace and double full height glass doors which lead from the glazed dining area out onto an rich and vigorously planted private patio garden.
The entire house is an ode to pared-back living, tapping into the same vein as Japanese minimalism but in a decidedly Western shade. From the ground-up, the basement level is fitted with a small kitchen, dining room and that aforementioned patio garden.
Moving up to the first floor, the home features a dedicated study, a small bedroom, and the outdoor terrace. Walk on up to the second floor and you'd find yourself split between a bathroom, and on the third, a dressing room to help keep any bulky wardrobes out of the main bedroom.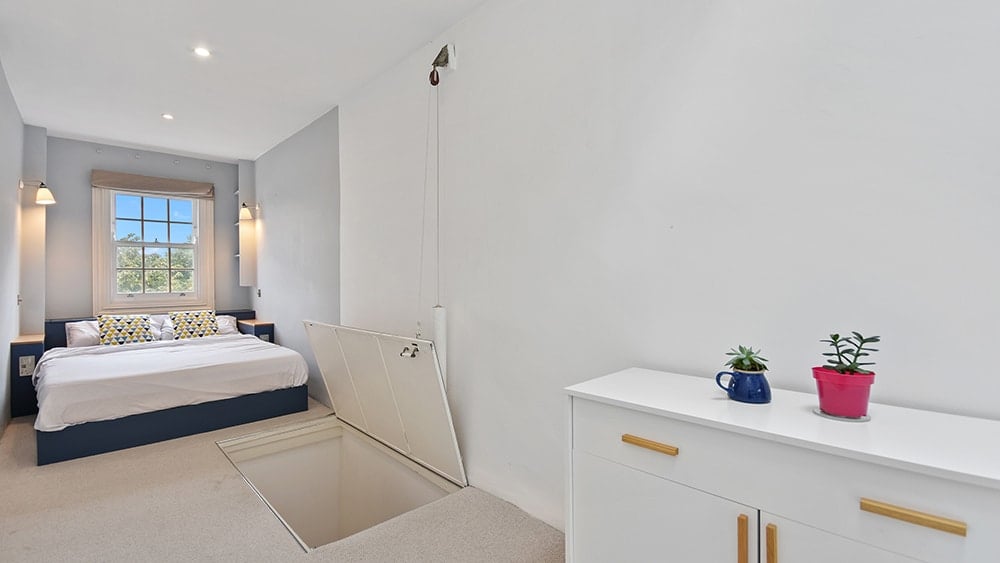 The fourth floor hosts a main bedroom spanning the entire floor with its built-in double bed. The space is accessible through a hatch-door in the floor, which closes on itself to help maximise to space. Above that is the final floor, with a mezzanine under full-width skylights to help beam natural light to the floors below.
Following Teller's clever refurbishment to the most narrow house in England, subsequent owners have added their own touches throughout the years. One of these was English actor and playwright Simon Woods, who is perhaps best known for starring in the 2005 adaptation of Pride and Prejudice, and also Rome.