London isn't exactly the first place that comes to mind when one considers authentic Japanese-inspired design. Certainly not the Shakespeare Tower either, a textbook example of brutalist architecture that survived World War II bombings, and features little more design inspiration than your standard concrete structures.
Of course, as the old cliche goes, home is where and what you make of it – and these residents opted to import their connection with the Japanese culture, into their Barbican apartment, effectively uniting the East with the West.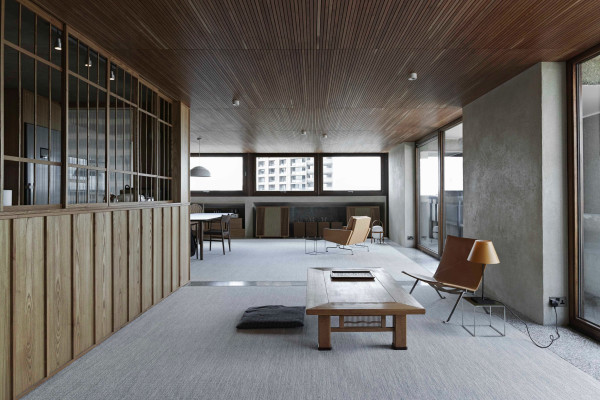 With the London apartment completely overhauled by Takero Shimazaki Architects, the end product resembles something that could very well be from the residential corners of Kyoto itself (while still preserving certain brutalist elements of the building). The most immediate feeling provoked being that of a soothing calm.
---
---
Here, you'll find the floors have been lined with tatami mats as to "offset the weighty mass" of the concrete walls. Take note of the grey-terrazzo column's insertion, a column that kisses the edge of the rooms lined with tatami mats.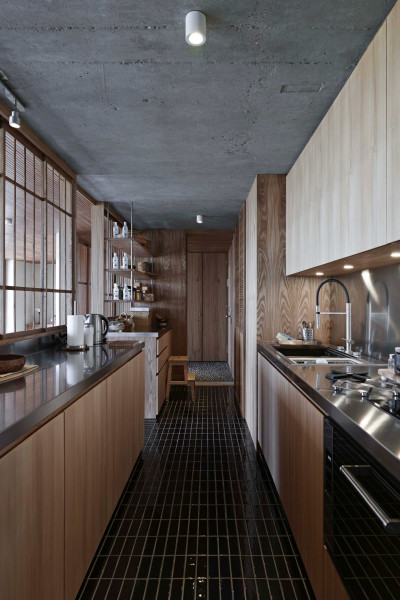 The use of timber in the form of gridded panels to "partially conceal the kitchen" is complemented nicely with similarly wooden cabinetry, stainless-steel countertops, and glossy black floor tiles. Timber joinery has also been utilised in the master bedroom, more specifically for the headboard and storage cupboards.
There's even a patch of flooring at the entrance made through araidashi. For those of you unaware, araidashi is a traditional Japanese stone crafting method where pebbles and mortar are mixed, laid, washed with water, before being dried. The result is a pleasantly flecked surface.
At this point, what more is there to say aside from "mission accomplished"?
RELATED: Inside Scott Disick's Tasteful Hollywood Hills Home.