New York City wasn't christened "the city that never sleeps" for no good reason. No matter what time of the night you're out and about you'll always find something to do, be it hunting for a feed in Little Italy or Chinatown, checking out the always hectic Time Square or clubbing in the exclusive Meatpacking district.
If you're visiting the Big Apple there's no better way to explore the city while indulging in a few quiet froths than by visiting the numerous rooftop bars scattered throughout New York. Most offer spectacular views along with a little bit of NY hospitality, but with so many to choose from it's hard to know where to start, so we've narrowed it down to our favourites for you to enjoy next time you're passing through.
JIMMY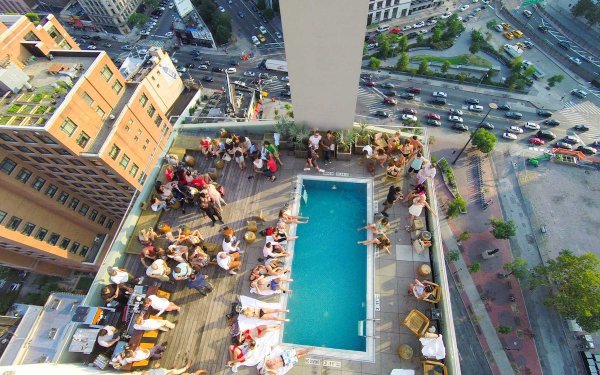 Perched 18 stories above The James Hotel in Soho, JIMMY is a contemporary take on the classic pub with a 70's New York twist. The interior is refined and classical but it's the outside deck that will leave you breathless, with panoramic views of Wall Street, Midtown and the Hudson River. In keeping with the wooden floors and cinnamon coloured decor, JIMMY serves classic cocktails with an American influence, including the Grilled Pineapple Mojito and Chicken Hot Toddy, made up of Hendricks Gin, hot chicken stockpot, celery bitters, carrot and parsley. Oh yeah, did we mention the rooftop pool to cool off in when the summer mercury gets a bit spicy?
---
---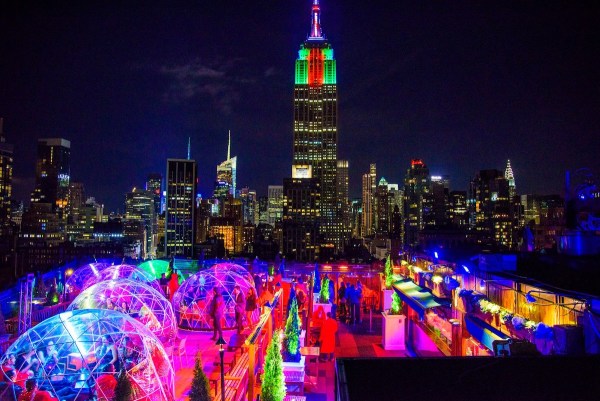 Magic Hour Rooftop Bar & Lounge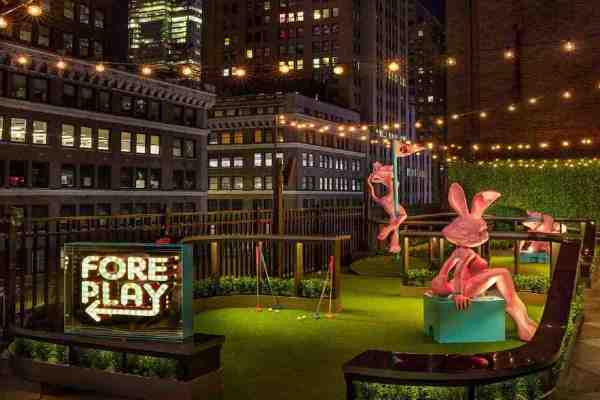 Catering to a weird mix of the after-work crowd and 20-something hipsters, Magic Hour is an adult playground with a carnival feel. There are two different outdoor areas providing unique views of the Manhattan skyline as well as interesting animal sculptures and a mini-golf course dubbed "Foreplay." Snacks are available if you get a little hungry, and while the cocktail list is tasty, their take on the Moscow Mule, known as the Magic Mule, is a particular delight.
485 Seventh Avenue (at 36th Street)
The Crown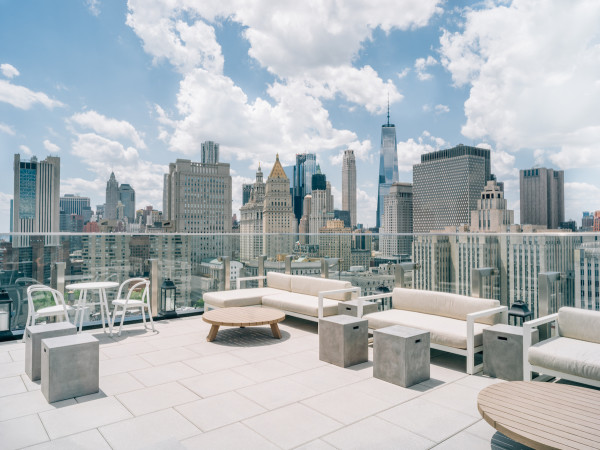 In the heart of Chinatown some 21 stories above the Hotel 50 Bowery is The Crown rooftop bar. There are two outdoor terraces offering different views of the New York City landscape and a small yet mouth-watering selection of beverages, including interesting beer, wine and cocktails. If you're feeling peckish head downstairs to Rice & Gold, an Asian-inspired eatery where you can sample snacks like edamame and Thai apple salad or go all out and order a crispy orange duck or northern style beef pho.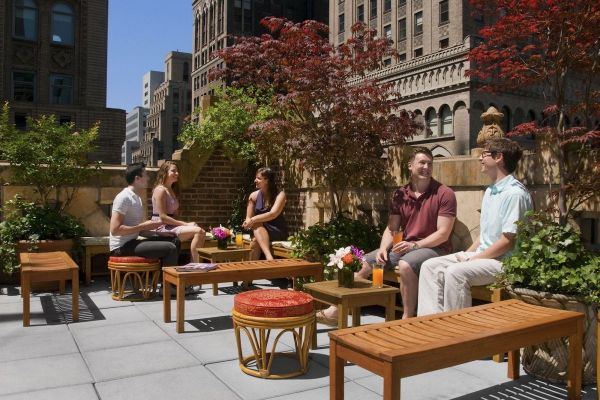 Azul Rooftop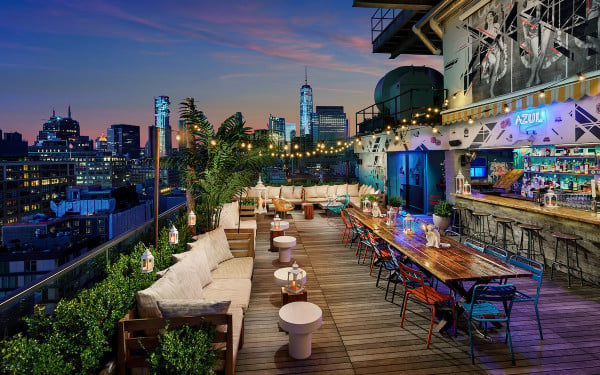 You'll feel like you've stepped into the streets of Old Havana when visiting Hotel Hugo's Azul rooftop bar. Channelling a Cuban cantina decor the bar merges vibrant colours with ample greenery in a cosy setting with 360-degree views of Lower Manhattan. There's a live Cuban band on Sunday and movie night every Monday, with a large selection of Cuban rum inspired drinks available.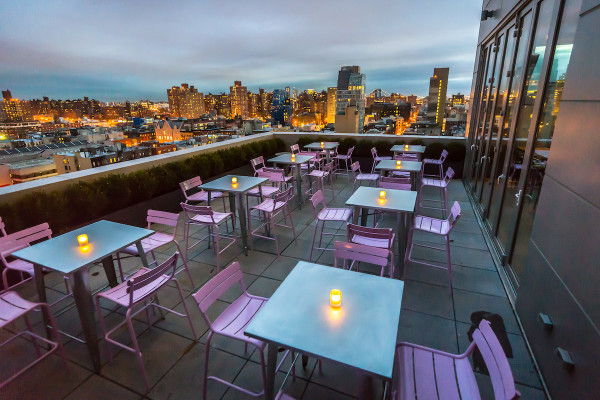 Northern Territory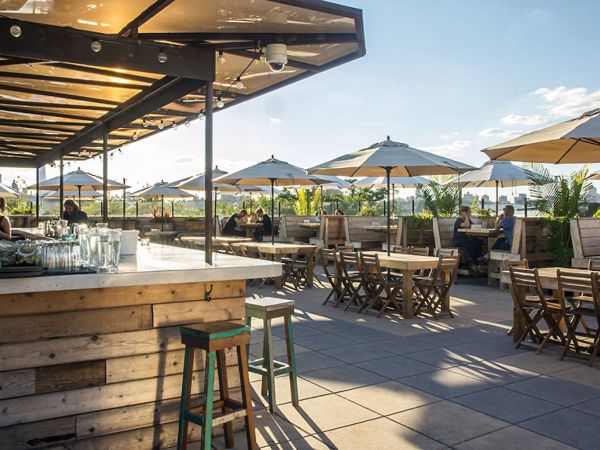 If you're getting homesick then a quick visit to the Aussie themed Northern Territory will pick you up and help you forget your travel blues. It's no surprise this bar is located in Brooklyn, with the inside featuring hand-painted murals and the rooftop bar a great space to enjoy some Australian delicacies in the sun. Sip on a Fosters or Coopers while chowing down on a meat pie in this delightfully inviting premises. It doesn't get any more (stereotypically) Aussie than that.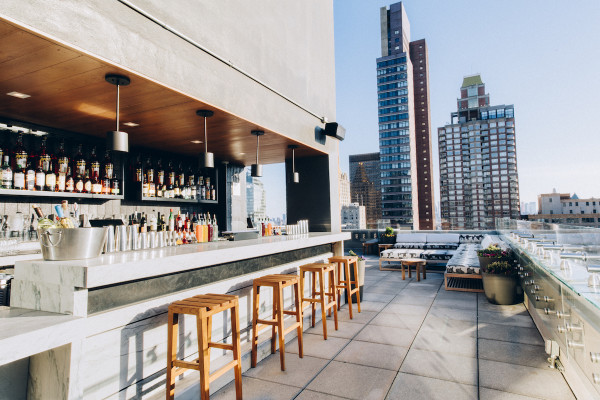 RELATED: Paris's best rooftop bars with a view
---
---