Chivas Regal have just released their 18 Ultimate Cask Collection, and have been kind enough to be provide us with a bottle, plus a number of recipes this Christmas. This 18-year-old drop is undoubtedly one of their finest, and has quickly become one of our favourites.
The 18 Ultimate Cask Collection has been developed by Colin Scott, Master Blender for over 23 years and a man who knows the characteristics of each and every whisky in Chivas' extensive aged inventory. Colin is a supreme craftsman with a lifelong passion for exceptional whisky, and he draws on his own knowledge and inspiration from the Master Blenders before him. He is the guardian of the renowned Chivas Regal signature style and has recently created compelling new members of the Chivas family – Chivas Regal 18YO in 1997 and the luxurious Chivas Regal 25YO in 2007.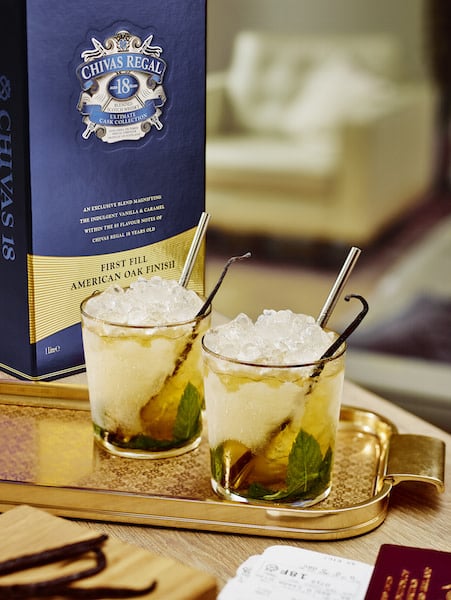 We're absolutely rapt to feature this, and have wasted no time in mixing up a number of recipes, our favourite being what Chivas Regal call the 'Chivas Smash'. The recipe is as follows:
---
---
Chivas 18 Ultimate Cask Collection Smash
50ml Chivas 18 Ultimate Cask Collection First Fill American Oak
10ml Vanilla Sugar syrup*
Eight Mint Leaves
Crushed ice
Old Fashioned Glass
This recipe can be made inside the glass and does not require any additional tools apart from a spoon.
Method:
Place the mint leaves in the base of the glass and add the Vanilla Sugar syrup. Stir (without breaking the leaves to allow the mint to infuse into the sugar) for 20 seconds then add the Chivas. Half fill the glass with crushed ice and using a spoon fold the mint from the base and stir slowly allowing the ingredients to mix thoroughly at the same time chilling and diluting the drink. Continue to do this until the ice has become slushy and then fill the glass with more crushed ice. Now the liquid should be almost at the top. Take a large fresh sprig of fresh mint and slap it against the dry palm of your hand to release the oil and freshen up the aroma. Place this into the glass at the top alongside a thin straw. When you sip the drink the fresh aroma should enhance the taste.
Background:
The flavours of soft spiced Vanilla are present highlighting the American Oak cask finish. This takes inspiration from a Classic American cocktail which celebrates the famous Kentucky Derby, also known as a Scotch Smash (Contains Whisky, Fresh Mint leaves and sugar).