We all know the weather is, quite frankly, shit in London during winter, but once the spring sun finally breaks it all turns out rather peachy during summer. Sure, there's never going to be the type of heatwave we're used to down under, but with temperatures often hovering around the high 20s, it's the ideal environment to sink a few imperial pints at some of the coolest rooftop bars in one of the world's most exciting cities.
If you're planning to escape the Aussie winter and venture across the pond to visit our Commonwealth friends, you'll want to make sure you're getting a few rays as well. Here are our favourite London rooftop bars to make sure you enjoy the upcoming English summer.
Dinerama, Shoreditch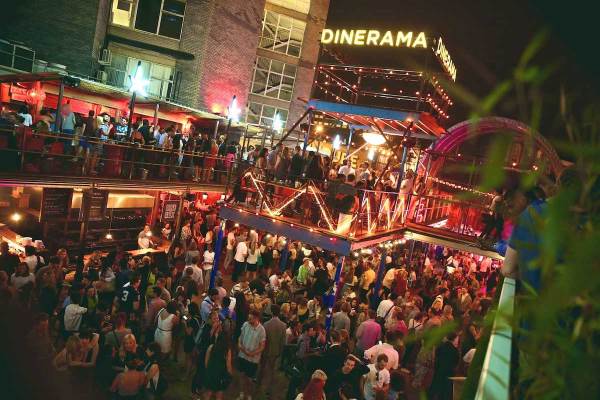 There are few combinations as good as alcohol and a solid feed, so if you're like me and enjoy some grub with your pint then Dinerama has you covered. Local company Street Fest has gathered together 10 top food vendors alongside nine different bars in this colourful location in the ever trendy Shoreditch. Enjoy jerk chicken, tacos or dumplings while knocking back a variety of cocktails and cold brews with great nighttime views.
---
---
Madison, St Pauls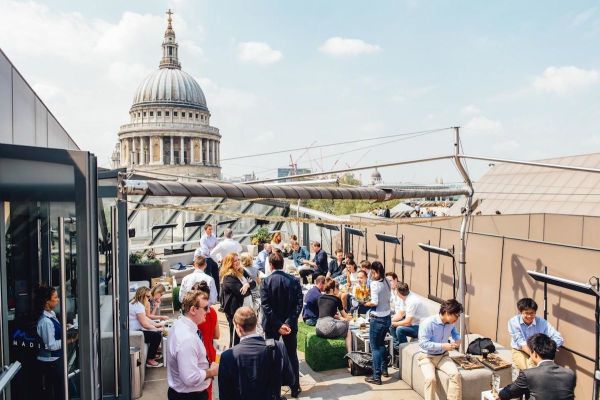 Dress to the nines if you want to visit the exclusive rooftop terrace at Madison's. There are several open areas where you can mix with London's elite while sipping overpriced cocktails set amongst the backdrop of nearby St Paul Cathedral. If you're peckish Madison's has a great range of options to stop your stomach from grumbling, including ribs and burgers, while the wine and spirits list is extensive.
Rooftop Terrace One, New Change
Skylight, Tobacco Dock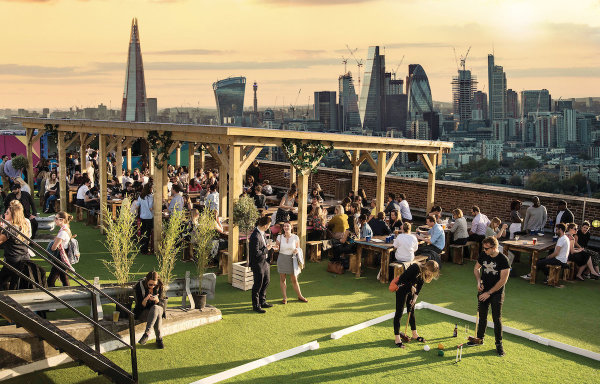 Currently closed for the winter, Skylight is an awesome option in the warmer months for those who want to do more than just sink piss. Described as an "adult playground," Skylight's huge space offers punters the chance to play a game of croquet or petanque while all major sporting events are broadcast on multiple large screens. The views of London's East End are spectacular and only add to the enjoyment of this venue.
Pergola, Paddington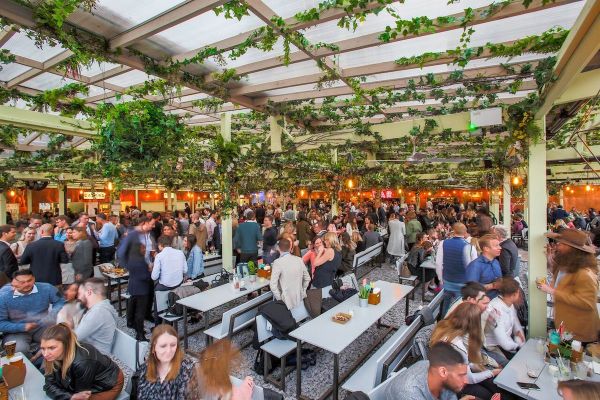 Pergola only opened its doors in 2017 but has already become a favourite amongst Londoner's. Spread across two levels it's the alfresco garden rooftop that's really caught people's eye. There are five pop-up restaurants, two bars and numerous daybeds for you to relax on and catch a few rays on those warm sunny days. There's even a retractable roof so when London's unpredictable weather occurs, you can keep on drinking the night away without a worry.
---
---
Queen Of Hoxton, Shoredith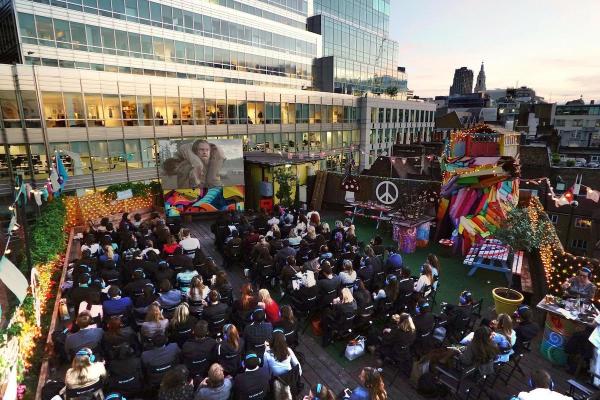 Hipsters love a good rooftop bar and none are more popular in London than the Queen Of Hoxton. While the views are great and the drink prices decent, it's the ever-changing themes that make this rooftop bar such a delight. Last summer it was 'Lost Vegas' and it's now currently Moulin Rouge, with a host of activities centred around the theme available for patrons to take part in. They also do hip-hop karaoke and weekly cinema nights, meaning you'll never get bored at the Queen Of Hoxton.
The Faltering Fullback, Finsbury Park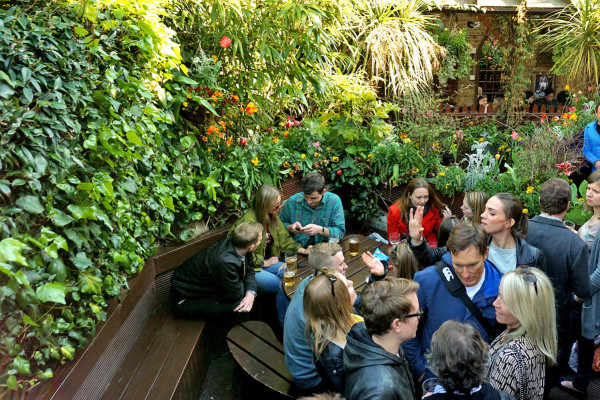 This jungle oasis is tucked behind the famous Finsbury Park and features one of the leafiest beer gardens in London. It's a great way to spend an afternoon with friends, and if the weather turns bad, you can always head inside for some fantastic pub grub, play a game of pool or watch some live music in the front bar.
Bar Elba, Waterloo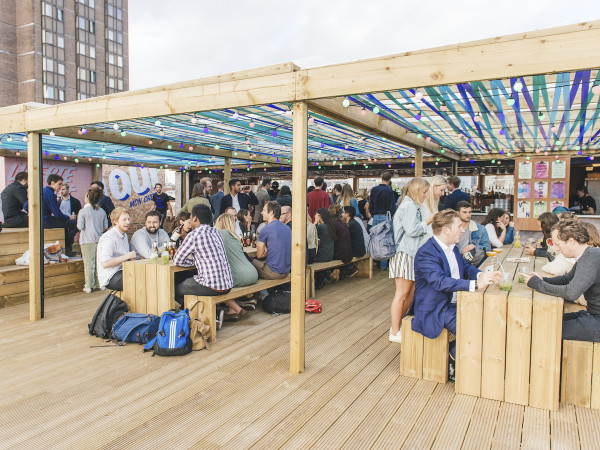 Considering its location it's no surprise Bar Elba is named after the Mediterranean island where Napoleon was exiled. Constructed out of wooden planks that not only make up the floor but also the seating, bar and exposed rooftop, this funky bar is for cocktail lovers. While the standard drinks menu is fairly thin, there's an interesting selection of cocktails on offer, with a generous two for one happy hour occurring every day.
Aqua Spirit, Soho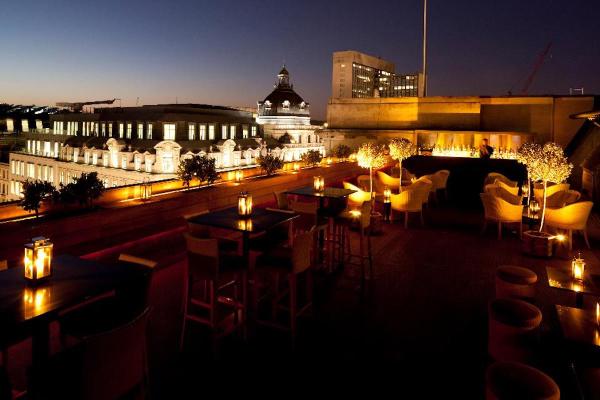 Soho is a hectic neighbourhood in London's West End where the party never seems to end. If you're looking to escape the hustle and bustle for a few hours then head to the luxurious Aqua Spirit. Featuring two rooftop terraces you can relax in the comforting surroundings with a classic cocktail while indulging in Japanese snacks, including edamame and squid and vegetable gyoza.
---
---
12th Knot, South Bank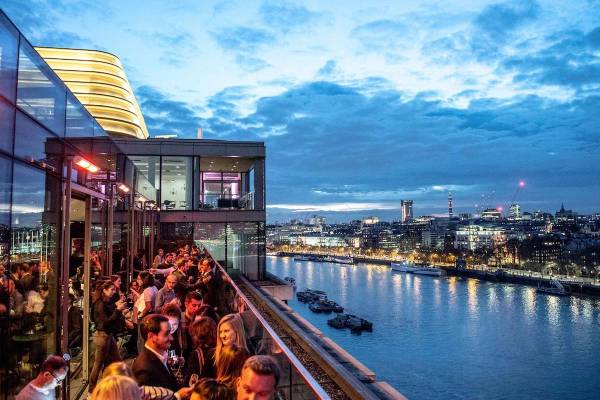 Built from empty shipping containers and perched twelve stories above the ground, 12th Knot is a unique space in the heart of London. Although the outside balcony area is always crowded, the views of the River Thames and South Bank are worth the cramped conditions. There's live music on Wednesday and DJs all weekend, with the drinks menu offering a solid selection of wine, champagne, beer and cocktails.
Radio Rooftop, Covent Garden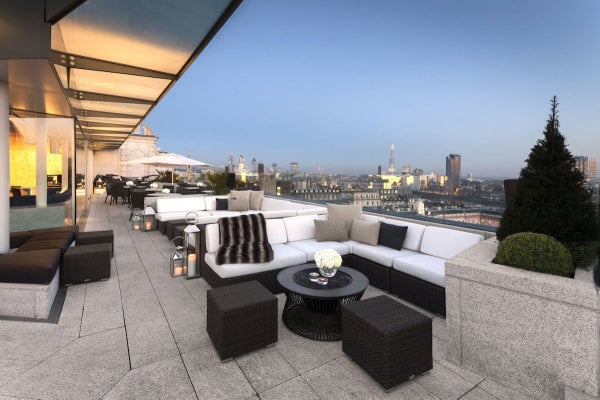 If it's your first time in London town and you really want a sense of just how big this city is then head along to Radio Rooftop. Panoramic views of the city let you take in famous landmarks such as Waterloo Bridge, the Gherkin, St Paul's Cathedral, the Houses of Parliament and the London Eye. But be warned, it can get rather busy during the evening so head there in the afternoon for lunch if you really want to make the most of the views.