It all started as a joke. Shannon Bennett, owner of the triple-chef hatted Vue de Monde, was seeing a group of guests out in the ground-floor foyer when—like many patrons at the 55th-floor Rialto fine diner—the group footnoted to Bennett that they were keen to kick on with their festivities.
"It all came about maybe five years ago," Bennett explains. "I was travelling in the lift down with some patrons from the restaurant – they had been celebrating a business deal and wanted to party on, and said it was a shame they couldn't take a bottle of Champagne with them.
"So I took the lift back up, got them a bottle of Champagne and said – 'look, you know this is a human vending machine' and we had a good laugh. Afterwards I said to myself, 'vending machine? Good idea'."
---
---
The thing is, Bennett actually decided to follow through on the idea, and the Dom Pérignon Illuminator now sits — in all its glory — in Vue de Monde's new street-level designer lobby on the ground floor of the Rialto.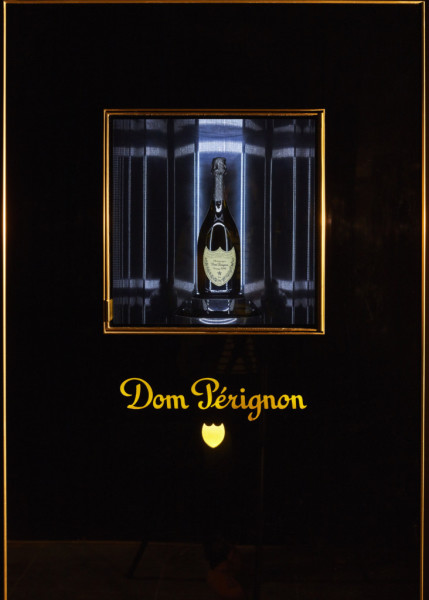 But getting there wasn't so simple. First Bennett had to get approval for the concept from Moet Hennessy (which owns Dom Pérignon) back in Champagne, France who originally scoffed at the idea, thrown heavily by the banality of the "vending machine" tag. Then, after some adjustments in semantics and a tick of approval from Moet, the restaurateur sought out the help of Will Colhoun of Big Kahuna Imagineering, a Sydney-based robotics company, to put together a simple yet elegant machine that wouldn't explode bottles as it dropped them into the tray below.
"The reason that Dom Pérignon or any Champagne can never be put into a vending machine is there's a slight chance that the bottle will explode when it drops out, so we had to come up with a solution," Bennett says.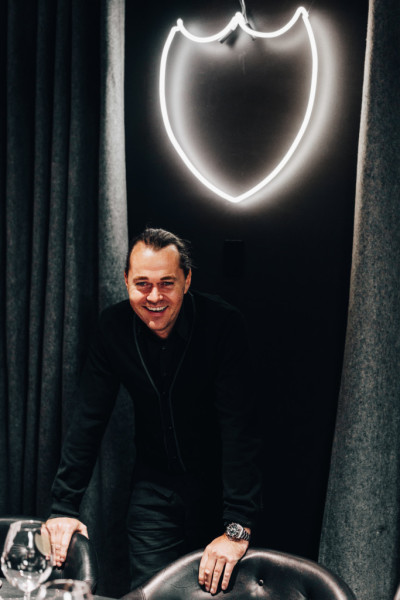 The result is something of beauty; a large, jet black machine smartly illuminated with Dom livery featuring a square glass door for champagne to magically appear behind, all set above an opening for the brass Dom Pérignon shield-shaped token, the only currency the machine knows.
Of course, you're probably still wondering how Bennett and Colhoun got around the issue of exploding bottles of expensive French champagne as you drop them inside the Illuminator? Simple – raise the bottle up into the glowing cavity that becomes the centrepiece of the machine instead of dropping it on its head and voiding the concept altogether.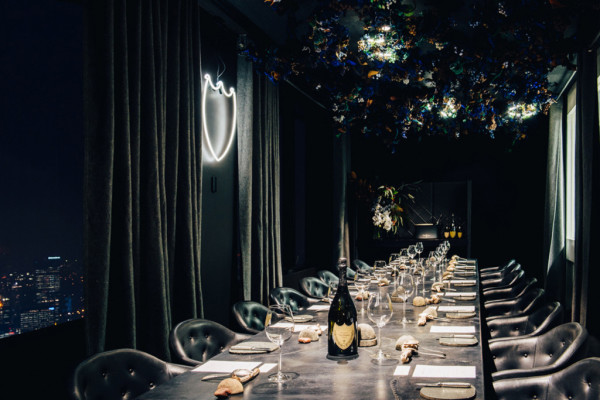 While the fanfare and novelty surrounding a Dom Pérignon vending machine might suggest a significant mark up, the 2006 P2 vintage featured inside the Illuminator is actually priced at retail, all thanks to a lack of overheads.
"It'll put a smile on your face in the fact that it's still a very, very expensive bottle of wine at $290 but at the same time, it's one of the cheapest bottles of Dom Pérignon you can buy in Melbourne," Says Bennett.
---
---
The introduction of the Dom Pérignon Illuminator coincides with the opening of Vue de Monde's new private Dom Pérignon Dining Suite, where diners can indulge in the P2 Experience – a special degustation paired with a selection of Dom Pérignon vintages, including the renowned 1998 vintage. While prices for the P2 Experience start at $900 per head (bookings must be for groups of between 8 and 12 guests), the host for each evening will receive a complimentary token for the Illuminator. Tokens are available at a cost of $290 thereafter, with guests at Vue de Monde and its connected Lui Bar entitled to the purchase of tokens.
For Vue de Monde bookings and all other enquiries, click here.