Various Carlton-Ritz hotels in the US have installed some very luxurious vending machines. Möet has also released some machines in Australia, including at The Star in Gold Coast. Within the 1° Celsius quick access fridges, guests will find some premium Imperial Möet Brut and Imperial Rosé. However, judgemental wine connoisseurs can rest easy as the machine is maintained constantly by a sommelier.
Two issues arise with concepts like these:
1. Kids get unlimited access to some top-notch bubbly.
---
---
2. Your bubbly is a little too bubbly after falling from the top level of the vending machine.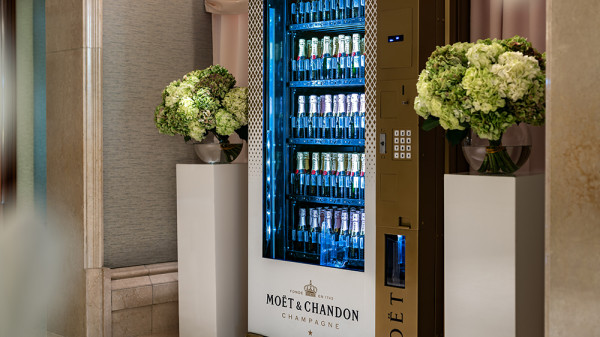 To battle the former issue, Ritz-Carlton will supply mature-aged guests with gold tokens in exchange for $25 USD, which are then inserted into the machine. To combat the latter, Möet & Chandon have installed soft-landing systems that ensure your champers arrives undisturbed.
Unfortunately, the machines only disburse 200ml bottles, so you might need to make a couple of purchases to make a night out of it.
Still, the notion of Möet via a vending machine is one that we're all for. We'll be watching the evolution of this machine with great interest.
RELATED: Moët & Chandon Celebrates Roger Federer With Limited Edition $24,000 Champagne