Space is well and truly the next frontier. Why else would a Bezos, a Branson, or a Musk be investing so much time and money on getting the collective there? And where there are people, there will be parties, and where there are parties, there will only naturally be drinks. That's where Maison Mumm come in, with their "space champagne" specifically designed for zero gravity.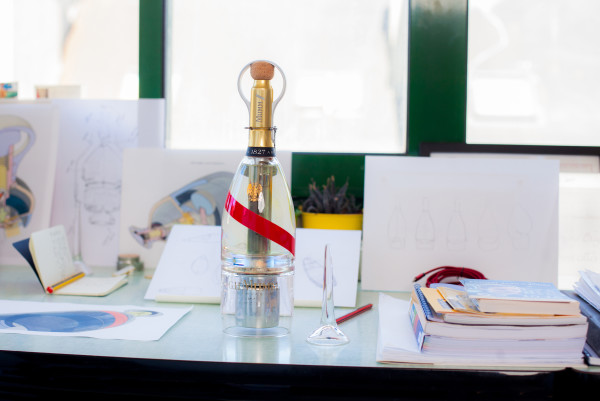 As of September 2018, Maison Mumm will officially launch their Mumm Grand Cordon Stellar. "A groundbreaking feat of technology…" that will make it possible for astronauts and (future) civilians in space alike to enjoy a celebratory champagne in amongst the "… challenging surroundings…" of zero gravity. This is the direct result of a three year partnership with Spade, an agency specialising in space-related design.
Mumm Grand Cordon Stellar will employ a "… revolutionary new bottle…" and glass concepts in order to make this both practical and possible. Crafted from transparent glass as well as Mumm Grand Cordon cuvée's distinctive red sash, the bottle utilises the champagne's gas to expel the liquid into a "… ring-shaped frame…" in concentrated droplets of bubbles.
---
---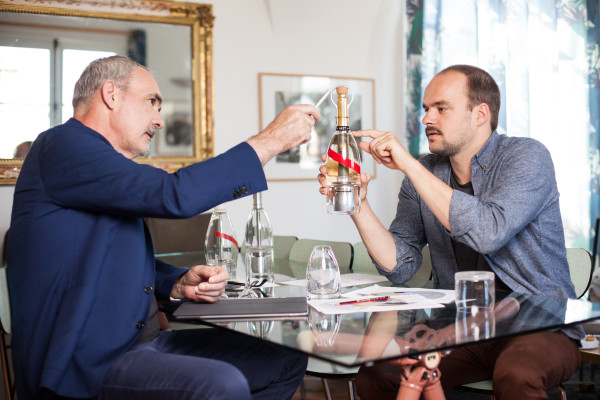 From there, it can be passed and released into the air, where it floats about until someone decides to pour/collect it with an equally specially designed glass. The novelty, as it were, supposedly continues when its initial foam form reaches the human mouth, which then turns to liquid.
"It's a very surprising feeling," says Emilie Langleron, Head of Oenologic Developments at Maison Mumm.
"Because of zero gravity, the liquid instantly coats the entire inside of the mouth, magnifying the taste sensations. There's less fizziness and more roundness and generosity, enabling the wine to express itself fully."
The result? A simultaneous intensification and concentration of Mumm Grand Cordon's signature style, "… unleashing the power of Pinot Noir in an explosion of ripe and juicy fruit aromas…". Sign us up for some of that.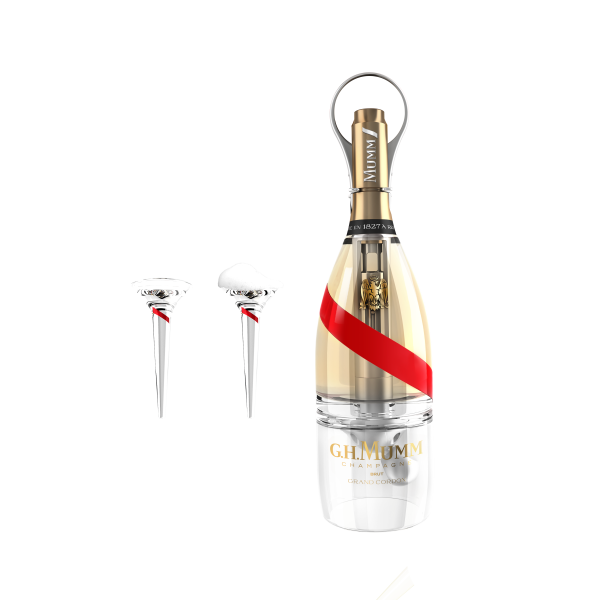 Like all ground-breaking innovations, this new reality has come from a desire to be the first. Though this is far from a one-off impulse on Maison Mumm's part. Innovative spirit has traditionally been what has guided the company to take centre stage. Point of fact, Mumm champagne was one of the first to be served on the supersonic French Concorde. Now, they look to be the very first to be served above and beyond the stratosphere.
"Instead of seeing zero gravity as a problem to be solved, we look at it as a design possibility," says Octave de Gaulle, founder of Spade.
The grandest flavours of life, after all, come with shattering the limits and a fine glass of the bubbly stuff.
---
---
Presented in partnership with G.H. Mumm