In the mood for a dose of something a little more upscale? Consider the world's oldest Macallan whisky in a rare Lalique Genesis Decanter. 72-years-old. 42% ABV. Oh, and I almost forgot to mention… expected to fetch over six-figures at Sotheby's Rare Spirits & Wine auction next week without breaking a sweat.
Distilled in the 1940s and bottled in 2018, this Macallan represents #584 of 600 in the world – as well as some British history. As Robb Report notes, it's incredible that this batch even exists given the scarcity of barley in times of wartime rations.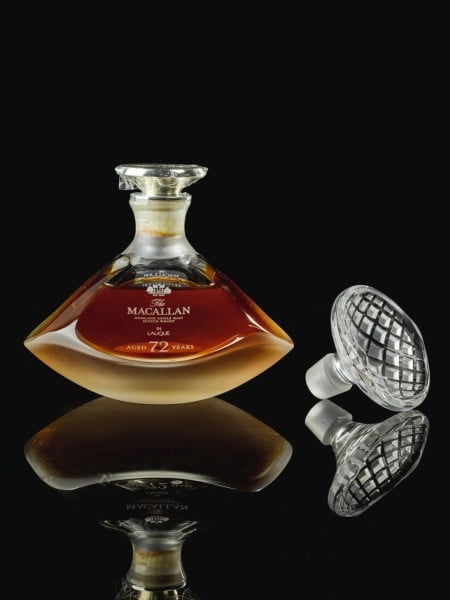 To add to the flavour of this particular Macallan's entire story, so to speak, many production facilities were converted into manufacturing hubs and crude oil factories. as a means of contributing to the war effort. Naturally, this all just lends itself to the rarity of the auction item in question.
---
---
"This storied Macallan decanter represents so much more than a collectible whisky," says Jonny Fowle, Spirits Specialist at Sotheby's.
The 72-year-old Macallan comes in a rare crystal decanter and stopper, presented in its original wooden case handcrafted by NEJ Stevenson. For those who aren't familiar with that name, it so happens to be a renowned cabinet maker that holds The Royal Warrant.
Sotheby's live auction kicks off on March the 18th at 9:30 PM (AEDT). Find out more over at sothebys.com.
RELATED: Some Bloke Just Copped This US$1 Million Bottle Of Macallan Without Leaving His Laptop.