Like us, this new burger offering will be news to your ears. KFC Australia has announced today their biggest and best burger yet with the 'Triple Stacker' monstrosity – that's three chicken breasts coated in Zinger flavouring, bacon, cheese and sauce.
Kristi Woolrych, KFC Australia CMO, confirmed the burger as the biggest they've ever offered.
"We're excited to continue giving fans new and innovative Secret Menu items and we really wanted to blow them away with an item like no other."
---
---
"The Triple Stacker is as big and bold as it sounds! We know how much Aussies love a Zinger Burger, so it made sense we created something extraordinary for our diehard KFC Zinger fans."
RELATED: Best fried chicken in Melbourne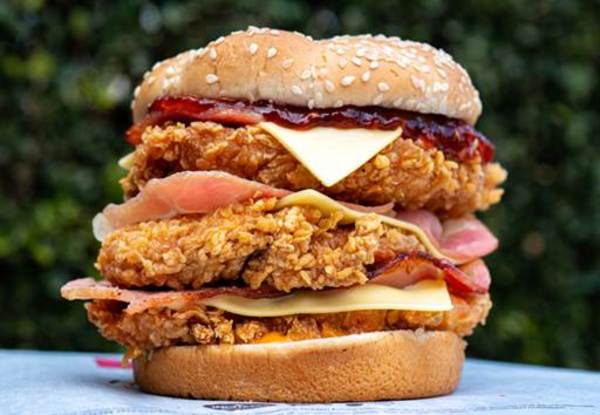 Retailing for AU$12.45, according to KFC, the only way to get this mammoth burger is through their Secret Menu app, which is hiding a lot of other menu items that you probably haven't heard about. Those with a little common sense can easily access other treats too such as the 'Slida Burger', 'Zinger Chipster' and 'Beese Churger'.
"Grab your phone, follow the clues below, gather your coins and order the next secret menu item available from today."
KFC confirms the 'Triple Stacker' won't be around forever, so you better act quick.
RELATED: Best fried chicken in Melbourne