Snoop Dogg has reinvented himself for the better over the last few decades. Having retired from a certain lifestyle which almost landed him in prison, the legendary West Coast hip-hop artist and beloved 420-friendly icon has since immersed himself within the culinary arts… probably influenced by his equally wholesome friendship with Martha Stewart.
Now, for a limited time only, Menulog is giving Aussies a chance to dine on mouth-watering recipes straight from the official Snoop Dogg cookbook – From Crook To Cook: Platinum Recipes from Tha Boss Dogg's Kitchen.
The professionally prepared offerings and where you can find them are as follows:
---
---
Get Tha Chip Fried Chicken Wings
Crispy golden buttermilk chicken wings with a sprinkle of potato chips. Snoop's take on the shake n' bake!
[Meet Patty, Milky Lane, Nordburger, Chimek]
Mak & Cheese
Inspired by Snoop's wife, The Boss lady, this Southern staple is loaded with cheddar, mustard, nutmeg and cayenne pepper. A must if you like cheese.
[Down N' Out, Chimek]
Billionaires Bacon
For ballers and real players, get stuck into some sticky bacon with sugar and red and black pepper glaze. Enjoy Uncle Snoopy's bacon on its own, or add it to a burger.
[Down N' Out, Milky Lane]
Squad up Chili Cheese Fries
Taking fries from a lil' snack to a bonafide meal with chunky ground beef chilli and gooey cheese.
[Milky Lane, Meet Patty, Nordburger]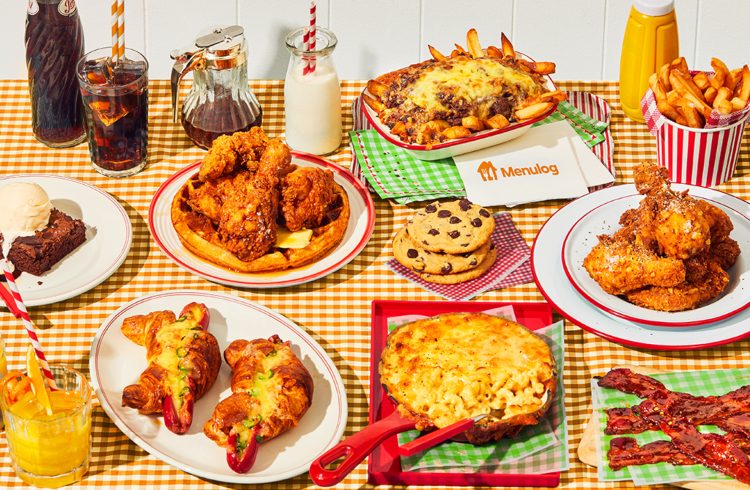 RELATED: Snoop Dogg Launches 'Snoop Cali Red' With 19 Crimes.
Rolls Royce PB-Chocolate Chip Cookies
It's peanut butter chocolate chip cookie time. This is a highly satisfying way to end a delectable meal.
[Down N' Out, Meet Patty, Nordburger]
OG Chicken and Waffles
Perfection takes time – Snoop's words. Brined and battered, this crispy chicken is served with sweet buttermilk waffles and maple syrup. Did somebody say OG taste of L.A?
[Chimek]
DOGGs in a Blanket
Be the Top Dogg with Snoop's DOGGs in a Blanket. Sliced jalapenos with some of that melted cheese goodness, baked in a golden croissant.
[Down N' Out (CBD only)]
Bow Wow Brownies and Ice Cream
Every baker's dream, these brownies will take you to cloud nine. Served with a side of 440ml Magnum ice cream tub, what could you not love?
[Chimek]
OG Gin & Juice
Snoop's very own concoction – The homies' drink of choice is gin and orange juice.
[Milky Lane]
This Menulog and Snoop Dogg collaborative promotion will only be available from June 19th to July 3rd via app and website. Find out more over at menulog.com.