Michelin has just released the list of New York City eateries that have earned a starry nod from them this year. With annual rankings, retention, and recommendations to those who they deem worthy enough in the realms of culinary contributions, the French tire company has now been offering the world this guide for over a century now.
Each star denotes a specific level of esteem:
One-star means "A very good restaurant in its category" (Une très bonne table dans sa catégorie).
---
---
Two-stars meaning "Excellent cooking, worth a detour" (Table excellente, mérite un détour).
And finally, the rare honour of three-stars entails "Exceptional cuisine, worth a special journey" (Une des meilleures tables, vaut le voyage).
This year's list saw a total of six new recipients of a Michelin star. The standout ascension this year was Ginza Onodera, a Tokyo inspired restaurant which was the only listing to be promoted from a one-star rating to two-stars. In an interesting show of statistics, roughly 20% of the 2018 New York guide's selections are now that of Japanese based cuisine.
Earlier last month, we spoke with Marco Pierre White on his views regarding what Michelin as an institution has become today, expressing some thoughts and feelings on how it has evolved since his tenure as a multiple star recipient. You can read it here.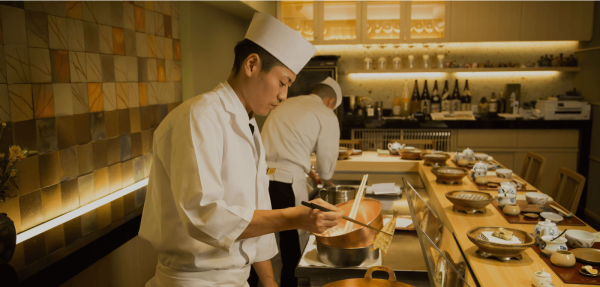 Here is the complete list of all New York City based eateries that made the highly-esteemed Michelin cut this year:
Three Stars
Chef's Table at Brooklyn Fare (relocated to Manhattan.)
---
---
Eleven Madison Park (retained previous rating.)
Le Bernardin
Masa
Per Se
Two Stars
Aquavit
Aska
Atera
---
---
Blanca
Daniel
Jean-Georges (demoted rating.)
Jungsik
Ko
Marea
The Modern
Ginza Onodera (promoted rating.)
---
---
One Star
Agern
Ai Fiori
Aldea
Aureole
Babbo
Bar Uchu (new listing.)
Batard
---
---
Blue Hill
The Breslin
Cafe Boulud
Cafe China
Carbone
Casa Enrique
Casa Mono
Caviar Russe
---
---
The Clocktower (new listing.)
Contra
Cote (new listing.)
Del Posto
Delaware and Hudson
Dovetail
Faro
The Finch
Gabriel Kreuther
Gotham Bar and Grill
Gramercy Tavern
Gunter Seeger
Hirohisa
Jewel Bako
Junoon
Kajitsu
Kanoyama
Kyo Ya
L'Appart
La Sirena
La Vara
Meadowsweet
Minetta Tavern
Musket Room
Nix
NoMad
Peter Luger
Rebelle
River Cafe
Rouge Tomate (new listing.)
Satsuki (new listing.)
Sushi Amane (new listing.)
Sushi Inoue
Sushi Yasuda
Sushi Zo
Tempura Matsui
Tori Shin
Uncle Boons
Ushiwakamaru
Wallse
ZZ's Clam Bar