It has been about a year since Jake Burton, the legend who founded the iconic snowboarding brand Burton, was nearly on his deathbed. He'd been diagnosed with Miller Fisher syndrome, an extremely rare and severe disorder where the body's own immune system attacks the nerves. Yet despite temporary paralysis of his entire body and two months on full life support, Burton jumped headlong back into the game with the release of his latest line, a passion project he calls Mine 77.
After being inspired by his wife and co-CEO Donna to "do his own thing", Jake said he "wanted to live for the moment, be more creative and do some things that were outside the box … so Mine77 was born."
Mine 77 is a slick 17-piece collection of outwear, apparel, bags, accessories, and snowboard hardgoods that Jake found as a way "to be hands-on again with every detail of a product collection — from the features, fabric and fit, to the words on the hangtags and the style of a photo shoot," stated Jake. He stayed involved in every step of the process – from product design to writing all the copy to choosing its packaging and, of course, all the testing and tweaking that comes with getting something perfect. Whereas it may have taken most designers years to develop an entire line with this much specificity and involvement, it took Jake nine months.
---
---
Of all of the goods in the line – the snowboarding outerwear, street-style hoodies, pants, and even a rawhide backpack – Jake's favourite pieces in the collection are the Bib Pant and the first-layer Stash Pant.
"I'm pretty obsessed with pockets, and the Bib Pant has eight for storing everything. It also has side vents that you can open to access zippered pockets in the first layer Stash Pant. This is a breakthrough feature in my mind because sometimes when you're hiking or riding in frigid conditions, you want your phone or whatever else directly on your body for warmth/security/privacy reasons. The combination of the Bib and Stash pants is really functional, and I think it's by far the best bib pant ever made," he explains.
"Through Mine77, I can test all my ideas and see if they stick. If Burton decides to put a style in a future line that originated out of Mine77, I'll consider it a huge victory… (because) I'm not trying to please anybody but the rider," Jake admits.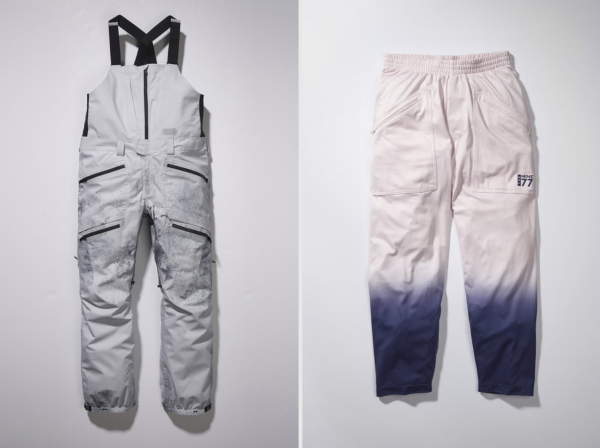 Mine77 is found exclusively online, aside from its debut in the OG Vermont flagship. "This pays tribute to the company's early days when Burton headquarters was home to the brand's only stand-alone store in the world," a rep for Burton explains.
Even for online orders, Burton has ensured that the gear comes thoughtfully hand-packed from Vermont with the customer in mind. For example, StrapOn boots come unlaced by hand so they can be slipped on straight from the box.
It's a line designed with care and passion. Check it out here.
---
---