If you were to ask any Formula 1 fan which track provides the best front-row viewing experience, 99% of responses will be Monaco. After all, assuming you have the requisite coin – how could you beat watching a title fight between the likes of Mercedes' Sir Lewis Hamilton and Red Bull's Max Verstappen from your own balcony or, better yet, while logging a quick treadmill session on your superyacht? But the principality might soon encounter some stiff competition in the British Grand Prix with the high-end, trackside residences of Escapade Silverstone (scheduled for completion as early as May 2022).
"Escapade Living started out with a simple but bold idea: to design the ultimate experience for motorsport enthusiasts," reads the official site description.

"You'll enjoy close-up viewing of top-level racing and personal usage rights of the circuit. Share your modern trackside accommodation with friends and family or use our performance-based wellness offering and clubhouse to unwind."
If you thought Adelaide's The Bend had the goods, just until you hear the full spiel about these pads. Situated just 12 metres from the crash barrier at England's most legendary race circuit, the Escapade Silverstone apartments will encompass a total of 60 residences – two, three, four-bedroom layouts available – an entire host of luxury amenities, an all-new clubhouse with almost every conceivable adult delight, and of course, a view like no other of the action. From F1 to Moto GP, ownership comes with complimentary tickets to all Silverstone's big calendar events.

RELATED: How Fast Is Deadly? A Short Physics Lesson From Verstappen's 51G Crash At Silverstone
---
---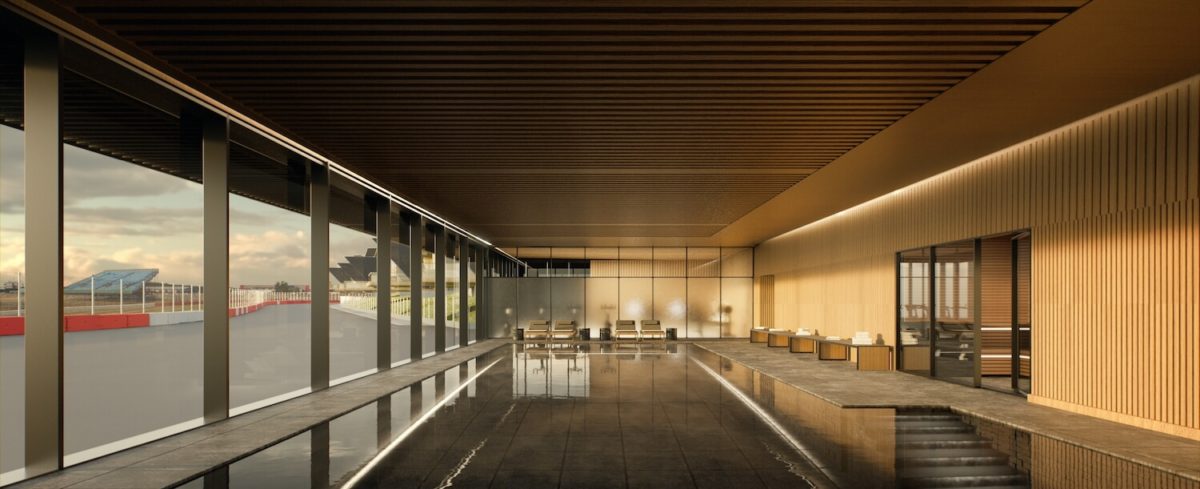 RELATED: This Racecourse Resort Is The Ultimate Bucks Party Destination
Featuring interiors accomplished by Michaelis Boyd, if the renderings are anything to go by, the apartments themselves will provide a delightfully modern delight; complete with underfloor heating, comfort cooling, ensuite bathrooms, as well as the latest home tech. The real highlight, however, involves the designer garage. Sympathetic of how it can "feel like a full-time job" looking after multiple vehicles, the innovators behind Escapade Silverstone has thrown in a climate-controlled space + terrace w/ vista to park up and stress less. Maintenance and preparation for track days and events included.
Corners haven't exactly been cut in terms of the on-site clubhouse, either. With a spa + sauna, pool, gym, rooftop, dining + bar, and even race simulator rooms on hand… this won't just be a place to kick back and occasionally watch some high-octane thrills. In addition to all the track day opportunities, expert driving tuition, priority tarmac access, and so forth – this will be the literal dream experience for motorsport enthusiasts across the board.
According to Robb Report, these digs currently have a price tag starting from US$895,000, navigating all the way up to US$2.34 million.
Find out more about the Escapade Silverstone residences below.