Christmas is an indulgent time of year. There isn't a shortage of opportunities to get stuck in, that's for sure, but one exception to the madness should always be your office Christmas party.
Unfortunately, the line between adding a spark of life to your corporate blow out and making it one highly regrettable evening is very thin. You want to have fun – and you bloody well deserve it – but you also need to keep your personal brand in check and think strategically about who you're brushing shoulders with when the drinks are flowing.
Boss Hunting has partnered with Drink Properly to bring you these few essential rules to help you max out your potential at your Christmas party, set yourself up right for 2019 and navigate the tricky maze that is free-flowing booze.
---
---
Rule 1 – Preparation is key
Do: Get a good feed in and keep yourself hydrated pre-fiesta. A good sleep the night before never hurt anyone either. If there's something that will help you pace yourself during the party and avoid a hangover the next day, do it.
Don't: Bank on using the power of the company card to give in to gluttony. Just because dining and drinks may be on the office doesn't mean you need to start breaking records for the number of free beers you can get down before the tab runs out.
Rule 2 – Keep your cool & tick off the top dogs first
Be a boss when talking to the bosses.
Do: Scan the scene on arrival, pinpoint those key superiors you need to kiss ass with and approach them early on in the evening. If they've got a drink in their hand, you can have a drink in your hand. If they don't, then maybe approach sans alcohol and see what the vibe is like. You can always offer to get a drink with them later. Get this over and done with early.
Don't: Grab a drink immediately on arrival and get rowdy with your inner circle. DrinkWise CEO Simon Strahan suggests swapping the champagne for a few soft drinks up front. No one likes a 0-100 km/h fool. You want to be able to mingle with the bosses at the end of the night, so keep that personal brand in check.
Rule 3 – Don't drink more than you'd be willing to pay for
Don't let an open bar be an open door to losing your job.
Do: Beers on the boss' card may sound like the dream sentence, but it's a dangerous one. Don't let yourself get out of hand with that open bar. A good tip is to only consume what you would normally spend on a night out – it's a great way to consciously check yourself as the festivities start ramping up.
---
---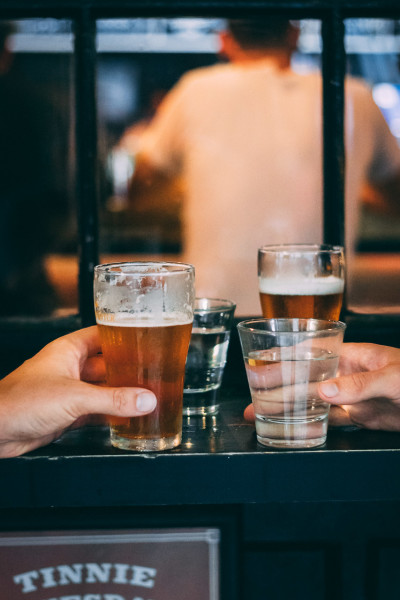 Don't: Go from hero to zero in a single evening. No one likes loose cannon Damo from Sales when he's sober, let alone when he's loose on the turps. Don't let yourself become the new Damo.
Rule 4 – Branch Out
Read the crowd, pick out some new faces and enjoy yourself.
Do: Spread the good vibes. After all, its a party. Just talk to people and give everyone the time of day. If you find someone at the end of their drink, offer to get another with them. You never know when that brief encounter could be a favour you need to call in next year. On the plus side, the more you talk, the less you drink. Another great way to pace yourself.
Don't: Stay in a tight-knit circle with the people you spend 8+ hours with every day and continue to avoid Jannet from Accounting. Man up, take the night head on and break down those awkward barriers.
Rule 5 – Have a cool AF exit plan
The ultimate closer, where you can make or break your reputation for the year to come.
Do: Get a dope hotel suite close to the party. Split it with a bunch of colleagues or invite your new friends back for a few drinks at yours. You'll be the legend whose after party is talked about for the next 12 months. If you're not vibing it, just get an Uber home.
Don't: Unless you're stone cold sober, driving is a hard no. No one's going to think you're a hero if you get behind the wheel. Leave your car at home so there's no temptation.
Presented in Partnership with Drink Properly.
---
---