Waiting at home to sign for a package can be a hassle. An ill-timed bathroom trip could mean you have to call up the post office, head on down there, waiting in line, just to get your new GoPro. Now with Amazon's Key app and Cloud security camera, this little dilemma is a thing of the past. As borderline invasive as it is, this companion app and device will allow designated Amazon delivery people to enter your home and make a drop, even if you're not there.
The Key app functions without password. How it works is on the day of the delivery, customers are notified of a four hour window when the package is expected to arrive. After the delivery address is conformed by Amazon through an encrypted authentication process, a scan of the package bar-code sends a request to the cloud, where the software checks all the details line up. Amazon sends you a message when the delivery arrives, and that's when the Cloud cam activates, and the door unlocks.
From then, you can watch either livestream or check the logged footage to ensure no risky business-ing has occurred. Or any other invasions of privacy for that matter. The camera only stores videos in the cloud for 24 hours, or longer depending on if you feel so inclined to sign up to a monthly plan that allows playback for up to 30 days. Amazon has assured consumers that this will be completely within the buyer's control.
---
---
"The Cloud Cam videos are for you the customer," says Charlie Tritschler, Amazon Vice-President of product development. "They're not something Amazon is using to analyse purchase behaviour, or anything like that."
Regardless, this is definitely a massive stride forward in the realms of home-delivery. Every day convenience of ordering is on the increase, while the pace of services become closer to instantaneous.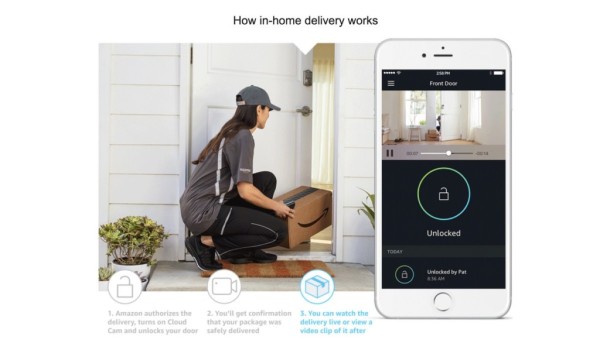 What do you think, is this modern progression or a surrender of privacy?