COVID-19 will undoubtedly go down in history as a generation-defining event for more reasons than one. Life, however, can seldom be put on hold regardless of such events. Work hours need to be logged, bills still need to be paid… and the future of your finances still needs securing.
Flick through any personal finance books written in the last fifty to one hundred years and you'll likely find a single unifying truth: investing is one of the keys to true financial freedom. More active than keeping it in a savings account, waiting for the interest to build; and typically more effective than throwing it under a mattress – although given some of the recent headlines, the mattress contingency is becoming a temptation.
It sounds daunting, I know. And no one will ever think any less of you for saying it. Investing is, after all, a nebulous mass of competing strategies which you can tackle – and fail – in a million different ways. Dare I say it, oftentimes it feels like a scientific practice which yields rather unscientific results. But you'll be interested to hear the fickle beast just got a whole lot easier to "tame" with the incredibly simple, intuitive, and user-friendly Spaceship app.
---
---
Here's what it can do for you.
Easy & Convenient
Whether it's $5 or $50,000, Spaceship offers you a simple investment experience. With no minimum investment, this isn't a surrender of capital in the wild hopes it'll burst out of the cocoon, flapping the vibrant wings of returns. It's pure autonomy. At the push of a button, you'll have exposure to a mix of leading companies from their respective industries – companies you might be interested to slap down an investment or two with.
One of the most painful parts about investing – aside from the crushing anxiety of volatile market conditions learning from your own mistakes – can be filtering through all the research and news articles to determine what's actually worth acting on. As an added bonus, not only does the Spaceship app provide in-depth company information to let you know where exactly your money is going, it also provides a curated newsfeed created and delivered by the content team. Now that's handy.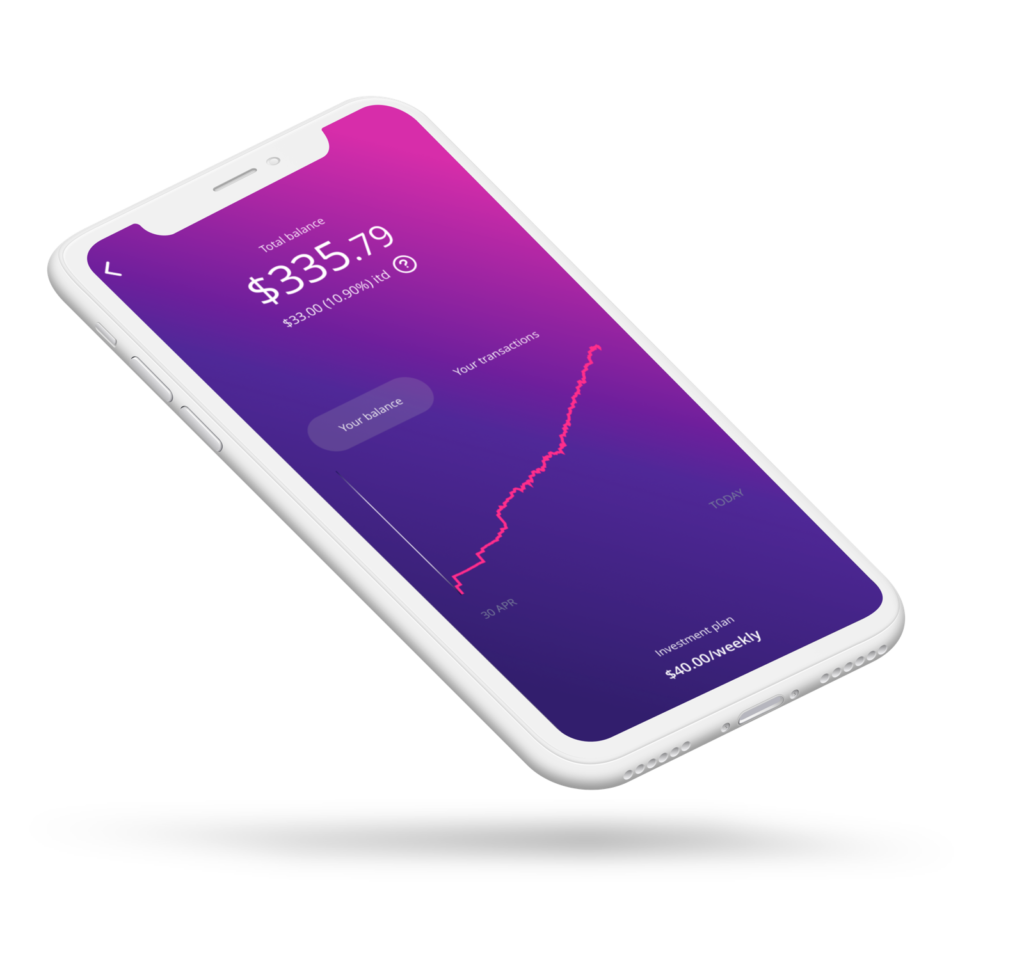 Low (Low) Fees
Your typical managed investment will often scrape a fair bit of skin in exchange for, well, managing your investment. Spaceship, on the other hand, proudly has one of the lowest ongoing fees around town. How low? Let's just say, for account balances of $5,000 or less, it's free. Plain and simple. No two ways about it. No nasty surprises.
Even then, account balances above $5,000 will only set you back 0.05% pa to 0.10% pa in fees. That's $7.50 to $15 for a year for a balance of $20,000. Nothing more. Nothing less. The bottom line here is you see more of the returns in your pocket, rather than having the end result chipped away after the fact.
Straightforward Investments
With almost every other investment product, you'd have to trade good, potential investment dollars in order to receive premium service. The beauty of the Spaceship app is how all the research, calculations, and intellectual heavy-lifting has been taken care of, atomised down to two extremely digestible options:
Spaceship Universe Portfolio: Constructed with an "invest where the world is going" mantra in mind. This investment route will venture towards handpicked companies by Spaceship's investment team such as Tesla, Amazon, Facebook, Spotify, and Slack.
---
---
Spaceship Index Portfolio: Designed for those who want to follow the current market. This investment route will venture towards some of the largest companies – in Australia and overseas.
So there you have it. A peek under the hood of the investment vehicle set to help you take your first step – hopefully, a step towards that perennially coveted financial freedom.
Spaceship App: Download today in the App Store and Google Play
This advertorial has been sponsored by Spaceship Capital Limited (ABN 67 621 011 649, AFSL 501605), the issuer of the Spaceship Universe Portfolio and Spaceship Index Portfolio (Spaceship Voyager). Any advice is general only as it does not take into account your objectives, financial situation or needs. You should consider whether Spaceship Voyager is right for you by reading the relevant product disclosure statement and the Additional Information Document (available at www.spaceship.com.au) and obtaining appropriate financial and taxation advice. All investments have an element of risk. As share markets go up and down, so too can the value of your investment. Please consider the risks involved before you jump on board. Spaceship is available to Australian residents only. Thank you for supporting the sponsors who help make Boss Hunting possible.