The shadow of the R44's rotor began to gain speed as I looked down onto the tarmac of Hamilton Island's airport. Headsets on, the pilot affirmed his take-off with air traffic control.
Tracking low, a mere metre or two above the asphalt, a convoy of helis made their way out towards the Great Barrier Reef by way of the pristine Whitehaven Beach. The muffled roar of the machine was not an unfamiliar one – I'd been in the odd helicopter in the past – what was a sharp hangover cure on this occasion, however, was the lack of doors this particular helicopter had.
Leaning out beyond the absent glass, the puffy white clouds seemed within touching distance and I could spot the figure of the chopper moving fast across the top of shallow, turquoise-blue water. A doors-off helicopter has been a dream of mine for what seems like decades, let alone 60-minutes of aerobatics over the iconic Heart Shaped reef on a cracker of a day in early March. How life's events culminated to the point where I scored a seat on that chopper I'll never know. Naturally, who better to deliver on said dream than worldwide sponsors of cool shit – GoPro.
---
---
For context, Boss Hunting were invited as guests of the action camera gods on their annual Asia-Pacific summit, this year on the popular tropical playground of North Queensland's Hamilton Island. Over five days of insanity, we swam, drove, flipped, dove, drank, ate, flew, soared, and sent it all for the good cause of creating some epic 360 content on GoPro's slick new camera called the Fusion.
Wrapping Your Head Around 360 Content
It's a daunting task deciphering the possibilities of 360 content. Luckily, blessed with the presence of GoPro head wizards Abe Kislevitz and Brian Town, we had a leg up before we had even touched down in paradise. These guys are the directors and editors of basically every GoPro advertisement and launch video you've ever seen. They know how to make anything look epic with every tip and trick under the sun.
360 content is hard to comprehend at first. The methodological approach to 2D filming is a very hard habit to shake. No longer do you need to frame a shot, try taking images and video at the same time or storyboard your edit. The GoPro Fusion allows even the dumbest of dummies to simply shoot first and ask questions later.
All you need to know is that the dual cameras either side of the device capture EVERYTHING. Literally everything. Each camera records a 190-degree field of vision, stitching together the last 10 degrees for a seamless spherical world on a 2D screen.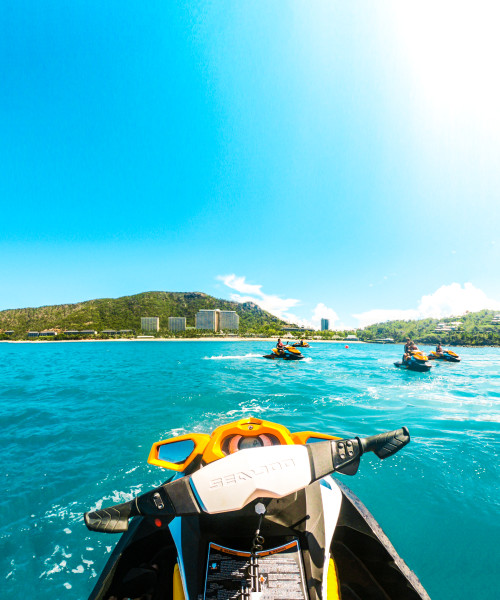 Shooting
The pole/tripod that comes with the Fusion is designed perfectly to stitch out its existence, meaning the camera gives an impression it's floating in mid-air. You can mount it, hold it or wear it in any unique or creative way you can think of. What you should keep in mind is that you'll need a minimum of about a foot and a half (45cm) between the camera and any flat surface in order to make it look decent.
Some important settings are absolutely key before you start. The word from the GoPro head office is that your photo & video modes should both have their ISO at 400, a -0.5 EV Comp and Pro Tune permanently on for the slickest HD output.
---
---
Find a unique way to cover the fact you're holding the pole's handle. If you're on a snowmobile, for instance, grip the pole parallel with the handlebars, meaning the camera will be floating either left or right off to the side of the vehicle.
The Fusion's new update means it is incredibly stabilised. Of course, minimise shake where possible, but on Jet Skis and ATV's we had no issues at all with the final product.
Don't move the camera. It's intuitive when shooting content to be moving the camera around, perhaps tracking a subject, or higher or lower for different angles. Just leave it. Fusion captures everything, so shoot a scene, try a different position, then shoot some more.
Keep clips to 10-30 seconds in length where possible. When exporting and rendering you'll save yourself a heap of time.
While the Fusions are waterproof, their domed lenses mean that any droplets (especially complete submersion) will warp the frame out of perspective. You should avoid water contact with the lenses if you can.
Good lighting is a no-brainer – It rained for the first 36 hours of our time on Hamilton Island. The GoPro team from the States were shitting bricks, understandably so, as GoPro's (hell, any cameras really) don't do anything justice in poor lighting. For some of my standard GoPro must-know tips, head over to this article.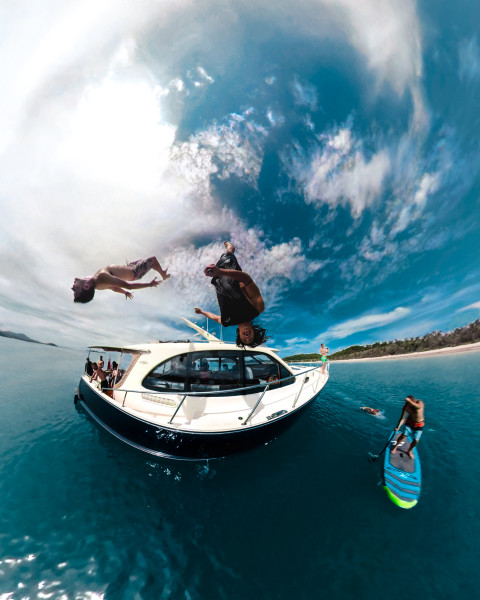 Editing
GoPro's OverCapture feature has simplified the 360 content game ten-fold. The feature in GoPro's smartphone app renders the 360 content for you. Here you can cut down and manipulate your sphere any way you please by recording it into a new file. Then, simply mash it up with other Fusion or Hero 6 content, put it into a Quikstory and share it straight to the 'Gram to keep the fans happy.
Fusion content doesn't always have to be 'tiny planet.' Change up the angles, sometimes a 'flat earth' 360 shot looks just as cool (if not cooler) than a tiny planet shot. These two bangers from New Zealand's resident GoPro King Bare Kiwi can give you some context. (If you're after some epic still images, preview the videos on your laptop and use screen capture to grab an image before giving it a once over in Lightroom).
---
---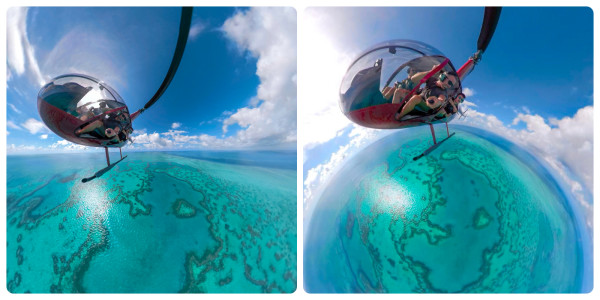 If exporting and editing on a computer, create two subfolders, one called 'GoPro Front' & the other 'GoPro Back' for each SD card (Fusions have two SD cards, naturally, given it has two cameras). Make sure all the files (even the .THM & .LRV files) are in the folder too, otherwise your clips won't render properly.
For laptop editors, GoPro VR Player can help you preview your clips faster and decide which are worth editing.
GoPro Fusion Studio is then where the rendering magic happens. Our good mate and creative wizard Sam Evans can talk you through the basics to get you started on that professional final product with Adobe Premiere Pro.
---
---
For the moment, 360 content is a whole new ball game that even its creators are still trying to figure out. All this chat might have you super excited to help pioneer a new way of seeing the world, or it may have you feeling overwhelmed.
It's key not to forget about the little gold nugget that is the Hero 6. Don't underestimate its usefulness in creating a vibrant edit with a multitude of shots. If you can add a Fusion to your repertoire though, your creativity is only the start of some downright epic content creation.
Available online now from the GoPro website and in stores April 2nd.
A massive thanks to Em, Ed, Carlos & the GoPro Global team for hosting us on Hamilton Island. Big love also to the whole GoPro fam that made it such an epic week.