It seems audio titans Sonos are furthering their play for portable audio with the newly announced Sonos Roam.
In what is essentially a small-profile successor to the popular Sonos Move, this yet-to-release, uniquely triangular device is a hybrid Wi-Fi and Bluetooth speaker designed to offer better flexibility to music lovers who want a seamless on-the-go listening experience.
The Sonos Roam doesn't look all that different to previous devices from the reliable audio brand, with their signature soft, minimalist, design-conscious aesthetic available in either all black ('Shadow Black') or all white ('Lunar White').
---
---
Its versatile design means the speaker can be oriented both vertically and horizontally, plus it measures in at a very backpack-friendly 6.5 x 2.5 x 2.5 inches, and weighs 430g – compare this to the Sonos Move, which lumbered at 3kg.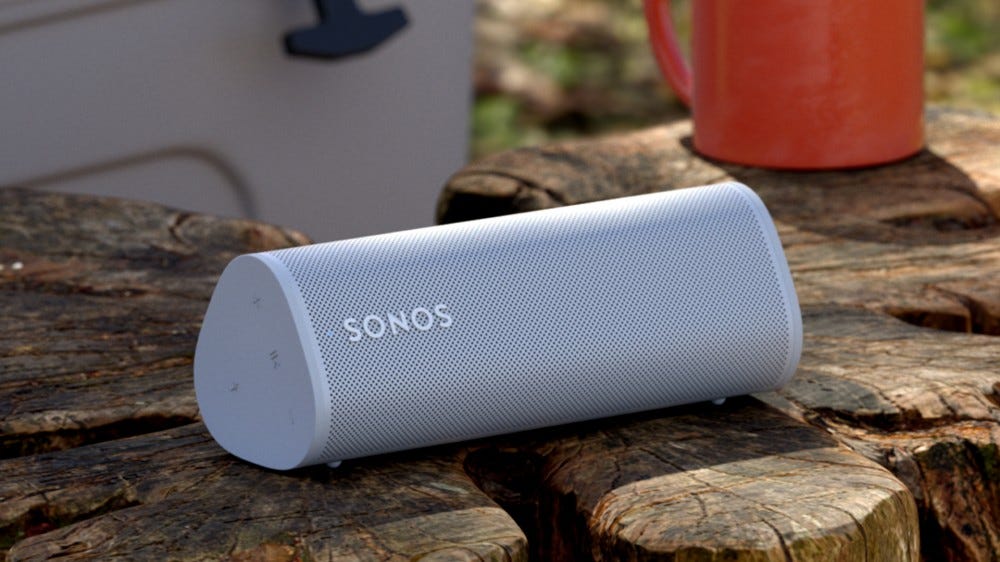 While the Roam sticks closely to a lot of the feature that made the Move a pivotal moment in Sonos' history, the lightweight speaker does have something rather unique to bring to the table aside from just a smaller profile. That's a feature called 'Sound Swap', which reportedly allows the user to seamlessly transfer playback from the Roam to the nearest Sonos speaker to better integrate at-home connectivity into the listening experience.
For example, say you walk through the door with the Roam blasting some music – you can basically fling whatever is playing to a more powerful wired Sonos speaker like the Sonos One or Sonos Arc with the press of a dedicated button.
The Roam will also be equipped with 'Automatic Trueplay', constantly refining the sound profile as a function of the environment as long as its in Wi-Fi mode.
Bluetooth mode doesn't seem like it will tap into the same smarts, shedding both the ability to 'Sound Swap' and 'Automatic Trueplay', although users will benefit from having one of the most waterproof speakers to date. The IP67 water and dust proof rating is a big step up from the Move, giving the Roam a nice resilience to outdoor conditions. Although the promised battery life is quite average, signalling just 10 hours of continuous playback on a single charge.
The Roam will be available in Australia from April 20th for a retail price of $279.