While the interior design of a superyacht can be as varied as the designers are creative, most luxury vessels will at least have a relatively similar looking silhouette. That is of course, apart from Asean Lady, an instantly recognisable asymmetrical superyacht that is unlike anything you're likely to have seen before. If that wasn't enough, it's also recently come up for sale, just in case you're in the market.
Its unusual design might remind you of a fighter ship from Star Wars, but its inspiration is actually drawn from the distant past, not the imagined future. The off-centre shape of Asean Lady comes from traditional Pacific multi-hull sailing vessels known as Proas, which have been in use for close to 500-years. Proas were typically made of bamboo, and were used widely from Madagascar to New Zealand, and even as far north as Taiwan.
With such an interesting chapter in nautical history behind its inspiration, Asean Lady shares both its look and its stability on the water with the Proa, with narrow twin hulls creating a platform for the luxurious triple-tiered cabin. Asean Lady is so stable in fact, that not long after it was completed in 2004, it survived a tsunami while anchored off the coast of Thailand.
---
---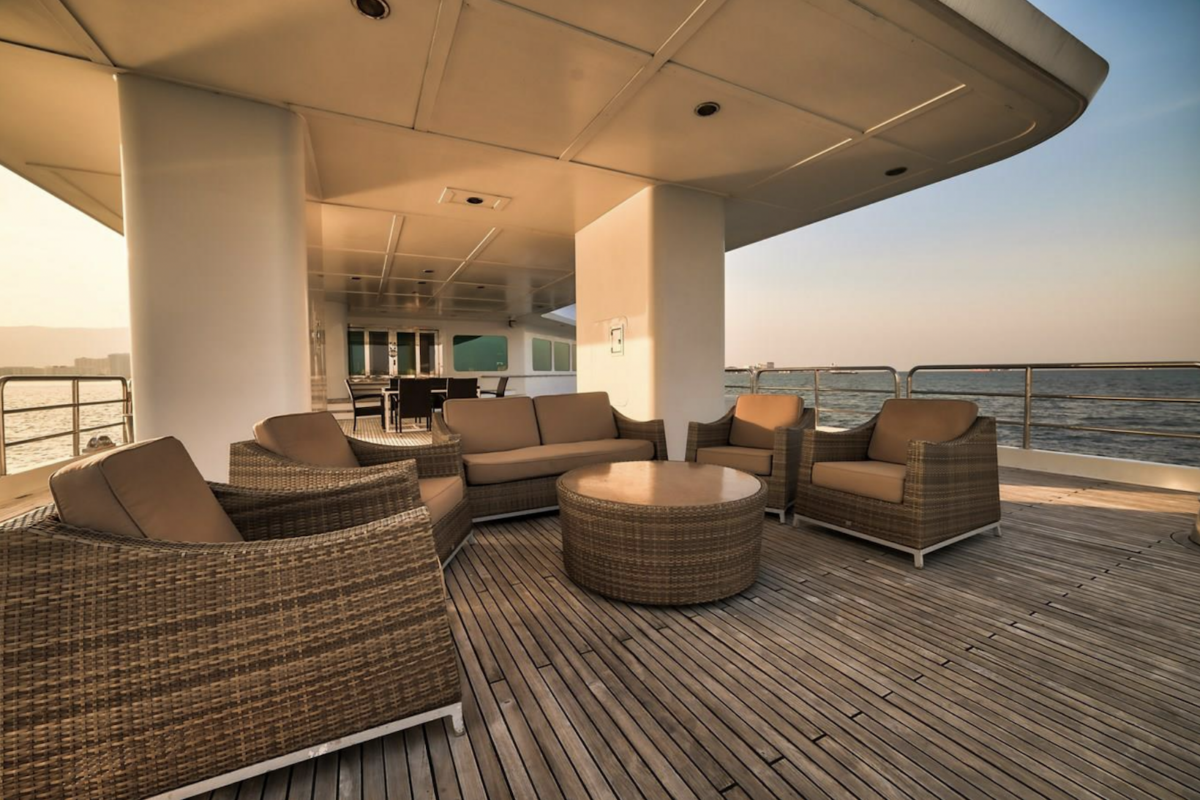 RELATED: James Packer Is Already Selling His 108m Benetti Superyacht For Nearly $300 Million
The 88-metre (289-ft) superyacht arrives suitably finished, with plenty of room for up to 18 guests across its eight staterooms. The master bedroom spans a cavernous 160sqm, complete with a private office and balcony attached, while the rest of the vessel features teak panelling on the walls and has a grand spiral staircase connecting the different levels.
Currently owned by Malaysian-Chinese entrepreneur Vincent Tan, the unique vessel is powered by a single 2,000hp Caterpillar diesel engine that is complemented by an AZIMUTH Thruster. According to its records, the engine was completely overhauled in December of 2019, with just 346 hours on the clock as of mid-April this year. With a top speed of 15 knots, Asean Lady also has a retractable thruster which will allow its captain to move it laterally, making parallel docking a breeze.
Asean Lady has hit the market via Raffles Yacht Group, which have listed the superyacht for €30,500,000 (AU$47,583,000). The vessel is currently docked at Langkawi Island, Malaysia and if you're seriously in the market, Raffles Yacht Group are also offering a €3,000,000 (AU$4,680,000) discount to get Asean Lady sold quickly.