The possibility of a self-driving Apple Car (otherwise known as Project Titan) has been discussed for years now. In the past 18 months, however, the conversation has steadily gained momentum. But throughout it all, we've never had the faintest idea regarding what the autonomous electric vehicle might actually resemble. That is, until today, thanks to the publishing of Vanarama's Apple Car concept renders inspired by the tech giant's own patent filings – check it out below.

Apple Car Concept Features (Vanarama):
SUV Coupe Styling
"Aligning with automotive trends, we've styled the Apple Car as a sleek SUV."
Pillarless Structure
"Paired with coach doors and customisable seat layout, the pillarless design provides ease of access without obstruction."
Adaptive Doors
"Coach doors offer greater flexibility for passenger movement and loading, with scooped windows that increase headroom when boarding."
iPhone-inspired Door Handles
"The Apple Car's retractable door handles resemble iPhone side buttons."
Intelligent Automated Assistant
"The Apple Car benefits from the automated assistant: Siri. In addition to the usual question-based commands, the car's version monitors road and cabin conditions, and makes suggestions without prompt."
Customisable Dashboard
"A fully customisable fashboard allows drivers to arrange the controls themselves, whether it's heating controls, sound system, or driver info."
Seamless Displays
"Free of bulky edges and borders, seamless displays span the dashbpard and centre console."
Mesh-like Grille
"A design inspired by the Mac Pro's circular vents and the glowing Apple logo from previous generations of the MacBook laptop."
Frosted White Finish
"A popular colour scheme since the iPhone 4 launched in 2010."
RELATED: 5 Electric Cars Coming To Australia That Deserves Your Attention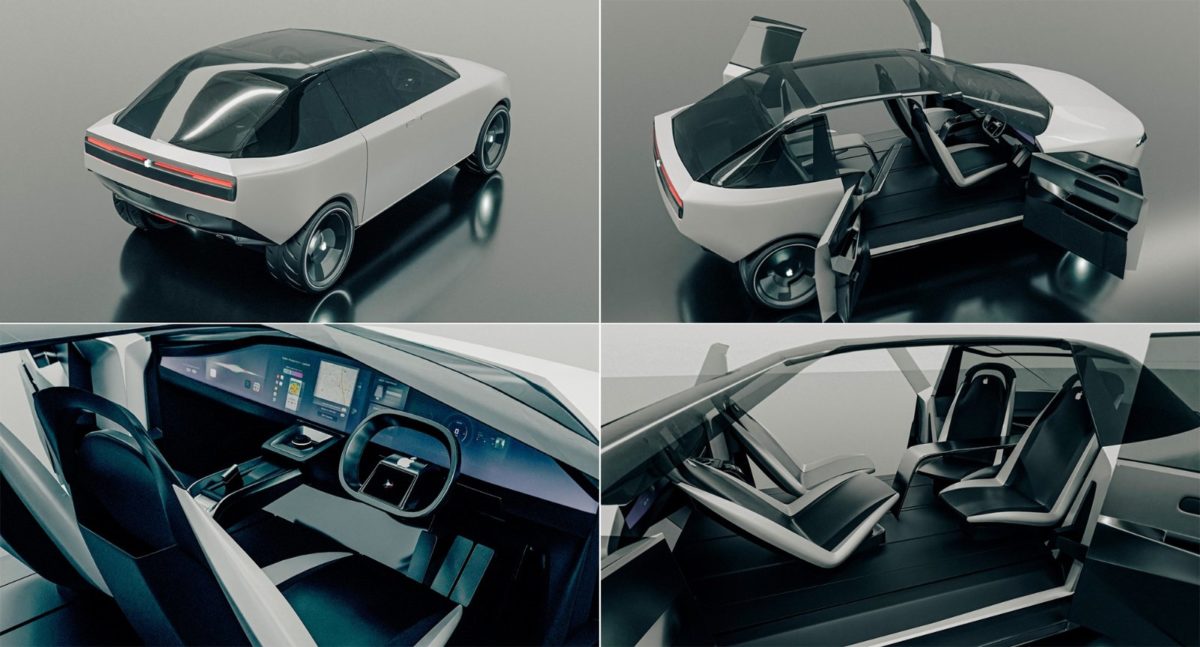 From an outside perspective, the tech giant appears to be ramping up its development efforts in earnest this year. Back in June, Apple recruited a former senior executive at the BMW electric car division – Ulrich Kranz – less than a month after he stepped down as CEO of Canoo Inc. (which also develops self-driving electric vehicles). Kranz now represents one of Apple's "most significant automotive hires" and joins several former executives poached from Tesla.
---
---
As noted by Bloomberg, this wouldn't exactly be the first time Apple has united with BMW talent, either. Aside from collaborating with BMW to integrate the iPod within its auto infotainment systems during the early 2000s, and providing the iPhone with car key capabilities in more recent history, Apple executives have been known to visit BMW offices on a regular basis. Apple CEO Tim Cook is also reportedly a major fan of the BMW i8.
"The autonomy itself is a core technology, in my view," Tim Cook explained during an interview with The New York Times' Kara Swisher.

"If you sort of step back, the car, in a lot of ways, is a robot. An autonomous car is a robot. And so there are lots of things you can do with autonomy. And we'll see what Apple does."
"We investigate so many things internally. Many of them never see the light of day. I'm not saying that one will not."
According to Reuters, Apple is tentatively circling 2024 for the launch date of its self-driving car – hit the link below for a more interactive preview of the Vanarama concept design (or simply scroll through the gallery provided).