The thing that really grinds people's gears is when an elected official promises they'll "fight for you" only to serve their own self-interest. But two Brazilian politicians have opted to buck the trend by putting their money where their mouth is and settling an ongoing local dispute via three-round MMA brawl.
In one corner, you had Simão Peixoto: the 39-year-old conservative mayor of an Amazonian town known as Borba. In the other, you had Erineu da Silva: the 45-year-old former councillor also referred to by his nickname "Mirico." Over the past few months, both parties have been feuding over a waterpark conservation project, taking potshots at one another in the local press as well as social media.
It all reached a fever pitch when Silva publicly labelled Peixoto a "rotter" and a "crook", blaming the mayor for allegedly failing to conserve the aforementioned waterpark situated on a river that passes through Borba. That's when the headline-making challenge was issued. Peixoto accepted on the condition it would be organised properly inside a ring, as opposed to – oh, I don't know – a Kmart parking lot?
---
---
RELATED: Why Do Men Constantly Overestimate Their Ability To Fight?
"I'm not a street fighter… I'm the Mayor of the municipality of Borba," Simão Peixoto stated on his Facebook page in early November.

"[But] if he really wants to fight… we're ready to fight… I've always been a winner."
The fight would eventually be hosted in the gymnasium of a local school. And while this event only represented a marginal step-up from an actual Kmart parking lot, hundreds of paying spectators were in attendance, with an active livestream for those who couldn't witness the hilarity in person.
According to The Guardian, Peixoto entered the ring at around 2:30 AM, surrounded by aides and carrying a black towel marked "Jesus." The mayor stamped on the canvas and attempted to menace Silva, approaching his opponent's corner twice and running a finger across his throat.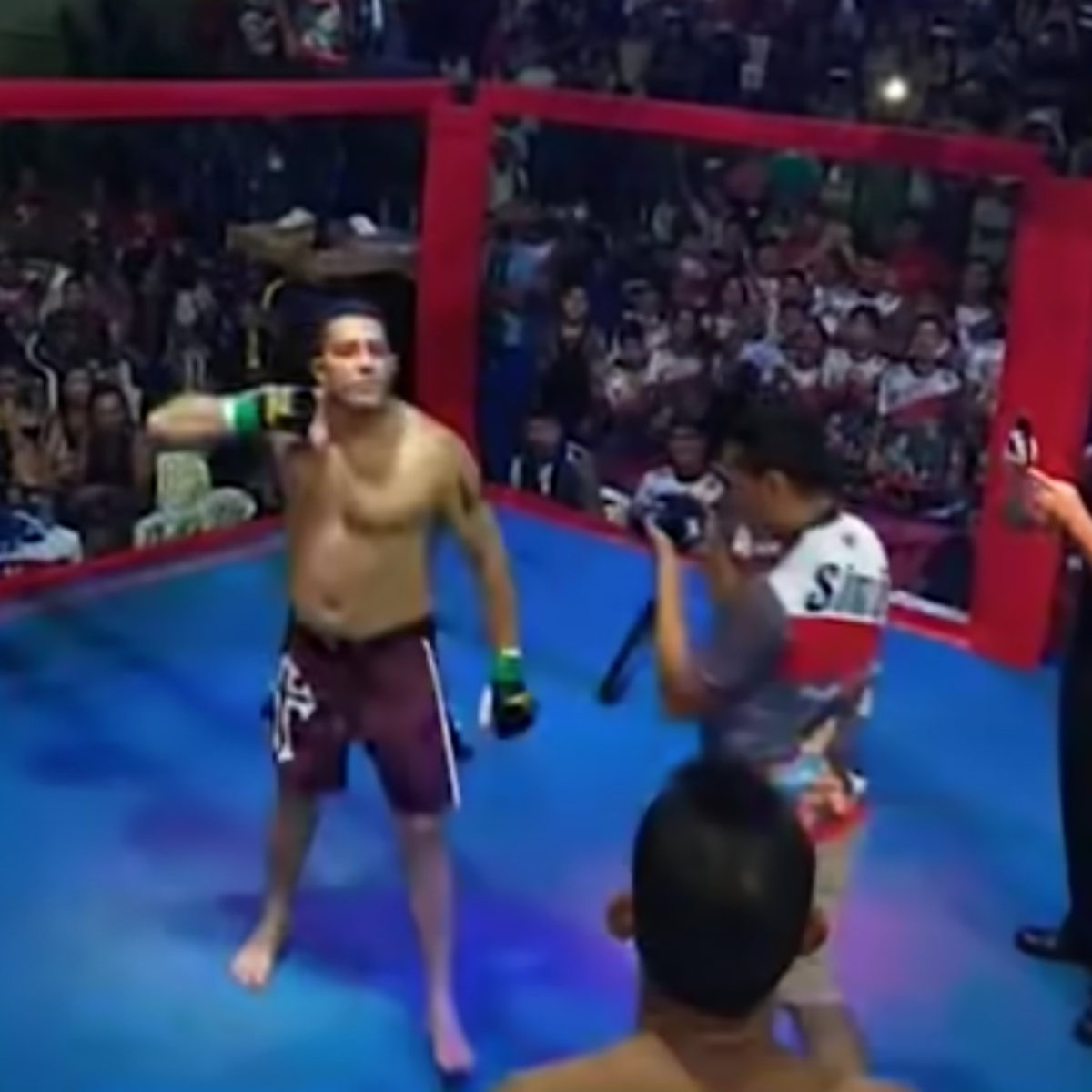 As you can imagine, this 13-minute slugfest wasn't exactly a display of peak athleticism. In fact, setting aside the newsworthy context of it all, it unfolded like any other donnybrook between two middle-aged blokes with something to prove. Wild haymakers. Zero technique. Gassed after the first round. It wasn't, however, without a few highlights. Peixoto landed a few heavy-looking blows, briefly knocking old Mirico to the ground. Mirico whittled away at Peixoto's legs, rendering him almost unable to stand. There was the odd takedown.
"The mayor took such a beating, his jaw dropped," writes Fato Amazônico.
Much to the surprise of everyone, when it went to the judges' scorecard, the Mayor of Borba had been declared the winner by points. The two rivals embraced each other afterwards, shaking hands and patting backs. Although how this solves the entire waterpark conservation issue remains unclear. Gotta love a functioning democracy, eh?
---
---
Check out the MMA fight between Brazilian politicians Simão Peixoto and Erineu da Silva below.