Queensland native, businessman, and philanthropist Mick McLoughlin is standing at the edge of greatness as he prepares to tee off for a task of considerable proportions: setting the Guinness World Record for the most golf holes played in a single week (cart assisted).
The numbers would intimidate any lesser man – but old mate McLoughlin is clearly no mere mortal. Across 7 days, he'll have to play a grand total of 2,001 holes. That's an average of 286 holes or 16 complete rounds per day. And on top of the forthcoming golfing world record attempt, McLoughlin is also attempting to raise $250,000 on behalf of the Ronald McDonald House Charities.
"The world title is one challenge, raising $250,000 for Ronald McDonald House Charities South East Queensland is the other," says Mick McLoughlin.

"They go together – and I'm calling on Queensland businesses and individuals who can to dig deep and come on board. Supporters can donate as little or as much, or they can bid to come out on the course during the challenge, buy a ball, and more."
---
---
RELATED: Aussie Bloke Breaks World Record For Walking The Most Dogs Simultaneously
Mick McLoughlin is already hard at work. With 6 months of training under his belt and another 6 months to go before it's showtime, the Most Golf Holes Played In A Single Week world record challenger is currently hitting approximately 1,000 balls a day at the driving range of Golf Central, Brisbane Airport – an establishment which has actually made him an ambassador in full support of what's to come.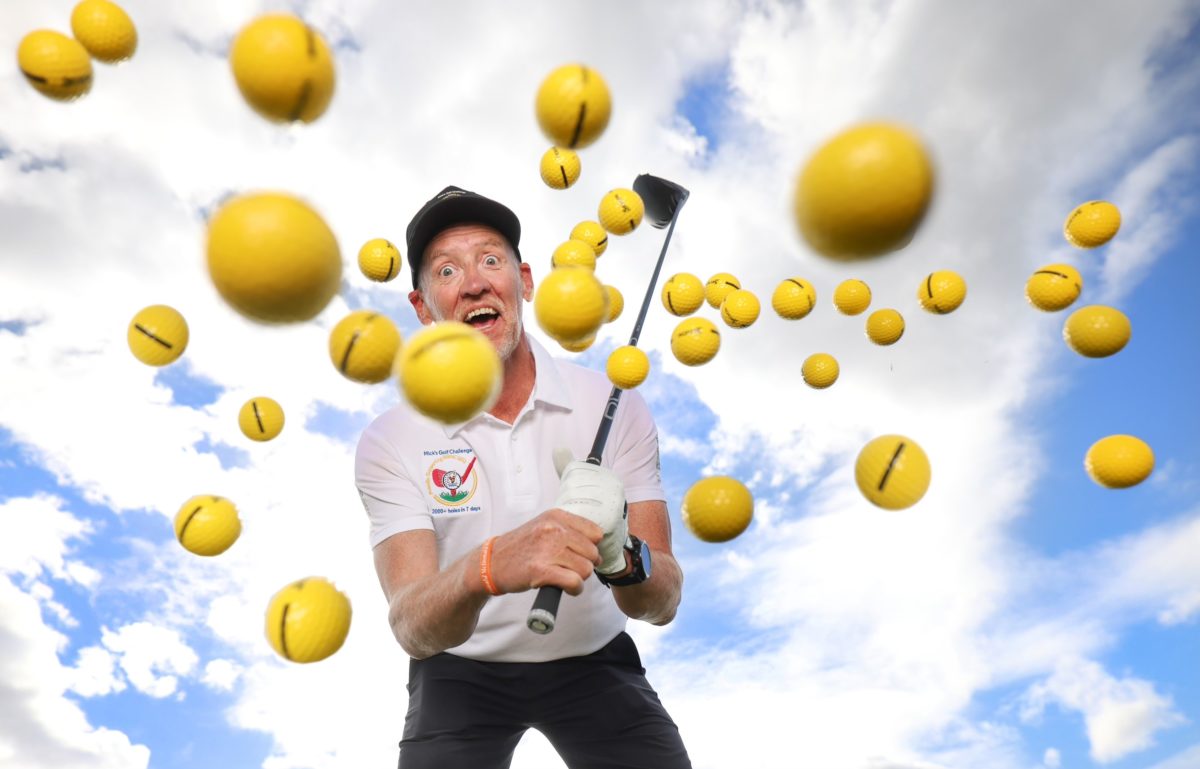 The 58-year-old battler has enlisted to a coach in Quinten How as to ensure his skills on the green are refined like nothing else when the time comes; with a focus on building both the former's core and shoulder muscles. Yes, despite what you think and all the tired jokes involved, golf actually requires some athleticism.
"I called the current world record holder Geno Bonnelli and he said, 'While I don't want to lose my world record title, if I have to, then I want to lose it to you in raising funds for Ronald McDonald House' – which made me even more determined."
RELATED: John Daly's Diet Would Have Killed A Lesser Man
The Geno Bonnelli he speaks of set the current record with 2,000 holes at the Lewiston Country Club in Lewiston, Idaho – accomplished between June 27th to July 3rd back in 2011. The reigning champion managed to average 71.802 per round on a par 72 course with a round low for the week of 64, which included 9 birdies and eagles. As per Medianet, the American has vowed to make a return and re-challenge for the title if our homegrown contender proves successful.
It all goes down starting from November 21st to November 27th later this year. We'll update you on whether Mick McLoughlin has actually been immortalised within the annals of history when the time comes.
---
---
Godspeed and good luck, mate.