"Utter carnage" has been the term used to describe the scenes at TPC Sawgrass this past weekend. During the first and second rounds of the Players Championship 2022, the likes of Scottie Scheffler, Xander Schaufele, Brooks Koepka, and Collin Morikawa braved particularly treacherous winds recording speeds of up to 35mph (55 km/h). And what transpired at the par-3 17th would make your most shocking arvo out on the course look like a dream by sheer comparison.
Across the first two days, only four balls found the drink. At the infamous island-green 17th, however, a grand total of 29 balls would be swallowed by Floridian waters. Through no fault of the PGA Tour stars, of course. Scheffler, Schaufee, and Koepka were the first victims to step up to the chopping block. As (hilariously) summarised by Gary Van Sickle of Sports Illustrated in what he has since dubbed 'The House of Pain for Dummies,' here's what went down.
The first man on the 17th tee Saturday was Scottie Scheffler, who won last week's Arnold Palmer Invitational. He put a good swing on a short iron, watched it uneasily and saw it land on the top tier, where the pin was located, and bounce over the green and into the lake. Bogey. (70-76)

The next man up was Xander Schauffele, your Olympic gold medalist. His shot faded and came up short and right of the green. Splash. Bogey. (73-78)

Our third contestant was Brooks Koepka, who said a few weeks ago that the 17th green was his nemesis hole. Can you guess the result? Splash. It was his 10th ball in the water at 17 in his relatively short career. He actually laughed, probably at the capricious ridiculousness of it all. Double bogey. (72-81)
RELATED: Aussie Golfer Wade Ormsby Earns 204 Bottles Of Whisky With Hole-In-One
---
---
Later on, Emiliano Grillo would make a quadruple-bogey 7, taking a lakeside dip with both his tee shot and shot from the drop zone.

"I understand the difference in the waves," remarked four-time PGA Tour winner Kevin Kisner; who reached six-under in his second round until missing a short par putt on No.4, going from rough to a rinse for a double bogey on the following hole.
"But when I got to 17 and 18, you [could] hardly stand up, much less hit a golf shot."
As analyst Brandel Chamblee explained on the Golf Channel (via Sky Sports), it was a lethal combination of conditions and hole design.
"You can choose right, hit right, and make an eight," states Brandel Chamblee.
"You could make chipping areas if you extended the front and back of the green some 10 yards… on a day like this the hole is too penal and tilts it towards a chance rather than chess."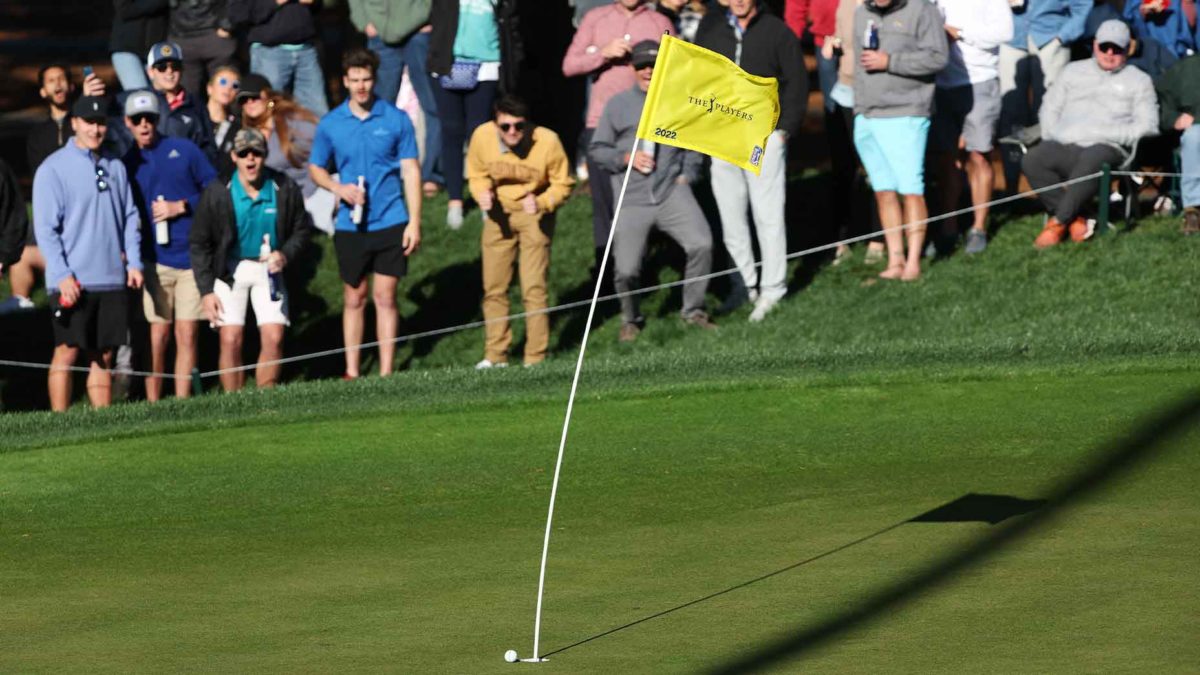 "This is not a particularly intimidating hole," countered fellow pundit Paul McGinley.
"You have a huge green here, some 4,000 square feet, and it's only 135 yards. Over the last five years, 80% of players have hit the green. The wind exposed it, but that is part of the game and what makes it great."
---
---
"Luck is a huge element in professional golf, and this was a freak day. We have to accept a freak day."
"All you can do is be in a state of mind to execute the shot and accept the consequences. If it happens to go in the water, it goes in the water."
"It was gripping TV and you wanted to see what happened with the players. So much skill was required out there."
"I don't just watch sport to be entertained," says Brandel Chamblee.
"I watch it to be amazed at the athleticism and talent and I couldn't tell who was talented and who wasn't."
Check out the whacky, wind-whipped shenanigans endured at the Players Championship 2022 for yourself above.