UPDATE [6/04/22]: As many had anticipated, Tiger Woods has announced he plans to play the 86th Masters in 2022, which is scheduled to begin this Thursday at Augusta National Golf Club.
"As of right now, I am going to play," says Tiger Woods.
"I don't have any qualms about what I can do golf-wise. Walking is the hard part."
---
---
When asked if he can win this week, the 15-time major champion simply replied: "I do." Chills.
Original Article – It's Looking More & More Likely Tiger Woods Will Play The Masters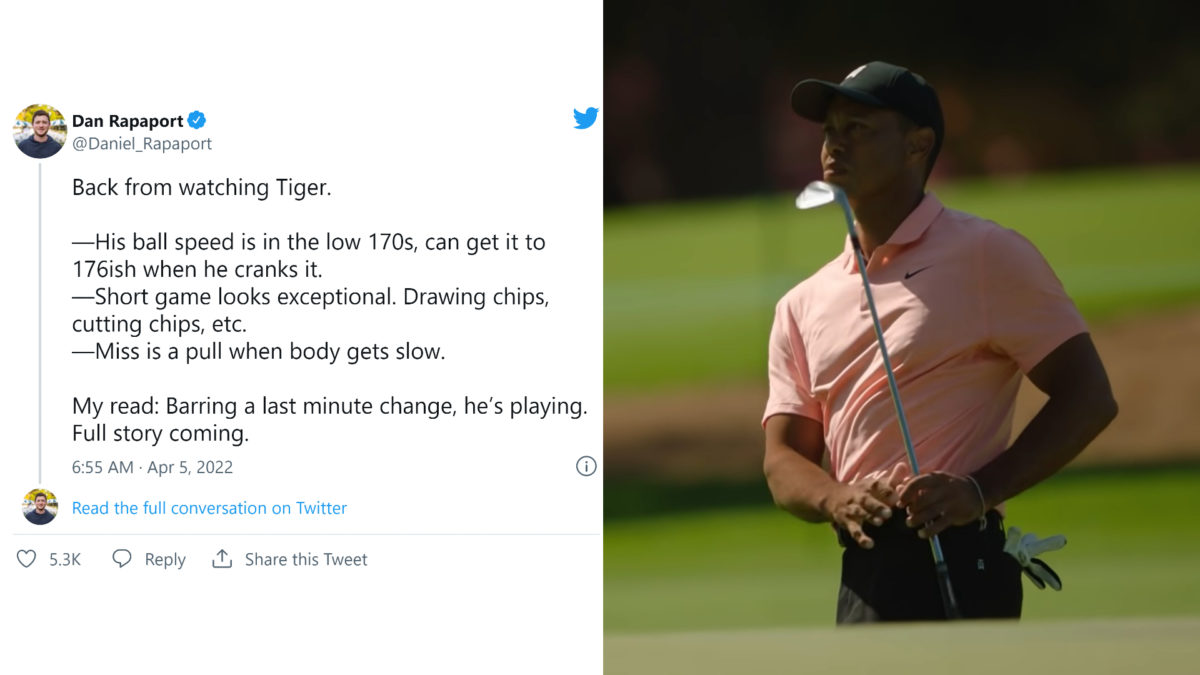 On Sunday, Tiger Woods wasn't ready to confirm once and for all whether he'd actually be competing at the 86th Masters in 2022. Just six weeks prior, the golfing great admitted he still had a "long way to go" in terms of recovery from the show-stopping car accident which left him confined to a hospital bed for three months last year. But as speculation steadily mounted, he offered the world something to keep the hope alive:
Since then, the evidence has – shall we say – strongly hinted Woods is on track to make an appearance at his first regular PGA Tour event in over 17 months; with everyone from longtime caddie Joe LaCava to Fred Couples leaving very little doubt about the man's commitment come Thursday. The most promising (and descriptive update) was tweeted in the early hours of this morning by Golf Digest's Dan Rapaport, live at the scene of Augusta National Golf Club…
"Back from watching Tiger. His ball speed is in the low 170s, can get it to 176-ish when he cranks it. Short game looks exceptional. Drawing chips, cutting chips, etc. Miss is a pull when body gets slow. My read: Barring a last-minute change, he's playing."
RELATED: Tiger Woods' 4 x Major Winning Golf Clubs Could Sell For $1 Million+
---
---
Rapaport would elaborate on the growing optimism surrounding Tiger Woods and the 2022 Masters shortly thereafter, noting how the five-time champion "sure didn't look like a player still unsure" about what his week will resemble – coming into direct conflict with the official word that he'll make a "game-time decision."
"After playing a nine-hole practice round for the second consecutive day, all signs would suggest Woods will start chasing a sixth green jacket and a 16th major championship on Thursday," writes Dan Rapaport.
"If you closed your eyes between shots, you'd have no idea Woods needed surgeons to essentially rebuild his right leg after a car accident less than 14 months ago. He looked like the rest of the pros during his 30-minute range session."
"Woods looked far more comfortable ripping driver than he did walking to greet Bubba Watson, or up a slight hill to bear-hug his former coach Sean Foley, who was sporting a blood-red Nike sweater with the TW logo on the backside of the collar."
RELATED: Cam Smith Claims The Biggest Winner's Cheque Golf Has Ever Seen
It's worth pointing out, however, that this doesn't signal a complete return to form. As multiple sources in addition to Rapaport have indicated, Woods must still contend with a new reality. One wherein his right leg – which almost faced amputation back approximately a year ago – will never quite be the same. And although his gait isn't impeded by a limp, it is by no means "seamless."
"He's kind of a tough guy. He's never going to let you know he's in pain. He looked good walking," said 1992 green jacket winner Fred Couples.
---
---
"You can always be in pain, but to hit it like that, now it's just the walking part. If he can walk around here for 72 holes, he'll compete. He's too good."
"Knowing Tiger the way I know him, if he wasn't totally like… pretty much feel he has a chance to win, he wouldn't tee it up," said Mark O'Meara, 1998 Masters champion and close friend to Woods.
"The thing about Tiger Woods is usually when everybody thinks he can't do something, that's when he does it."
Fingers crossed.