When Frank Lampard took over as Chelsea manager last week, it got us thinking – who's making the most bank out of all of the bosses in the world's toughest national football league?
A quick search found that the lads at Sport Bible had already beat us to it, confirming the former-Chelsea-player-turned-coach is now the eighth-highest paid manager in the Premier League.
The Blues confirmed that the club legend will take over from Maurizio Sarri on a three-year deal believed to be worth £5 million per season (nearly AU$9 million).
What surprised us most, was not how much Lampard was raking in, but how much he comparatively wasn't when stacked up against the likes of Manchester City's Pep Guardiola, who is currently on £20m a season. Yeah, that's AU$36 million per year.
To put that figure in perspective, his closest rival on the pitch, Liverpool FC's Jurgen Klopp, isn't even making half that amount, despite finishing within just a single point's difference in last year's table.
Only time will tell if the inexperienced Lampard's move to Chelsea from Derby after just one year in the job will be the stuff of fairytales or a poor investment of £5 million.
For a full breakdown, check out Sport Bible's infographic below.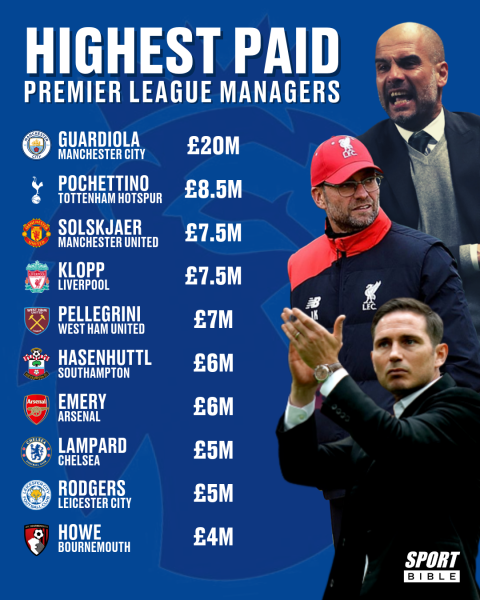 RELATED: LeBron James' $6.5 Million Liverpool FC Ownership Stake Is Paying Off Big Time