UPDATE [11/08/21]: The transfer from FC Barcelona to Paris Saint-Germain (PSG) has officially been confirmed, as Lionel Messi signs a blockbuster two-year deal reportedly valued at £53.8 million (AU$101 million) a year. Joining the likes of Kylian Mbappe, Sergio Ramos, Neymar, and Gianluigi Donnarumma, the Argentian forward will return to wearing #30 on his jersey (the same number he wore when he began his professional career at Barcelona from 2004-2006).
"I am excited to begin a new chapter of my career at Paris Saint-Germain," says Messi.
"I am determined to help build something special for the club and the fans, and I am looking forward to stepping out onto the pitch at the Parc des Princes."
---
---
Original Article – Lionel Messi Expected To Sign A Contract With PSG

In the wake of his tearful farewell to FC Barcelona via press conference over this past weekend, reports are now indicating Lionel Messi is en route to signing a contract with Paris Saint-Germain (PSG). The star player himself noted it was a "possibility", while inside sources have revealed that not only has an offer been formally extended – Messi has also agreed to visit Paris for a physical, potentially finalising a deal with the club owned by Qatar Sports Investment right there and then.
"This is very difficult, I was not prepared for this," says Messi.

"Last year, I was convinced to leave, but this year, we were going to stay – my family and I wanted to continue here, in our house."
"After 21 years I'm leaving with my three Catalan-Argentine kids. We've lived in this city, this is our home. I'm just really grateful for everything, all my teammates, everyone who has been by my side.

"I did everything I could to stay and it wasn't possible. I offered to reduce my salary by 50% and Barca didn't ask for anything else. They didn't ask for another 30%… that's a lie."
RELATED: Lionel Messi Adds Luxury Ski Resort To Growing Hotel Empire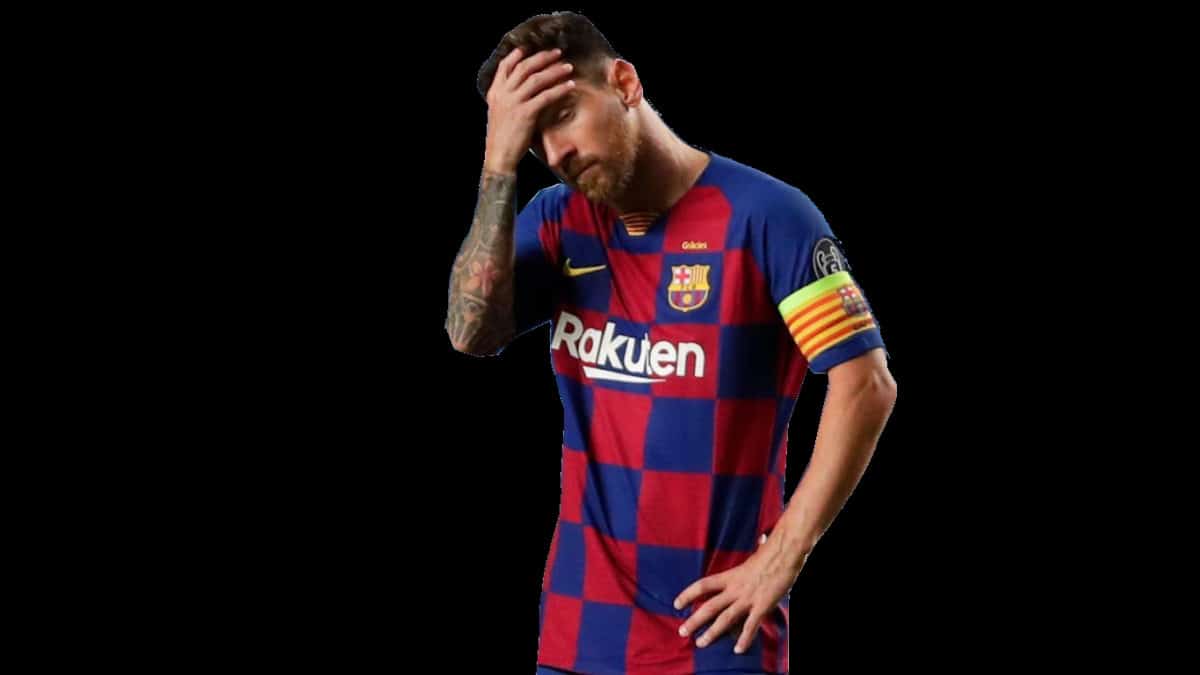 The 34-year-old Argentinian had agreed to a five-year contract renewal, pushing FC Barcelona's wage spend at a staggering 110% of its revenue. For the uninitiated, the spending cap with LaLiga has effectively been slashed from over €600 million (AU$960 million) in 2019-20 to an expected €200 million (AU$320 million) for the coming season.
Given how the terms of Messi's previous contract entailed a base salary of approximately €70 million (AU$112 million) without bonuses – the richest sports contract in history – even with a heavy pay reduction, it would be impossible to retain him. And this is all before factoring in Barca's declining financial health.
According to Sky Sports, Lionel Messi is staring down the barrel of a two-year initial contract with PSG believed to be worth $47 million a year after tax. Speculation had pointed to Manchester City as another potential life raft, but after purchasing Jack Grealish for a record $189 million transfer fee, in addition to preparing for some even more hefty spending on Harry Kane, safe to say, they're out of the running.
---
---
But that being said, aside from his bombshell exit from a club he had been committed to for over 20 years, nothing is confirmed at this stage. After all, the press was eager to frame what would have been a greatly diminished contract renewal with FC Barcelona as a done deal just weeks ago. Yet here we are.
"A lot of clubs showed an interest. There's nothing final but, of course, there are talks… There is no doubt that I will go to a team that will compete with Barca. I didn't want to leave, but I have to. And I want to keep winning. That's my mentality. I want to win."
"As long as I go on being competitive and as long as my body responds [I'll carry on playing]."
Lionel Messi departs from FC Barcelona with a legacy of 34 team trophies, including 10 La Liga titles, four Champions League crowns, the 2020-21 Copa del Rey, six Ballon d'Or awards, as well as being the club's all-time top-scorer with 672 goals from 778 appearances across all competitions.