Despite having a season to forget in La Liga, Real Madrid have returned to the top of the rich list of the world's most valuable football clubs.
Forbes has released the 2019 edition of the world's most valuable teams and the outfit from the Spanish capital are back on top after a two-year break.
Even after losing Cristiano Ronaldo, Real Madrid are still worth a cool $4.24 billion USD. Their net worth copped a tidy top up in the past year, thanks mostly to a cash injection of US$100 million from its third consecutive UEFA Champions League win.
---
---
The Forbes piece also hints that Real Madrid is on the brink of inking a US$1.8 billion 12-year deal with Adidas – the highest kit deal in the history of football.
The valuation of US$4.24 billion puts Real Madrid in the third spot on the list of most valuable sports teams worldwide, behind the Dallas Cowboys at US$5 billion and the New York Yankees, worth US$4.6 billion.
Check out the full list below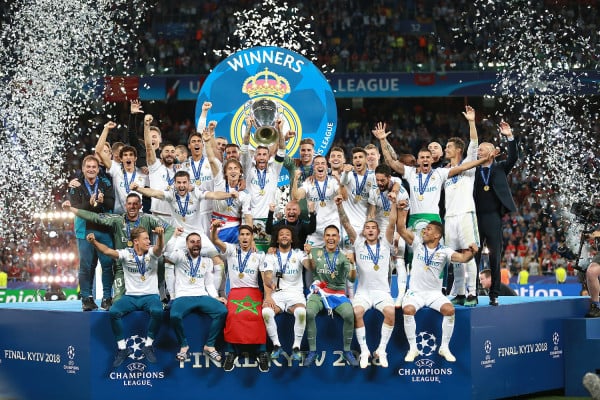 Football's Most Valuable Teams
Real Madrid — US$4.24 billion
Barcelona — US$4 billion
Manchester United — US$3.8 billion
Bayern Munich — US$3 billion
Manchester City — US$2.69 billion
Top 5 Teams Matchday Value
Barcelona — US$809 million
Real Madrid — US$729 million
Manchester United — US$655 million
Arsenal — US$557 million
Bayern Munich — US$478 million
Top 5 Teams Broadcasting Value
Real Madrid — US$1.277 billion
Manchester United — US$1.264 billion
Barcelona — US$1.245 billion
Chelsea — US$1.137 billion
Manchester City — US$1.083 billion
Top 5 Teams Commercial Value (Rounded)
---
---
Real Madrid — US$1.51 billion
Barcelona — US$1.5 billion
Manchester United — US$1.45 billion
Bayern Munich — US$1.34 billion
Manchester City — US$1 billion
Top 5 Teams Brand Value
Real Madrid — US$725 million
Barcelona — US$465 million
Manchester United — US$444 million
Bayern Munich — US$392 million
Manchester City — US$310 million
RELATED: Michael Jordan's $2.7 Billion Dollar Net Worth And How He Spends It