Two days on from UFC 248, you will have probably formed an opinion about what you saw. Women's strawweight champion, Zhang Weili, went to war with Joanna Jedrzejczyk for five rounds to defend her title – resulting in one of the most memorable fights of all time.
The middleweight championship bout, on the other hand, had the MMA world divided. Some chalked it up to Israel Adesanya strategically defending his title. Some thought otherwise.
Regardless of your leanings, nothing changes the figures each modern-day gladiator was paid. More specifically, the figures paid to all main card participants – some which may raise your eyebrows (and not entirely for the usual reasons).
---
---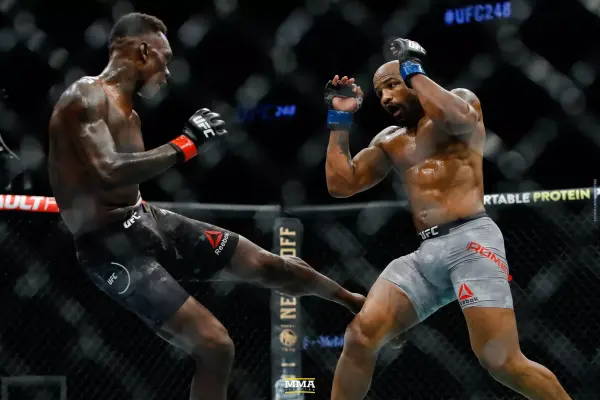 MMAMania brought us the official inside scoop below:
Israel Adesanya (C) – $500,000 (No Win Bonus)
Yoel Romero – $350,000 (No Win Bonus)
Zhang Weili (C) – $200,000 ($100,000 to show + $100,000 to win)
Joanna Jedrzejczyk – $106,000 ($̶1̶0̶6̶,̶0̶0̶0̶ ̶W̶i̶n̶ ̶B̶o̶n̶u̶s̶)
Beneil Dariush – $140,000 ($70,000 to show + $70,000 to win)
Drakkar Klose – $40,000 ($̶4̶0̶,̶0̶0̶0̶ ̶W̶i̶n̶ ̶B̶o̶n̶u̶s̶)
Neil Magny – $152,000 ($76,000 to show + $76,000 to win)
Li Jingliang – $64,000 ($̶6̶4̶,̶0̶0̶0̶ ̶W̶i̶n̶ ̶B̶o̶n̶u̶s̶)
Alex Oliveira – $128,000 ($64,000 to show + $64,000 to win)
Max Griffin – $35,000 ($̶3̶5̶,̶0̶0̶0̶ ̶W̶i̶n̶ ̶B̶o̶n̶u̶s̶)
*All sums are USD