When the conversation turns to MMA, people are often more drawn towards the striking aspect. And who can blame them? A knockout is a pretty exciting outcome in the realms of combat sports (and combat in general).
But today, we honour something that needs to be appreciated more by the masses: the delicate art of a surgical submission game. Not just your standard rear-naked and neck cranks, either. The high order chess moves that require thinking three steps ahead… and maybe even a calculated sacrifice move to get the right positioning.
Here are the five deadliest submissions in recent UFC history.
---
---
Chang Jung Sung – The Twister Makes Its UFC Debut
This was a next-level play that had every grappling fan's jaw-dropping to the ground. Created by the prodigious Eddie Bravo, a 'twister' is not something that you just dust off and throw out there when the opportunity suddenly arises – because there are no freely given opportunities, like the accidental exposure of a back which offers up a rear-naked choke. This requires several stages of set-up. The result? An incredible amount of pressure on the spine sourced from tension at two opposite ends of the body.
Ryan Hall – Iminari Roll Into Heel Hook ("It's kinda what he's known for!")
Before entering the world of MMA, Ryan Hall made a considerable name for himself in the grappling world. The Brazilian Jiu-Jitsu specialist had been competing on the international stage from purple belt all the way through to earning his black. So it's no surprise that he would be using such a BJJ specific attack chain like an 'iminari roll' straight into the one-shot kill move that is the 'heel hook'. And on BJ Penn, no less. Yet another fighter with considerable BJJ skill (although there is much discussion of late regarding how past his prime Penn is in). In the words of Urijah Faber on season twenty-two of The Ultimate Fighter, "… it's kinda what he's known for!".
Nate Diaz – The "Fuck You" Triangle
This had to be included no matter what. The ballsiness, bravado, and bare grit of it all. Stockton's own BMF lived a classic moment of taking a crisis and turning it into a primo opportunity when he got dumped on his back. Almost immediately, he smoothly transitioned his legs from 'closed guard' to a deep 'triangle'. So deep that, to top it all off, he pulled out the double middle fingers – a "fuck you" triangle. What's not to love here?
CB Dolloway – It's A Nice Day For A Peruvian Necktie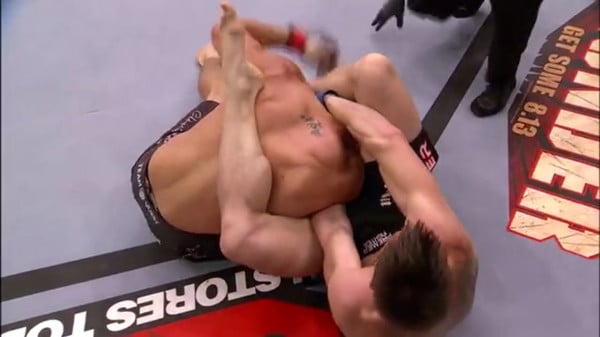 Anyone that's ever been on the receiving end of this 'guillotine choke' variation knows how nasty it is. Your head feels like it's about to literally pop, with the way the legs are positioned designed to prevent you from alleviating any sort of pressure. The name itself is a pretty good indicator of what you're dealing with here. This evil bit of body-mechanic genius earns a spot almost purely because of how rare it is in MMA. The only ever time I can recall seeing a 'Peruvian Necktie' off the top of my head is from one Pat Curran over at Bellator.
---
---
Unfortunately, there isn't a readily available link to this moment (a lot of this shit is protected pretty well unless someone uploads a dodgy copy – which they have not). But you'll get the basic idea watching the Pat Curran fight.
Aleksei Oleinik – Always Watch For The Ezekiel
'Ezekiel chokes' are accomplished far easier in a grappling gi for the very reason that it traditionally makes use of sleeves. But that isn't to say 'ezekiels' haven't ever been accomplished without a gi. In fact, there's an entire portion of the grappling community who have perfected it. But it certainly wasn't what we expected to see in the octagon. The beauty of this play is that Aleksei Oleinik manoeuvred to freely offer his opponent top position freeing himself to secure the kill almost uncontested. The best part? This wasn't even the first time he pulled this off.
Honourable Mentions
Khabib Nurmagomedov – Short Choke Into Neck Crank
The infamous submission that solidified Khabib Nurmagomedov as a hard-to-spell household name (and had his fans dubbing Conor McGregor as "McTapper"). High-level play? Not really. But dominant? Oh, you betcha. The only way it'd be more dominant is if he called for prison rules and slapped his hand over McGregor's mouth. Don't poke the Dagestani bear.
Matt Hughes – Kimura Counter Into Armbar
It was a moment where Matt Hughes' fate was seemingly written in stone. Georges St-Pierre had the 'kimura lock'. In a moment of incredible tenacity and seasoned fight IQ, however, Matt Hughes managed to reverse the situation to lock in old faithful: a textbook 'armbar'. Even the legendary GSP had to tap to that one.
Frank Mir – Armbar Breakage
---
---
If it's on, you'll feel it. And if you feel it, you should always tap. And that's all that really needs to be said about that matter. Turn away if you get squeamish watching an arm bending the wrong way at a reflex angle.
RELATED: Did You Know That 23 Celebrities Have A Hefty Stake In UFC?