Anyone who follows Conor McGregor on Instagram, would have seen that he has been training very hard for his rematch with Nate Diaz in Las Vegas next month.
However, they may have got a shock when on Wednesday night McGregor uploaded a photo of himself, boxing, fully naked.
Luckily The Notorious One's "notorious one" was not visible in the picture, or in a number of other naked shots he took for ESPN's annual "Body Issue" – including the cover below.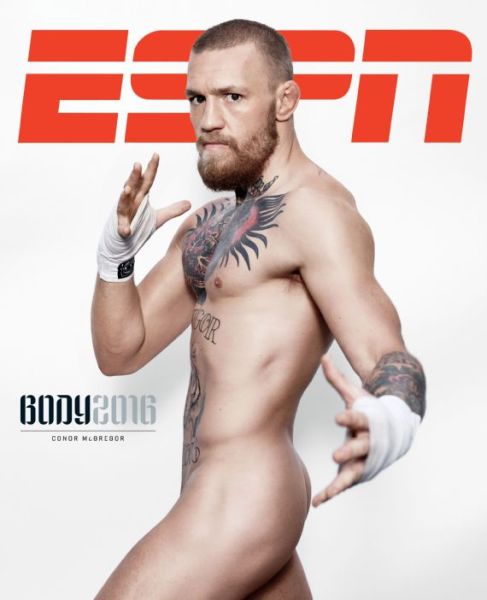 In addition to the raunchy photos McGregor also made the revelation that, apparently, fighting isn't the only thing he's good at:
In his interview with ESPN McGregor claimed that he is "made to f—k". The statement was made whilst McGregor was discussing his Irish heritage.
You can watch the full ESPN shoot and interview here:
https://www.youtube.com/watch?v=cC0LqW1kY04
*AN END NOTE FOR UFC FANS:
As you would known McGregor was scrapped from UFC 200 after failing to meet promotional duties. Today it has been revealed that main event fighter Jon Jones has also been removed from the card after UFC officials were notified of a doping violation from the troubled champ. Despite this, luckily UFC 200 still boasts a mouth watering card – including the return of the legendary Brock Lesnar from a five year hiatus who will be fighting Australia's very own Mark Hunt.