Conor McGregor has demanded shares in the UFC brand in anticipation of his six-month ban coming to an end.
Speaking about company deals and equity probably isn't done best from the naughty corner that is the suspension he copped after the UFC 229 brawl. However, knowing McGregor, this certainly isn't uncharacteristic.
The once-upon-a-time champ has confirmed over and over again that he's ready for a fight and ready to win that fight. All McGregor asks is his 'rightful shares':
"If the UFC wants me to slide into that co-main event and help, what that is, me sliding into the co-main event, it's boosting their brand-over-fighter rhetoric that they have. There's no problem with that. But if they want me to push that—and I have no problem pushing that—give me my rightful shares in the UFC company. That's all I ask."
RELATED: 'Guy Sneaks Backstage At McGregor v Mayweather London Press Conference & Walks Out With Conor's Team'
This isn't the first time McGregor has piped up about wanting some equity. After he penned the $100 million USD deal with Mayweather in 2017, the Irishman's confidence was obviously sky-high and he demanded a similar stake in the UFC. The company's president, Dana White, responded with some common sense:
"Listen, you want a piece? He's got a lot of money. Come in and buy a piece, man."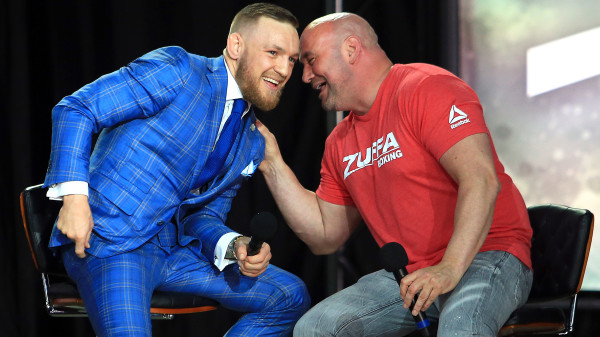 It should be noted, however, that the top three highest-selling fights of the UFC's history all featured McGregor. But it's not as if the man wasn't paid very handsomely for his efforts.
For an interesting throwback, see 'Conor McGregor Inks New 6-Fight UFC Deal'.