Undefeated Middleweight champion, Israel Adesanya, has challenged Light Heavyweight champion, Jon Jones (who is technically undefeated if you don't count the disqualification). Technicalities aside, this has the potential to be a monster bout between two of the UFC's most lethal strikers and unnaturally dominant fighters. But only on the condition the latter meets the former at his division.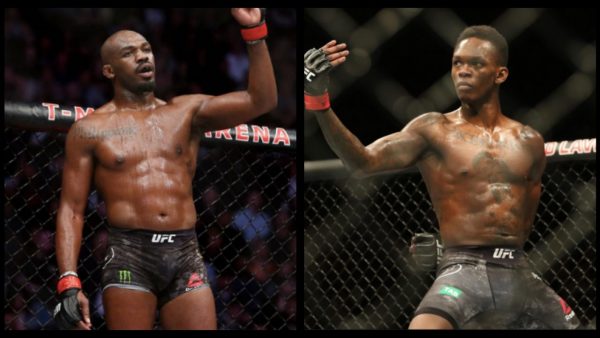 "If he wants to fight me right now, come see me at 185 [pounds]," says Adesanya.
"I'll let him jump the queue, cos' he's the champ at that weight class."
Adesanya recently ascended to the status of Middleweight champion at UFC 243 Melbourne, after a decisive victory against Sydney's own Robert Whittaker. The first round had ended with an ominous knockdown of Whittaker, whereby he was just saved by the bell. In the second minute of round two, however, Adesanya set-up a perfectly timed counter to knockout Whittaker – finishing him for good with no further questions asked.
As for Jones, the historically controversial figure seems to be keeping his nose out of trouble for the time being (no pun intended). Jones has sat on the Light Heavyweight throne since December of last year after soundly defeating Alexander Gustafsson (who soon after announced his retirement). The number one pound-for-pound fighter has since defended his title twice against Anthony Smith and Thiago Santos. Both times securing the decision.
https://www.youtube.com/watch?v=hVx9owdCO2A
There's no telling whether anything will ever come of this. But given how the UFC has been open to the demands of the fans recently, like in the case of the BMF title fight between Jorge Masvidal and Nate Diaz this previous weekend, we're willing to hope a little harder. One thing's for sure though – this would be one hell of an event.
Make it happen, Dana White!