Season 1 of Billions explored self-made billionaire Bobby Axelrod (Damian Lewis) and his conflict with the law, led by Chuck Rhoades (Paul Giamatti). With Season 2 just out, we had a chat to the show's costume designer Eric Daman about how he crafted the characters and world of Axe Capital through clothes.
The antagonists on both sides come from very different backgrounds. Axe comes from a poorer upbringing, whilst Chuck has always been associated with the richer end of New York. But as we see in the show, those roles are switched with Axe now being on the richer side of things. Was there an aim to contrast their upbringing and current situation via how they're styled?
Definitely. It was a key point early on in the design decision and the fans seemed to really love it and relate to it. The fact you have this self-made billionaire not looking nouveau riche and embracing his authentic roots makes him that much easier to root for. On the other hand, you have Chuck who has to play the part and put on airs to maintain appearances that he can't afford himself and has disdain for, which also makes the viewer feel for him. The clothes are essential to underscore both those notions.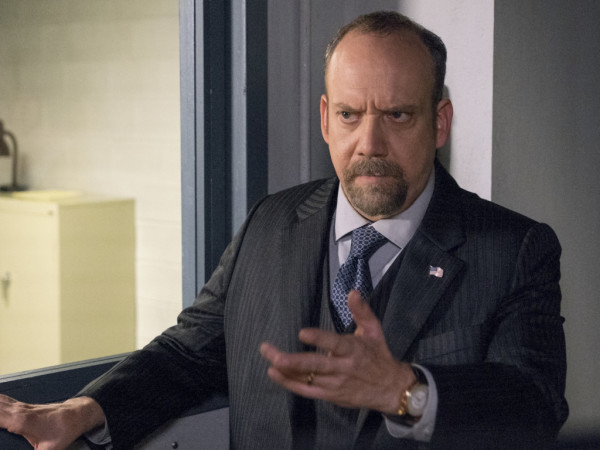 Did you want to incorporate elements from their past into how they dress now?
Yes. It was very important to have the past influence their present-day style. It adds authenticity and a character layer that is integral to the look of the show.
---
---
Chuck Rhoades grew up in a moneyed East Coast environment. He knows the merit and power of custom bespoke suits, and understands that his world expects him to be dressed just so. He wears a sharp, contemporary bespoke version of what could have been his father's power suit, a three-piece ensemble featuring waistcoats for an old world throwback that are sliming and strengthening.
Axe is a self-made man, from a suburban blue-collar upbringing. It was important to infuse his style with that DNA authentically, to embrace him as an All-American jeans and T-shirt guy, as a throwback to his roots. There was surely a time in Axe's career when he had to do the typical Wolf of Wall Street power suit and tie look. But now that he's his own boss and a very successful financial giant, he can dress as he wants and be true to who he is and not have to put on airs.
Saying that, a lot of the time Axe is very subtle in how he dresses. Were there any particular brands you gravitated towards that showed the interaction between subtlety and quality? A signature item possibly?
Luxury T-shirts from Vince, Tom Ford, and Tomas Maier that are a perfect fit, and drape impeccably paired with rag & bone jeans in Fit 2 – a relaxed slim in various washes that feel authentically worn. Throwback Retro Puma sneakers or the newest Nikes.
Was there any particular businessman or figure you took inspiration from in styling him?
David Geffen's T-shirt style was a big catalyst. And then from that, vintage Steve McQueen circa Bullitt, and Paul Newman circa Cool Hand Luke became the style icons.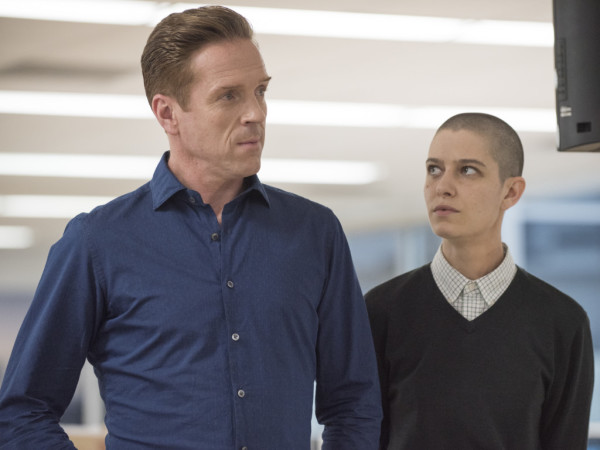 Whilst Axe is less traditional in the way he dresses, most of the time his right-hand man Wags matches the expected look of a businessman. Why is that so?
Wags comes from old money, and his style reflects a Wolf of Wall Street throwback that is true to his DNA. He loves the hype and glamour and glory of the finance business and his style reflects that. He does it his way of course, breaking tradition by pairing his Armani blazers with dark dress shirts, no tie, jeans and Ferragamo loafers. With an aggressive dash of panache in his choice of pocket squares, pinkie rings and wrist wear.
How did you go about styling employees at Axe Capital?
Axe Capital has a very relaxed dress code, most of the hedge funds do, but we were able to strike a chord by adhering to a very strict color palette of rich blues and steely greys. They look incredible in the location's environment and create an elevated uniformity that balances the casual ease of the actual clothes.
What would be the ultimate billionaire suit?
Custom Supreme Bespoke from Desmond Merrion of Saville Row. They're hand-tailored suits that price around $50,000 (USD). Merrion himself is quoted as saying: "I will personally place every single stitch in your suit by hand, a machine will never touch the garment at any stage. This completely hand-made suit is the absolute pinnacle of tailoring."
---
---
Continuing on from that, what would be the ultimate billionaire casual look?
I say The Emperor's New Clothes… lounging on your yacht draped in nothing but a Loro Piana James blend robe of Vicuña and Baby Cashmere, pricing at $15,000 (USD), would be the ultimate billionaire casual look.
Check out Season 2 of Billions, streaming on Stan now.