When life offers you a deal, you take it for all it's worth and run. The latest deal which requires our attention involves a considerable discount at R.M. Williams – available when you trade in your old "worn but worthy" leather boots of any brand (not just R.M. Williams).
If you're waiting for a catch, let me put your mind at ease: there isn't one. Simply walk into a store near you with those old boots in hand – or on foot – allow the "boot experts" to give them an inspection, and if they do indeed make the cut, you could be fitted for a brand new pair of R.M. Williams boots right there on the spot.
Trading in old R.M. Williams boots will earn you a discount of $150, while trading in boots from any other brand will earn you a lesser discount of $100. As for the fate of your trusty former companions, not to worry, as they'll be provided with a second life.
---
---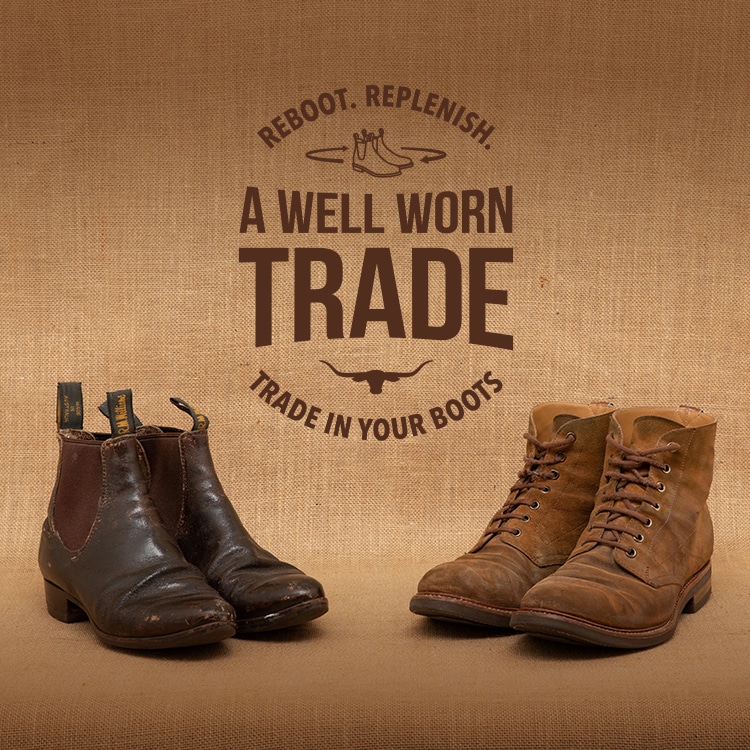 Every forfeited R.M. will make their way back to the magical workshop to be repaired and restored to its former glory. Boots of every other persuasion will be upcycled in partnership with the World's Biggest Garage Sale.
The R.M. Williams Trade In Boots offer is strictly limited until November 1st – only available at R.M. Wiliams outlet stores and David Jones concession stores.
Not quite sold on the R.M. Williams Trade In Boots offer or the R.M. Williams hype train in general? Read up on why we believe R.M. Williams boots are the most versatile shoe a man could ever own here.