Take one deep breath and hold your right hand on your facemask, now lean back and effortlessly let yourself fall off the side of the boat. Feel the blood rush to your head as you instantaneously drop into the mass body of water we call the ocean. The first few moments are sure to be ones you won't forget quickly as your body adapts to the temperature of the water whilst you search frantically for any initial signs of danger. As you do, you begin to hear the silence of the beautiful deep blue. Your heart rate begins to slow down, the bubbles are fewer and you realise you sound like Darth Vader. We've searched the globe to bring you five incredible scuba diving sites that any diver should tick off their bucket list.
Before we continue, It's worth noting, you may wish to get the all-clear from a doctor before committing to a diving holiday, like most sports or physical activities, diving requires an element of physical capability. There is a reason cosmonauts are trained to dive, being submerged in deep water is as close to being in space as one can get unless, of course, you have a billion dollars and a simulation machine that turns off gravity. It requires steady breathing and some element of strong swimming ability. However, whilst it isn't a full requirement, for the sake of safety it's a great idea to practice swimming in the ocean as frequently as you can.

Before You Go
Taking an introductory course in diving is great for those that are seeking a one-off dive in the Great Barrier Reef or a small dip in the ocean as a once-off. For those that are wanting to make a habit of exploring the deep blue, we recommend taking the full 'open water' certification course with PADI. These dudes are worldwide and are usually the best of the best trainers. The 'open water' certification will act as your passport to the ocean, as most dives require a certification level, based on the dive difficulty.
---
---
Rangiroa's Tiputa, French Polynesia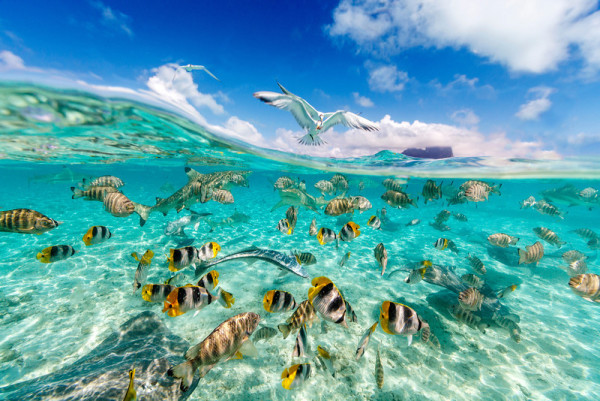 First up, 118 South Pacific Islands filled with lemon sharks, black tips as well as a few of the apex predators, hammerheads, tiger sharks and bull sharks just to name a few. These waters are teeming with life that will instantly make you feel as if you have left the sofa and entered the channel you have watched for so many years. Rangiroa's lagoon is a favourite among the locals, the Black Tips that swirl on the surface of the lagoon looks like something out of a Pirates Of the Caribbean production.
Rangiroa's Tiputa pass and Fakarava's Tetamanu is where you will see the looming hammers alongside the tigers and the bulls, dolphins also congregate around the same areas. In June and July, Humpback whales are often seen, as they are mating and giving birth. It's this diversity that earns this dive site its number one spot.
Where to stay

Hotel Kia Ora Resort and Spa is the photograph on your desk at work. The overwater bungalow will have couples set for a romantic getaway and divers sleeping meters above the water they will descend in. The resort will offer divers prime Polynesian living, with guest having the opportunity to travel to Le Sauvage, a private island a mere one-hour yacht ride away. Le Sauvage offers guests' unparalleled privacy and indulgence, with no more than ten guests allowed to stay at a time, with fresh seafood caught daily and feeling reminiscent of where Bruce Wayne would retire, should Gotham city find a hero with no mask.
Silfra Fissure, Iceland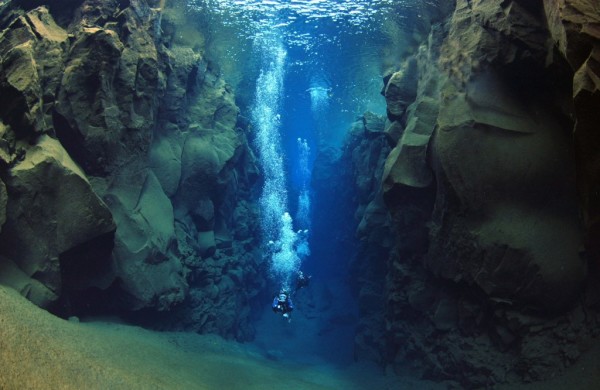 Silfra is a rift formed in the divergent tectonic boundary between the North American and Eurasian plates. I don't think this needs any more explanation as to why it's second on our list! Silfra Fissure is a freshwater dive that will have you feeling like a Nat Geo oceanographer. Divers from all over the globe come to see the Cathedral, one hundred meters of clear visibility, end to end. This will be a dive you will never forget. Touching two continental plates at the same time, with one hundred meters of visibility, it sounds like something out of a Bond movie.
Where to stay
Ion Adventure Hotel may look like an evil henchmen's private mansion, but this stilted minimalist structure is quite the luxury getaway. It sits eighteen kilometres away from a volcano, and the deluxe room will provide adventure fiends, with more than enough comfort. As it's an adventure that awaits, the Ion Adventure Hotel will organise dive trips on request, just one phone call to the concierge and the clear waters of Silfra Fissure will no longer be a concept, but a reality.
Nasimo Thila, Maldives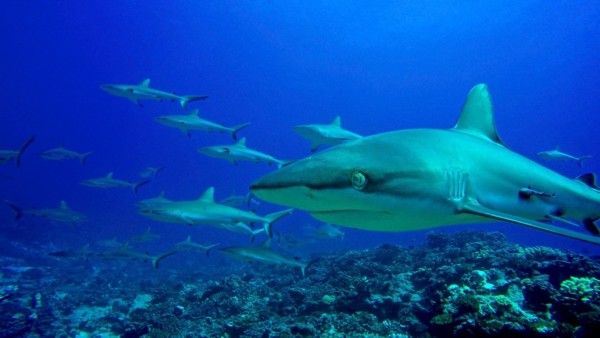 The Maldives – a tropical island archipelago surrounded by sandbars, showcasing the breathtaking shades of the ocean, where Schooling Bannerfish and clownfish leave divers breathless, whilst Reef sharks and Whale sharks appease the need for larger marine sightings. The Maldives is literally a diver's heaven on earth and one that acts as a haven for a large number of protected marine species.
45 minutes East of Baros lies the oasis Nasimo Thila. A protected dive sight for the more experienced divers, with strong currents and a large section of the reef being broken off, this dive sight has left large coral boulders and crevices filled with diverse marine life, that will make even the most experienced divers break a smile underwater.
---
---
Where to stay

Baros by Kuoni is the answer to all your questions, why should I put up with my boss? Baros. Why should I settle my divorce papers? Baros. Why should I? Well, you get the picture. And if you don't maybe this will help.
Cape Town, South Africa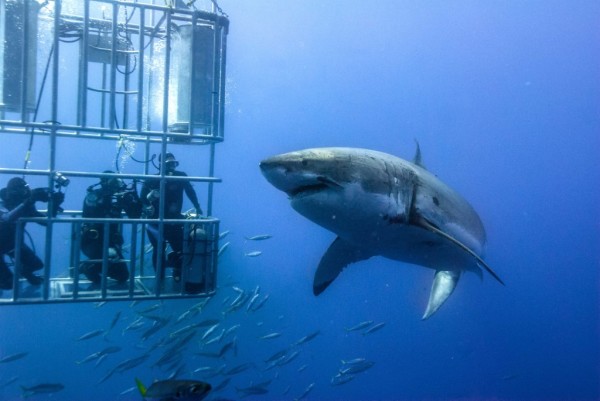 Our list wouldn't be complete without a dive into the depths with the notorious Great White shark. South Africa is home to the king of the ocean; Great Whites in South Africa are among some of the most popular predator sights in the world. These Whites are unlike most in the ocean, when Great Whites are in South Africa you can watch these apex predators earn their name as the king of the ocean. Leaping out of the water preying on fur seals may be the one memory you never forget.
Where to stay
Twelve Apostles Hotel will treat divers to pure luxury and assist in taking the edge off the 'post adrenaline' feeling after being in the water with a Great White. Surrounded by the Mountain National Park, this hotel is placed on Cape Town's most scenic route and if you're lucky you'll be able to see whales and dolphins from the hotel. Divers will also have the luxury of showing not telling everyone where they encountered a Great White.
Lanai – Hawaii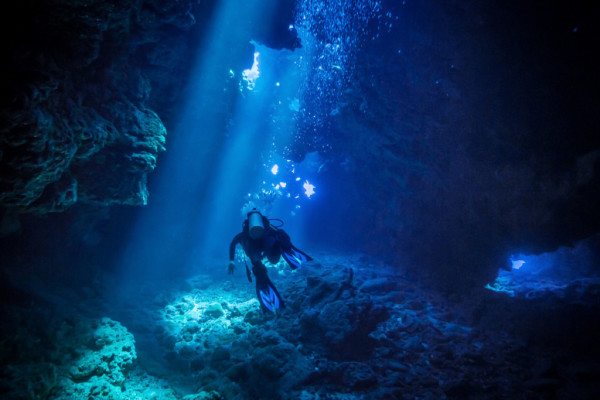 Descending into stone cathedrals with lava tubes stretching for kilometres, rare octopi, molluscs you don't know the name of and fish you won't see anywhere else in the world. Welcome to Lanai. As you descend into the deep main chamber of the cathedral, a moray eel streams from one rock to another, as black corals float effortlessly from the walls. Lanai has solidified its spot in our top five for rare marine life, whilst diving in the presence of geographical magnificence. Should you have a camera that will shoot pristine photos, your photo library is in for some serious Nat Geo treatment.
Where to stay
A one-hour ferry trip from Maui should have you set for underwater utopia. In a previous 5 Incredible Hawaiian Hotels article, we shared a few of our picks for Hawaiian stays. Check it out for some of our Maui recommendations.