Air travel has never been easier, but is it almost too easy? How many times have you left your seat selection to the last minute? Or overlooked it completely? Before you know it, you're stuck down the back in the middle with a seat that somehow, for no justifiable reason, doesn't recline.
Being quick during the booking process or paying a little extra to choose your spot on a domestic flight can mean the difference between a rough start to the working day or finding yourself in a spacious row four by the window. Life is too short for anything less than the best seat in the house, so here's a guide to the prime economy seats of the country's four major domestic airlines (and those that aren't so prime) with a little help from SeatGuru.
Qantas
Australia's OG airline has been a surefire staple in the skies over the country since commencing operations in the 1920s. Known for their hassle-free economy experience, Qantas let you pre-book your seat for free, unlike its competitors, and you get a complimentary snack and alcoholic beverage after takeoff, which is a nice treat.
---
---
There are three major aircraft Qantas use when flying domestically, each fairly similar in design and layout.
Qantas Airbus 330-200
Seats to nab
– Any in row 44 (exit row)
Seats to avoid
– 54D, 54E and 54F (misaligned with the seats in front meaning slightly less legroom and storage space)
– Any in row 39 (right next to the toilets)
Qantas Boeing 737-800
Seats to nab
– Row 4 (right behind J class, featuring extra legroom up the front of the plane. Despite usually being reserved for Platinum FF's, ask nicely at the check-in desk if seats 4B or 4C are free, they usually are.)
– Row 13 (restricted recline but extra legroom)
– Row 14 (exit row)
Seats to avoid
– 9A & 9F (windowless, despite being where a window normally is)
– 10A & 10F (misaligned window pillar means less shoulder space)
– Row 12 (doesn't recline)
QantasLink Boeing 717-200
Seats to nab
– Row 4 (extra legroom, behind business but fills up quick)
– Rows 13 & 14 (exit rows)
Seats to avoid
– Anything in rows 22 & 23 (last two rows of the plane)
---
---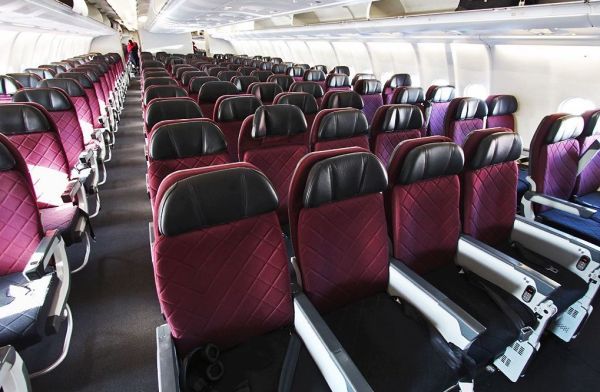 Virgin
Fast becoming Australia's go-to domestic airline for non-business travellers, Virgin is all about service with a smile. Like Qantas, they offer complimentary food and drink (sans alcohol) in decent enough seats that won't break the budget.
Neither of Virgin's primary planes (the Boeing 737-700 and Boeing 737-800) are great when it comes to economy class so we suggest forking out an extra $35 and upgrading to Economy X. These seats can be found in the first three rows and exit rows of the economy class section and provide more legroom, your own overhead locker space and priority boarding. Why be stuck at the back next to the toilets with the riff-raff when you can relax with every hassle out of sight and out of mind.
Keep in mind also, as with Qantas, Seat 9A on the Virgin 737-800 doesn't have a window either.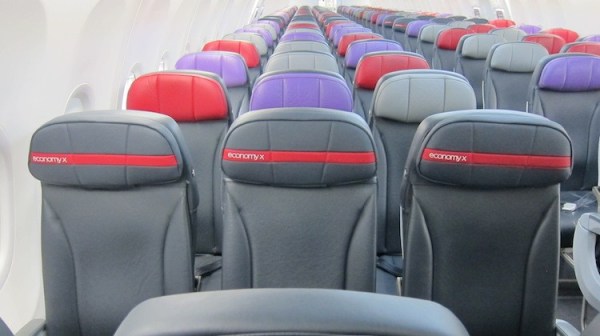 Jetstar
Qantas' low-cost little brother Jetstar has proved itself a worthy option for Aussie consumers and shouldn't be looked over. Their Airbus A320 seats 180 passengers and has the widest cabin of any single-aisle aircraft, which is impressive enough to warrant our attention.
Unfortunately, that's about it when it comes to praise for Jetstar's economy class, which, despite the widest cabin in the business, will still leave you feeling a bit stiff. It'll cost you $8 to choose your seat, so if you're in the spending mood you might as well splash out $25 and secure a seat in the front or the exit rows. The seat might be just as uncomfortable as the rest but at least you'll be able to stretch your legs.
Seats to nab
– Seats 1B & 1C (extra legroom, 1A is almost just as good, but the protruding exit door impedes your space slightly)
– Aforementioned row 13 (extra legroom at a cost)
Seats to avoid
– Seats 1D, 1E & 1F (appear on the seat map as an exit row but they're not, they're actually a bulkhead, meaning less legroom)
– Row 11 (limited recline)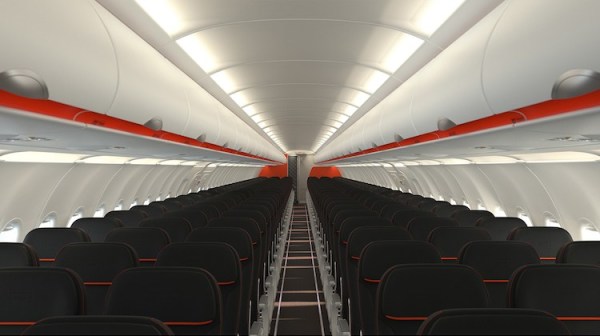 Tiger
Everyone has a horror story about flying with Tiger (delayed or cancelled flights, lost luggage etc) but they remain the cheapest and easiest way to fly across the country. The Airbus A320 is the older plane of the Tiger fleet and carries 180 passengers while its newer Boeing 737-800 is much smaller and compact with a new interior.
---
---
The economy seats in both planes aren't even worth writing about because, to be honest, every seat on a Tiger flight is a seat to avoid, but you might find yourself with a touch of extra leg room if you can be bothered to pay for it. You're still probably better off using that money for a Jetstar flight, at least you'll arrive at your destination on the same day.